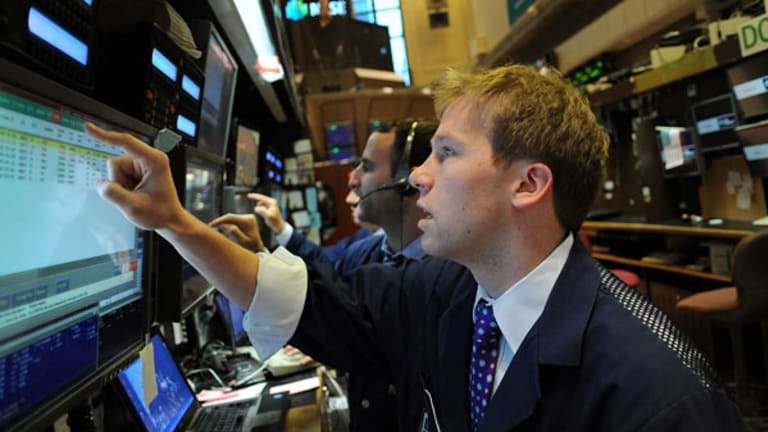 Publish date:
All-Time Highs on No Buying Volume? Does It Matter Anymore?
The stock indexes are approaching all-time highs again with no volume to speak of. There is no buying conviction so buyer beware.
The stock indexes are approaching all-time highs again with no volume to speak of. There is no buying conviction so buyer beware.
NEW YORK (TheStreet) -- The stock indexes continued their move higher on Monday. The DJIA was up 175.83 points to close at 16838.74 while the S&P 500 was higher by 16.68 to finish at 1971.74. The Nasdaq was up 43.39 at 4508.31 and the Russell 2000 closed at 1158.40, up 16.75 points.
Once again, the buy volume was a pathetic 74 million shares traded on the S&P 500 Trust Series ETF (SPY) - Get SPDR S&P 500 ETF Trust Report   That was 48% lower than Friday. As I have been saying for a long time, the up day volume continues to decelerate and the down day volume continues to accelerate.
Say what you may, this is extremely important. If traders disregard this fact, they are not being very open minded in their risk management process or they have no risk management process.
The Wall Street media and market pundits that do not discuss this fact when speaking of the bull market, turn them off. They are misleading traders in their analysis.
As I have been mentioning for the better part of 2014, the hedge funds are in total control of this market. That is the main reason for the lack of volume. The small investor and trader is gone. The hedge funds can take this market as high as they want to or as low as they want.
Thus, record highs in the indexes are irrelevant to me. They are merely talking points that the public likes to hear about. They are meaningless with no buying conviction or volume.
As we approach Tuesday trading, all of the four major indexes will be deep into overbought territory with algorithm numbers in the mid 90s and approaching extreme overbought by Wednesday. The Russell 2000 will have an internal algorithm number on a green open Tuesday of 98.67 out of 100.
The risk/reward is not on the side of the momentum chasers. The next major move is to the downside. The index numbers simply cannot stay this high for any length of time, period.
I am perfectly content sitting in cash and playing from the short side.
On Monday, I added to my Direxion Small Cap Bear 3x (TZA) - Get Direxion Daily Small Cap Bear 3x Shares Report and my Telecom Argentina (TEO) - Get Telecom Argentina SA Sponsored ADR Report long position. I started a new short position in Trimble Navigation (TRMB) - Get Trimble Inc. Report that has an extraordinarily overbought algo number. Again, this can all be found at www.strategicstocktrade.com.
At the time of publication, the author was long TZA and TEO and short TRMB, although positions may change at any time.
This article is commentary by an independent contributor, separate from TheStreet's regular news coverage.