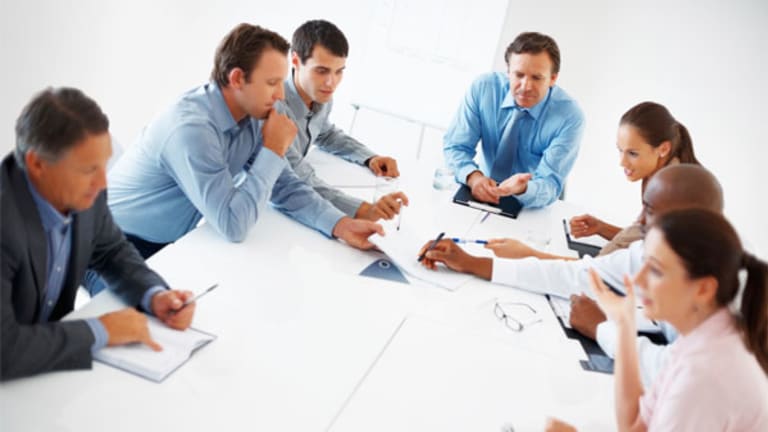 All Electric Cars Are Not The Same: Volt vs. LEAF
Satisfied owners are making a big difference in sales.
NEW YORK (TheStreet) -- This is a brief case-study of a successful electric car program -- GM's (GM) - Get Free Report Chevrolet Volt -- contrasted with the troubled -- Nissan (NSANY) LEAF.
First of all, before you start penning your hate mail, let's establish my definition of an electric car: A car that has an electric motor and plugs into the wall for battery recharge. Whether there is some other (gasoline) engine in the car or not is of no importance to this discussion.
There are only two electric cars that have sold more than 10,000 units to date in the U.S. The Chevrolet Volt has sold slightly more than 20,000 units, and the Nissan LEAF a slightly fewer than 20,000 units. Both cars have also sold significant quantities outside the U.S., most notably the Nissan LEAF in Japan.
Both the LEAF and the Volt started delivering cars at the same time: December 2010. For the first few 15 months -- through February 2012 -- the LEAF handily out-sold the Volt in the U.S. The main reason was the Volt was ineligible for the California carpool lane. A disproportionately large share of U.S. electric cars are sold in California.
Once the version of the Volt that was eligible for the California carpool lane entered production in February 2012, Volt sales significantly exceeded the LEAF every month starting March. In the U.S., Volt sales have been around 2,000 per month while LEAF sales have been closer to 500.
First, the success story: The Volt
It is true Volt has missed GM's lofty U.S. sales target of 45,000 cars sold this calendar year but the real number looks to be half of that. However, there are three distinct reasons GM should feel very good about the Volt thus far, and be able to proudly declare the model a success:
1. Sales are increasing.
From 2011 to 2012, sales per month rose from around 300 to 1,000 and recently hit 2,000. Sales in 2012 will more than double 2011 sales, from about 7,600 to around 20,000. In other words, while behind the goal, the direction is right.
2. Product quality has been stellar.
As of Sept. 30, the 20,000 or more Chevrolet Volt customers have driven their cars a cumulative 128 million miles. That's almost 300 round trips to the moon.
The significance of this is reliability. Many Volt owners have driven their cars more than 40,000 miles (some much more) in more or less a year. While this is still early in a car's life cycle, any significant problems tend to arise by the time you hit 40,000 or so miles.
If you search the blogs, you will find precious few serious complaints about the Volt, in terms of serious product defects. Surely, as with any car that has more than 20,000 units in the field, you will inevitably have a handful that fall into that "one in a thousand" scenario, but generally these have been rare and seemingly random exceptions.
3. Customer satisfaction has been stellar.
Talk to almost any Volt owner and you'll find very few unhappy people. The customer satisfaction rates are among the highest of any car in the market. The
Consumer Reports
survey rated the Volt the number one most-highly-rated car by its owners at 93%, higher than even the Porsche 911 at 91%.
Chevrolet Volt owners attend meet-ups where the most frequent points of discussion tend to be:
A. I talked X number of colleagues, friends, neighbors and relatives into buying/leasing a Volt.
B. I love the Volt but I would like to buy a second one, if a minivan or SUV version were available. Please, GM, make one or two such variants ASAP.
All in all, Chevrolet Volt owners sound largely like
Apple
(AAPL) - Get Free Report
fans. As we have seen from Apple stock, that eventually turned out to be a good thing.
Second, the story with some problems: Nissan LEAF
The Nissan LEAF was the electric car winner, by far, in 2011. It was the pioneering car of its class, and California commuters gobbled up the car in droves to get access to the carpool lane.
1. Sales have stalled.
By March 2012, however, LEAF sales had declined dramatically. Instead of selling mostly at the 1,000 to 1,500 rate per month, sales have been running around 500 per month for the last six or so months.
Nissan will miss its 2012 goal of selling 20,000 LEAFs in the U.S. It doesn't look like Nissan will even hit 10,000 this year. Meanwhile, production capacity in 2013 and 2014 is being ramped up in Japan, the U.S. and the U.K. to manufacture 400,000 LEAFs per year. Where on Earth these will all be sold is highly unclear to me, but at this pace most of them will not be absorbed in the U.S., certainly by 2013.
2. Product quality has been questioned.
When the LEAF was unveiled in September 2009, Nissan spoke of 100-mile range in this all-electric car. Then right before the first car was delivered in late 2010, the EPA had certified an average range of 73 miles.
In the almost two years since, many LEAF owners report seeing the battery capacity fall by more than 10% in short order, and as much as approximately 25% after little more than a year's worth of driving. If the average range is only 73 miles to begin with, cutting 10% to 25% can become a huge problem for most owners.
Furthermore, if the loss is 10% to 25% already, what will the situation be 8 or 10 years from now? It doesn't take a rocket scientist to imagine that LEAF owners fear they'll be sitting on a relative paperweight before long.
3. Some customers are unhappy.
One week ago, a class action lawsuit was filed against Nissan. Among the claims are that Nissan sold the LEAF under false pretenses, not warning against this dramatic fall in battery capacity after such a short time of ownership.
Another claim in this class action lawsuit is that Nissan tells its customers to charge the car only to 80% of full capacity, further reducing the range. If true, this would be like
Coca Cola
(COKE) - Get Free Report
selling you a can of Coke, and then after the purchase telling you to not drink more than 80% of the can because it will injure you. As a consumer, you would feel cheated.
I spoke to multiple LEAF owners who expressed extreme dissatisfaction with the way Nissan handled these issues. They claim Nissan is stonewalling them when Nissan should really do the right thing and simply buy back the cars, no questions asked. Nissan clearly has a PR nightmare on its hands at this point.
In the meantime, almost every Volt owner I have met has become one of GM's most effective salesmen, putting a Volt in the driveway of as many people as they can persuade.
Lesson learned: All electric cars are not the same.
At the time of publication the author held no positions in any of the stocks mentioned.
This article is commentary by an independent contributor, separate from TheStreet's regular news coverage.
This contributor reads:
On Twitter, this contributor follows: