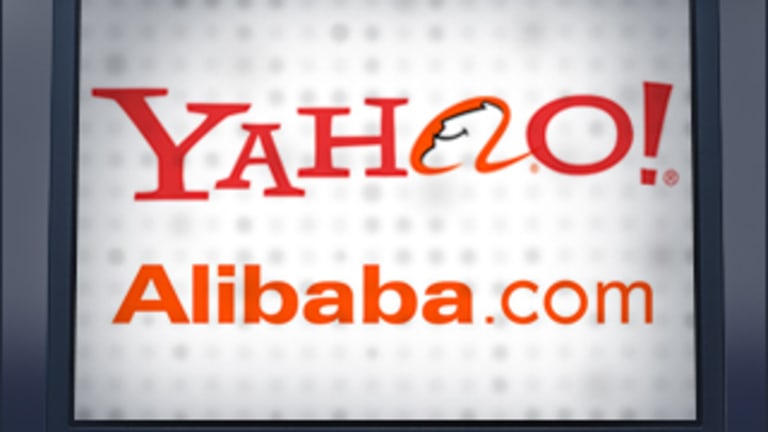 Alibaba Makes Strides in Cleaning Up Counterfeits, But More Work Is Needed
The Chinese e-commerce company is trying to eliminate counterfeit goods sold on its Web sites. Is it succeeding?
NEW YORK ( TheStreet) -- A knock against Alibaba Group (BABA) - Get Free Report  is that its Web sites feature too many counterfeit electronics, apparel and countless other products.
The huge Chinese e-commerce company, however, has made great strides in eliminating such items from its sites during the past year, especially in recent months, after its IPO in the U.S. But not everyone is happy with Alibaba's cleanup efforts yet.
The counterfeit problem has improved significantly in recent months, said David Tognotti, general counsel, general manager and vice president of operations at Monster Inc., a consumer-electronics manufacturer.
"When I go to Alibaba's main site and some of its affiliated sites like AliExpress, I do not find very much counterfeit Monster product anymore," said Tognotti, who had been an outspoken critic about counterfeit Monster headphones and other products that are being sold on Alibaba's Web sites. He is also no longer finding many counterfeit versions of products made by Monster's rivals, he said.
"It's as if Alibaba has turned the spigot off," Tognotti said. There is "always stuff that's going to sneak through because the counterfeiters and the people who post" listings for such products are "really good at trying to beat the system," he said. For example, he recently saw a Monster-branded Tron headphone being sold at an Alibaba site even though Monster announced the product, but never actually shipped it, he said.
Alibaba spokesman Robert Christie said the company has been "pretty aggressive" about getting rid of counterfeit products from its Web sites, and that was the case even before its U.S. IPO. As soon as the company identifies such products, it takes them down quickly, he said.
The company had indeed made strides in removing many counterfeit products from its sites, said Deborah Greaves, an attorney at Ezra Brutzkus Gubner LLP, who had served as general counsel at jeans maker True Religion (TRLG) .
But Alibaba still has a long way to go, she said. Alibaba's processes to remove counterfeit products from its sites remain "somewhat time-consuming and burdensome" for brand owners, who must still largely do the policing of the sites on their own and point out counterfeit items to Alibaba, said Greaves, who now represents other brand owners in the apparel industry whom she said are still experiencing counterfeiting issues with Alibaba sites. Alibaba needs to "provide a mechanism" for brand owners that is simple to use and fast to remove counterfeit listings at its sites, she said.
Before allowing people to sell products in bulk at Alibaba's sites, they should be required to provide some sort of a license deal or other proof that they're authorized to sell those items, she said.
There has been counterfeit software sold on Alibaba's Taobao site, said Adam Coates, managing director for compliance and enforcement at The Software Alliance, an advocacy group for the global software industry.
But Alibaba has "taken steps to improve its responsiveness" during the past year, he said. "We've seen an improvement. There's more to be done," but "I would say we're sort of guardedly optimistic," he said.
Coates didn't single out members of the alliance that had been particularly affected by counterfeit items at Alibaba sites. The alliance's members include Adobe (ADBE) - Get Free Report , Apple (AAPL) - Get Free Report , International Business Machines (IBM) - Get Free Report , Intel (INTC) - Get Free Report , Microsoft (MSFT) - Get Free Report and Oracle (ORCL) - Get Free Report . Adobe and Microsoft declined to comment, and the others didn't immediately respond to requests for comment.
Fashion company Coach (COH) had seen counterfeit versions of its products sold on the Taobao Marketplace. But Coach signed an anti-counterfeit memorandum of understanding with Taobao in 2011 to combat counterfeit products sold on the site. Coach renewed the MoU late last year. It declined to say whether it's seen any counterfeit activity on the site since then.
Counterfeit products could "become a regulatory issue" for Alibaba in the U.S. and one that could "tarnish trust" in the brand as it expands from China, said Rob Enderle, principal analyst at the Enderle Group. That is one of the reasons why Alibaba needs a strong U.S. presence -- to "assure acceptance" of its full gamut of offerings in the U.S., he said.
Alibaba has been more active in eliminating counterfeit products from its sites in recent months, he said. The U.S. is "far more strict" on counterfeit products than China is, and that "showcases a clear pivot to avoid regulatory problems" in the U.S., he said.
This article is commentary by an independent contributor, separate from TheStreet's regular news coverage.
At the time of publication, the author held no positions in any of the stocks mentioned.