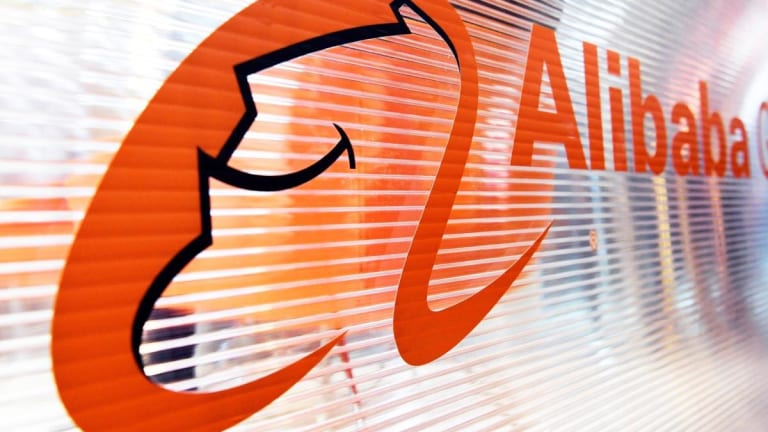 Alibaba Looks Pretty Cheap Now on a Sum-of-the-Parts Basis
Some back-of-the-envelope math suggests the Chinese tech giant's newer businesses and investment stakes aren't being properly valued right now.
Unless China's economy sees a sharp downturn, Alibaba's (BABA) stock looks pretty cheap at current levels.
Following its near-6% selloff to $138.29 on Wednesday amidst a terrible day for tech stocks, Alibaba trades for 18.4 times a fiscal 2020 (ends in March 2020) EPS consensus of $7.52. Even in a vacuum, that wouldn't be an awful valuation for a company whose core Chinese e-commerce operations are still seeing strong double-digit revenue growth, and which also has valuable businesses in markets ranging from offline retail to logistics to cloud infrastructure to Southeast Asian e-commerce.
However, that valuation looks a lot more compelling when one remembers that most of Alibaba's non-core businesses are for now losing money (and thus depressing EPS) due to an aggressive investment pace. And it looks cheaper still when one remembers that Alibaba has quite a few valuable investment stakes that need to be accounted for, including a 33% stake in Alipay parent Ant Financial.
It's hard to gauge exactly how much Alibaba's newer businesses are depressing its near-term profits, but a look at its earnings reports suggests the amount is substantial. During the June quarter, Alibaba's "core commerce" reporting segment posted adjusted EBITA -- earnings before interest, taxes and amortization, as well as some other expenses such as stock compensation -- of $4.96 billion. Its three other reporting segments -- they cover the Youku Tudou online video unit, the AliCloud cloud infrastructure unit and much else -- collectively posted adjusted EBITA of negative $732 million.
As a result, those three reporting segments lowered adjusted EBITA by 13%. It's worth noting here that adjusted EBITA excludes amortization expenses on things such as content spend, and that (due to Chinese tax law) the losses reported by many of Alibaba's newer businesses don't lower the taxes it owes on the huge profits created by its Chinese online marketplaces.
Moreover, though still quite profitable overall, margins within Alibaba's core commerce segment have been depressed by the fact that this segment now includes -- in addition to Alibaba's Taobao and Tmall Chinese marketplaces -- businesses such as physical retail stores, the Cainiao logistics unit, the Ele.me local services/food delivery unit and the Lazada Southeast Asian e-commerce unit. Generally, these businesses are producing red ink due to Alibaba's willingness to spend heavily to expand their footprints and/or customer bases.
Thanks to both organic growth and deals to take majority stakes in Ele.me and Cainiao, Alibaba's core commerce segment saw its revenue rise 61% annually on an RMB basis in the June quarter. However, thanks largely to its newer businesses, the segment's adjusted EBITA only rose 22%. Had it risen by 40% -- a number that seems plausible if the newer businesses weren't around, given the revenue growth posted by the Chinese e-commerce operations -- Alibaba's core commerce adjusted EBITA would have been over $700 million higher.
Overall, there are reasons to think that the losses absorbed by Alibaba's newer business are depressing its near-term earnings by over 20%. But for now, let's assume there's only a 15% impact in fiscal 2020. That would still imply annual EPS of $8.84 for Alibaba's older e-commerce operations, which are dominated by Taobao and Tmall.
If one valued this part of Alibaba's empire, which maintains a dominant position in a Chinese e-commerce market still seeing healthy growth, at 18 times this EPS estimate, that would spell a valuation of $159 per share for Alibaba. And that's without assigning any value to its other businesses or investment stakes.
Valuing those other businesses is tough, but it's clear that they're collectively worth quite a lot. The AliCloud reporting segment is expected to post fiscal 2020 revenue of $6.1 billion on the back of 62% growth. Given its growth rate and dominant position in the Chinese cloud infrastructure market, as well as the multiples currently given to high-growth cloud firms, the business might be worth over $40 billion on a standalone basis.
Meanwhile, Alibaba recently took full ownership of Ele.me in a deal featuring a $9.5 billion valuation, and upped its stake in Cainiao to 51% in a deal featuring a $20 billion valuation. It also spent $4 billion to buy Youku Tudou, $1.6 billion to buy mapping firm AutoNavi and $2 billion to obtain an 83% stake in Lazada. In addition, it took full ownership of popular mobile browser UCWeb in a 2014 deal featuring a $3.8 billion valuation. 
Several of the aforementioned assets appear to be worth more today than what Alibaba paid for them. And the company also has substantial physical retail businesses that need to be accounted for.
A fair, conservative valuation for Alibaba's non-core businesses might be roughly $80 billion, then, adding another $31 per share to Alibaba's valuation. And if one valued the company's Ant Financial stake based on the $150 billion valuation Ant received in a spring funding round, that stake would add another $19 per share.
Alibaba also has valuable stakes in many other firms, such as Indian payments/e-commerce firm Paytm, supermarket chain Sun Art and theater chain Wanda Film. And it has about $6 billion in net cash on its balance sheet. If these additional assets are collectively valued at $15 billion, that adds another $5.75 per share or so to its balance sheet.
This sum-of-the-parts analysis, which admittedly features some back-of-the-envelope math but also has some conservative assumptions, serves to value Alibaba at $214.75 per share. That represents a 55% premium to Wednesday's close of $138.29.
Certainly, with trade tensions running high and the Chinese yuan depreciating against the dollar, markets are worried that Alibaba won't make good on the dollar-based analyst EPS estimates that this sum-of-the-parts analysis relies on. At the same time, it's worth keeping in mind that fiscal 2020 analyst estimates for Alibaba have fallen sharply since early 2018, thanks to the yuan's decline and Alibaba's spending growth.
On the whole, given how much its various assets seem to be worth, it looks as if Alibaba's stock has now priced in quite a lot of bad news, and could be poised to rebound sharply if positive trade and/or currency news arrives.
Make Money on Closed-End Mutual Funds. TheStreet's Robert Powell recently hosted an all-star panel of experts who explained everything you need to know on closed-end mutual funds, an often-overlooked investment class. Click here to register and watch for free.