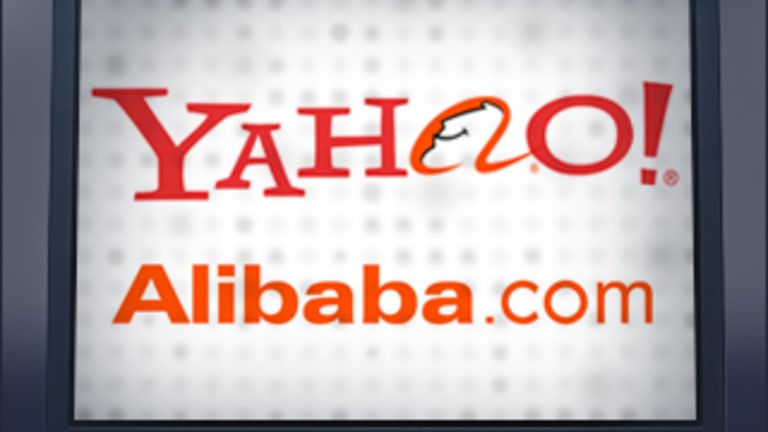 Alibaba Lets Softbank CEO Sprint Into Our Internet Access Market
Alibaba's rising value is fueling a transformation of the Internet access market through Softbank CEO Masayoshi Son.
Alibaba's rising value is fueling a transformation of the Internet access market through Softbank CEO Masayoshi Son.
Correction: Story corrects in 8th paragraph to cite Kyodo News Service report that Softbank had agreed to buy Deutsche Telekom. Adds company denial.
NEW YORK (TheStreet) -- Even before it goes public, Alibaba is the biggest business story of 2014.
Most investors know the Yahoo! (YHOO) side of the story. Yahoo!'s stock is seen as a proxy for Alibaba itself. CEO Marissa Mayer has been able to purchase almost 40 other companies since her appointment in July 2012 thanks to the $1 billion investment her predecessors made in the Chinese e-commerce site in 2005.
But this pales next to Masayoshi Son's Alibaba-driven plans for global domination, based on an early investment of $20 million in the company, which was then merely a business-to-business site.
That stake was said to be worth $58 billion a few months ago and may soon be worth even more. It is fueling Son's ambition to do to this country's mobile business what he previously did to Japan's: Take it over.
A decade ago Japan's mobile market was a cozy duopoly between carriers descended from old phone companies, Nippon Telegraph and Telephone (NTT) and KDD. Then Son's SoftBank bought Vodafone Japan, slapped the SoftBank name on it, invested aggressively and it now has nearly one-third of the market, according to Eurotechnology.com. 
Son began its U.S. ascent last year by buying 78% of Sprint (S) - Get Report in a $21.6 billion deal that included $5 billion added to the company's balance sheet. 
At nearly the same time Sprint gobbled-up Clearwire, adding to its spectrum holdings.
The Tokyo-based Kyodo News Service reported Thursday that Softbank had agreed to buy Deutsche Telekom's stake in T-Mobile US (TMUS) - Get Report. A Softbank spokesperson on Friday denied the Kyodo report, and said the company could not confirm any deal.
T-Mobile's earlier acquisition of Metro PCS gave it an estimated 13% of the U.S. mobile market, according to Bluefield Strategies, against Sprint's 17%.
Put Sprint and T-Mobile together  and the market becomes a closely-contested three-way race with Verizon (VZ) - Get Report and AT&T (T) - Get Report. When it's not subsidizing the purchase of new Apple (AAPL) - Get Report iPhones, AT&T can achieve operating margins well north of 25%, notes Bluefield Strategies.
From a practical standpoint, Sprint should not be able to contemplate buying T-Mobile. Its market valuation is $36.29 billion, T-Mobile's is $27.62 billion.
But then there's Alibaba.
Alibaba's most recent earnings report, for the period ending in April, had investment bankers placing a $180 billion valuation on it, about $35 billion more than all of Amazon (AMZN) - Get Report is presently worth.
Softbank still has about 37% of Alibaba.
As fast as Son has been spending, the value of his Alibaba stake may be expanding even faster. Which means he now only has ample ammunition to buy T-Mobile, and all the capital necessary to transform these disparate assets into a single compatible mobile telephony giant.
Son was in full campaign mode at this week's Code Conference, claiming that his networks will offer the network neutrality Internet advocates dream about, praising T-Mobile US CEO John Legere and saying that, with T-Mobile, he can transform the U.S. Internet access market.
If he can perform that magic trick, however, there's just one reason for it: Alibaba.
At the time of publication the author owned shares of AAPL and AMZN.
>>Read More: Xerox Is the Biggest Secret in Value Stocks
>>Read More: Investment Rx: Buy Value ETFs in the U.S. and Growth ETFs Overseas
This article represents the opinion of a contributor and not necessarily that of TheStreet or its editorial staff.