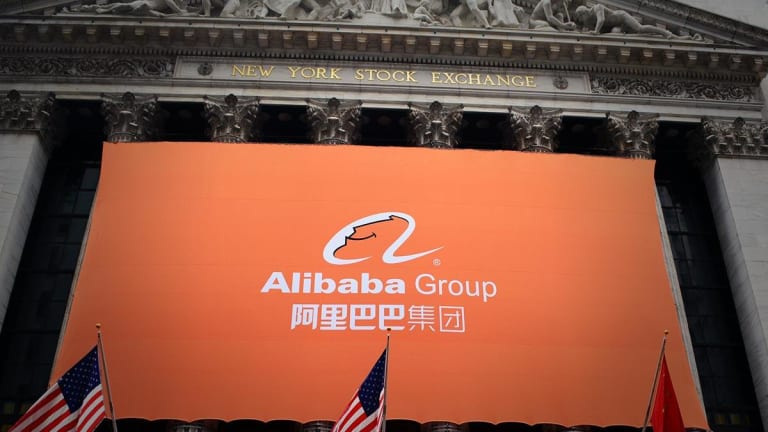 Alibaba's Earnings Show Why its Stock Is a Bargain..and Also Why It Has Sold Off
The Chinese e-commerce leader is still delivering strong revenue and user growth. However, it cuts its guidance due to a decision blamed on macro issues.
Alibaba's (BABA) - Get Alibaba Group Holding Limited American Depositary Shares each representing eight Report  latest earnings report provides fresh reasons to think its stock is quite cheap at current levels, but also shows why investors nervous about macro and trade issues have sold off its shares.
On Friday morning, the Chinese e-commerce giant reported September quarter (fiscal second quarter) revenue of RMB85.15 billion (up 54% annually and equal to $12.4 billion) and non-GAAP EPS of RMB9.60 ($1.40). EPS, benefiting from a tax credits and somewhat lower-than-expected spending growth, topped an RMB7.42 consensus. However, revenue fell short of an RMB86.66 billion consensus.
In addition, Alibaba, which in May had guided for its fiscal 2019 (ends in March 2019) revenue to grow over 60% on an RMB basis, and over 50% excluding the impact of two M&A transactions, says it now expects fiscal 2019 revenue of RMB375 billion to RMB383 billion. That implies growth of 50% to 53%, and is below a consensus of RMB395.7 billion.
"In light of current fluid macro-economic conditions, we have recently decided not to monetize, in the near term, incremental inventory generated from growing users and engagement on our China retail marketplaces," said Alibaba in its explanation for the guidance cut.
As of the time of this article, Alibaba's stock is down 2.4% to $147.64. In spite of a strong Wednesday/Thursday bounce ahead of earnings, Alibaba is still down 20% on the year.
On the earnings call, management noted the revamped mobile interface for Alibaba's giant Taobao marketplace includes a personalized product-recommendation feed that isn't being monetized for the time being. "[W]e believe this is a transitional period," insisted CFO Maggie Wu, while adding that both traffic and sales conversion trends for the feed are "very encouraging."
There could be a PR element to Alibaba's decision not to monetize the recommendation feed for now. As Washington and Beijing continue signing off on new tariffs and some Chinese economic indicators start to slip, cutting back on how aggressively it tries to collect revenue from the legions of small and mid-sized merchants who rely on Taobao could earn it some goodwill.
Nonetheless, a guidance cut blamed on a decision attributed to "fluid macro-economic conditions" is just the kind of thing likely to keep a suddenly risk-averse market on edge about a fast-growing Chinese tech company. So is, for that matter, the Chinese yuan's recent decline against the dollar, a trend that is having a clear impact on the dollar-based revenue growth of Alibaba and other Chinese tech firms.
While Alibaba's revenue rose 54% annually last quarter on an RMB basis, dollar-based revenue, as measured based on end-of-quarter exchange rates, grew 50%. "China commerce retail" revenue, which includes the Taobao and Tmall marketplaces and still accounts for 64% of total revenue, grew 37% in RMB and 33% in dollars. Cloud computing revenue, which is tied to the AliCloud platform (China's #1 cloud infrastructure provider), grew 90% in RMB and 85% in dollars.
Moreover, it's not hard to imagine Beijing letting the yuan depreciate further against the dollar, should a trade war drag out. Additional yuan depreciation would make the goods of Chinese exporters cheaper, but would also do additional damage to the dollar-based growth of companies like Alibaba, which get the lion's share of their revenue from inside of China.
But while Alibaba's latest report certainly hasn't put macro worries to rest, it also shows the company's top-line momentum in a number of fields remains impressive.
"Customer management" revenue for Alibaba's Chinese marketplaces, which is driven in large part by ads, rose 25% in RMB, while commission revenue (driven by Tmall) rose 31%. Other China commerce retail revenue, which includes Alibaba's Hema and Intime physical retail stores as well as its Tmall Import direct e-commerce business, rose 151%.
The international commerce retail segment, now driven in large part by the Lazada Southeast Asian marketplace, saw revenue rise 55%, and China commerce wholesale revenue grew 46% thanks to better monetization of Alibaba's 1688.com platform. And AliCloud now appears to be on a $3 billion-plus revenue run rate.
Alibaba also reported that annual active consumers for its Chinese retail marketplaces grew by 25 million sequentially to 601 million. On the call, CEO Daniel Zhang noted 75% of this user growth is now coming from "less developed areas" within China.
Though estimates have fallen some recently and giant investments in areas such as offline retail, Southeast Asian commerce, cloud infrastructure and video content are weighing on its near-term profits, Alibaba only trades for about 20 times its expected fiscal 2020 EPS consensus.
Considering how strong the company's organic growth still is, and how many opportunities it has in front of it, markets will probably deem that valuation to be pretty low in the event that macro and trade worries lift.