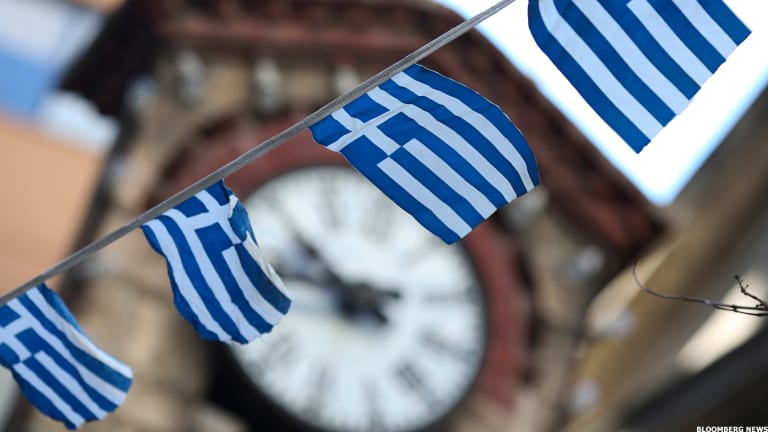 Alexis Tsipras and the Big Fat Greek Debt
Greece remains the most volatile country in the Eurozone. With Sunday's win, it seems the voters and creditors will now be closely watching what Alexis Tsipras does for the economy.
NEW YORK (TheStreet) -- Greece's left-wing leader Alexis Tsipras won the snap election Greece held on Sunday, but his worries might have just worsened. He is caught between the promises his party has made to domestic voters and the commitments he made to the country's creditors.
However much Alexis Tsipras may want stability in Greece, he is wedded to the agreed terms in the memorandum of understanding, which he previously signed in exchange for a third bailout. Here's everything you need to know.
The Story of Greece and the Eurozone
The Eurozone was formed in 1999, with Greece joining as its 12th member.
In 1999, investors started financing Greece at low interest rates leading to extensive borrowing, which eventually led to huge imbalances. Once fiscal crisis hit Europe in 2009, markets panicked, imposing higher interest rates. Countries like Greece found it difficult to repay debts at these higher interest rates.
Interestingly, Greece had received the highest number of debt ratings upgrades between January 1998 and December 2008. But the global financial meltdown of 2007 and 2008 made the underlying structural discrepancies in the Eurozone quite visible. Lack of liquidity and unsustainable deficits along with public debts higher than GDP became evident. Following this, 2010 witnessed the financial fall of the Eurozone's first country, Greece.
After the financial crisis in the U.S., Greece's economy shrank by 25% and matters started worsening for the country, which has since then lived under strict capital controls as it has suffered a financial crisis for more than five years, with unemployment remaining around 25% (as of this past May). According to Bloomberg, Greek unemployment has doubled, since it joined the Eurozone, while Germany halved its unemployment rate.
The Third Bailout
After a number of meetings, concessional talks and three bailouts, it is quite evident that neither Greece nor the Eurozone wants Greece to exit the political and economic group. 
The country got its third bailout with the total due debt in 2015, accounting for roughly 173% of GDP. The third bailout approval came at a time when a press release by IMF head, Christine Lagarde termed Greece's debt as "unsustainable." The International Monetary Fund had said it would only be a part of the bailout if there were an "explicit and concrete" agreement on debt relief for Greece.

Many argue that as the concessional debt relief obtained by Greece gets widely known across nations, many other economies may look for similar offerings from international financial institutions like the IMF and World Bank. According to MarketWatch, economies like China, Portugal, Italy and Spain might seek similar relief.
Unfortunately, Greece is currently suffering a lot more than just a financial crisis. After its third election in nine months, the Greek vote comes at a time when the refugee crisis in Europe has worsened. According to the BBC, because Libya and the sea passage to Italy has proved extremely risky, the way through Greece and the Balkans has become popular among migrants.
Election and Re-Election of Tsipras
Tsipras was first elected in January 2015, with hopes he could revive the Greek economy. After the third bailout, he called for snap elections. The conditions of the third bailout are such that even though Tsipras has won with a mandate to lead, the Syriza government is under tremendous pressure. To many Greeks, his victory may not mean the end of years economic hardship and uncertainty.
Uncertainty still looms regarding the country's financial stability. Tsipras will face a challenge on this from from the agreement he signed. According to the Guardian, the troika (the IMF, World Bank and European Central Bank) will be trying for policies like pension cuts, lower child benefits and more foreclosures.
The Syriza party had agreed on harsh terms in exchange of a €86 billion ($97.2 billion) bailout package: labor market reforms; liberalization of consumer markets; and fewer benefits for civil servants. The bailout program will be reviewed next month and Tsipras will be under pressure from lenders to ensure that Greece has taken steps to make its next payment.
Greece makes up 2% of the Eurozone economy -- yet, if it left, its impact would be felt there and in other world markets. A Grexit (Greece's exit from the Eurozone) would draw questions about the underlying motive of a common currency, the euro, that currently binds 19 countries together.
However, the contagion across global financial markets from Greece's failure remains low risk as many investors have already sold their Greek bonds and other holdings that were vulnerable to the Greek crisis.
This article is commentary by an independent contributor. At the time of publication, the author held no positions in the stocks mentioned.