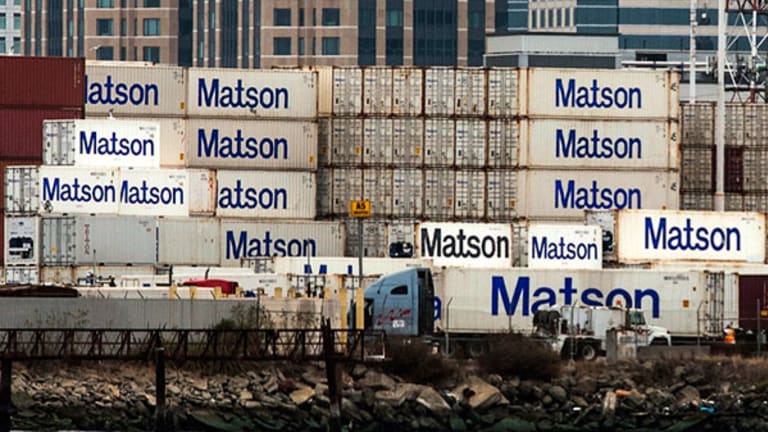 Alexander & Baldwin One Year After the Split
Matson hasn't delivered the returns that A&B has, but surprised the past two quarters.
NEW YORK (TheStreet) -- It's been just more than a year since the former Alexander & Baldwin, separated into two publicly traded companies, one keeping the company's original name Alexander & Baldwin (ALEX) - Get Report, and the other Matson Navigation (MATX) - Get Report.
Prior to the separation, this was an interesting combination of businesses, real estate and shipping. Given their differences however, it was also ripe for some sort of transaction in order to unlock value. Judging by the results so far, overall the transaction has been a success. While Alexander and Baldwin shares are up 62% since the transaction was completed, Matson Navigation shares are down about 3%.
data by
I originally took a position primarily because of the company's real estate holdings, now owned by Alexander & Baldwin, which at year end 2012 included 87,240 acres in Hawaii. While three quarters of this land is located in Maui, much of it, nearly 57,326 acres is currently used for agriculture, primarily sugarcane. Another 29,170 acres are for watershed/conservation, so not all of this land is available for development. There's also an additional 467 acres in eight other states, and a substantial portfolio of commercial real estate, that at year-end included 19 properties in Hawaii (1.4 million square feet), and 23 properties on the mainland (6.5 million square feet). But needless to say, this is a compelling portfolio of real estate.
Last month, the company expanded its footprint through the acquisition of Hawaiian construction company Grace Pacific for $235 million in stock and cash. This should be a positive for the Alexander & Baldwin, and according to management, should also allow it to begin paying a small dividend, a practice it stopped last year, when the company separated.
The other business, Matson Navigation, provides freight transportation services between the Pacific coast and Hawaii, Guam and China. Although I was not as interested in this part of the original company, I have maintained my position that resulted from the separation, because it is an interesting business in its own right. Matson, which owns 17 vessels, and 33,500 containers, generated more than $1.5 billion in revenue during 2012. Currently trading at 22 times trailing earnings, consensus estimates for 2014 put the forward price earnings ratio at 16. Matson also pays a dividend, which it recently increased by a penny to 16 cents, which equates to a 2.4% yield.
While Matson certainly has not delivered the returns that Alexander & Baldwin has over the past year, from an earnings perspective it has surprised to the upside the past two quarters.
The original, pre-separated Alexander & Baldwin is the type of situation that excites value investors; finding two solid, but very different businesses together under one roof. The hope is that separating them will create savings and unlock value. One year removed from the Alexander & Baldwin transaction, I'd say so far, so good.
This article is commentary by an independent contributor, separate from TheStreet's regular news coverage.
At the time of publication, Heller was long ALEX, MATX.
Jonathan Heller, CFA, is president of KEJ Financial Advisors, his fee-only financial planning company. Jon spent 17 years at Bloomberg Financial Markets in various roles, from 1989 until 2005. He ran Bloomberg's Equity Fundamental Research Department from 1994 until 1998, when he assumed responsibility for Bloomberg's Equity Data Research Department. In 2001, he joined Bloomberg's Publishing group as senior markets editor and writer for Bloomberg Personal Finance Magazine, and an associate editor and contributor for Bloomberg Markets Magazine. In 2005, he joined SEI Investments as director of investment communications within SEI's Investment Management Unit.
Jon is also the founder of the
, a site dedicated to deep-value investing. He has an undergraduate degree from Grove City College and an MBA from Rider University, where he has also served on the adjunct faculty; he is also a CFA charter holder.