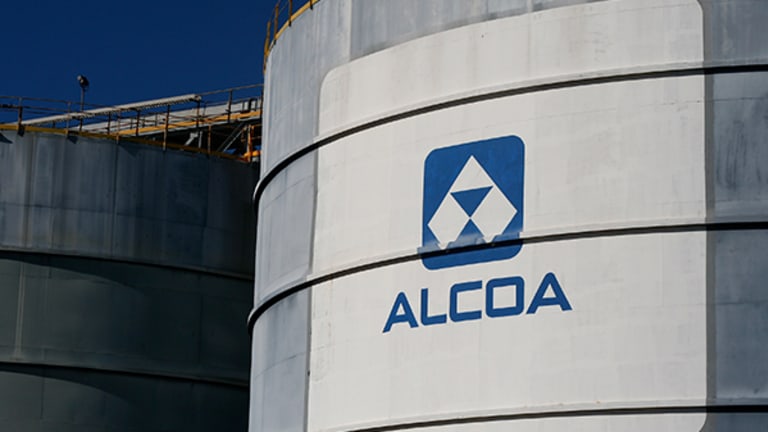 Alcoa Trades Diversification for Specialization
The company, once chained to the commodity cycle, used M&A to diversify. Post-split investors will own two tickers each with exposure to different cycles.
The company, once chained to the commodity cycle, used M&A to diversify. Post-split investors will own two tickers each with exposure to different cycles.
Alcoa (AA) - Get Report  on Wednesday laid out some of the details of its planned split, assigning much of its debt and considerable pension obligations to what should be its faster-growing engineering and fabricating operations. Investors had better hope that the aerospace side of the business is ready to soar.
New York-based Alcoa announced plans to separate its downstream manufacturing assets from its raw metals operations last September, responding to criticism from investors that the market was undervaluing the company. Post-split shareholders would own shares of both Arconic, as the company's aerospace and auto component unit will be called, as well as shares of Alcoa's traditional business of mining bauxite and producing aluminum.
Klaus Kleinfeld, chairman and CEO of Alcoa, in a statement called both businesses "well-positioned for success," saying that the split "will allow each new company to pursue its own distinct corporate strategy and unlock the full value of each business."
The separation is the culmination of an aggressive campaign by Kleinfeld to build out Alcoa's downstream operations. The CEO, who will stay with Arconic post-split, took over in 2008 and scrambled to lessen Alcoa's reliance on commodity aluminum pricing, a market that has been hurt by growing supply out of China.
Alcoa, under Kleinfeld, acquired Firth Rixson for $2.85 billion, RTI International Metals for $1.5 billion as well as doing deals for the fastener business of TransDigm Group and auto supplier TITAL. During that time Alcoa has become less reliant on metal pricing, with alumina now making up just under 20% of the company's after-tax operating income.
The company is leaning on the newly assembled Arconic business to carry the heavy load. As part of the split, Arconic would retain Alcoa's existing debt, which totaled $9.07 billion as of March 31, but the new Alcoa intends to raise about $1 billion post-split that would be a payment to Arconic that the spinoff can use to pay down part of that total. Post-deal Alcoa would have estimated pension obligations of about $2.6 billion, compared to $3 billion for Arconic.
Arconic will also hold as much as 19.9% of the streamlined Alcoa post-split.
The split is designed to give Alcoa a more pristine balance sheet, with company officials hoping that the company freed from debt obligations and with a streamlined footprint will be able to better compete against foreign competition.
But the company will be a pure-play metals producer operating at the bottom of a commodity cycle with no earnings benefit from the downstream businesses to help it sustain until aluminum prices bounce back. It could also eventually become a target for a larger, more diversified, mining or metals company.
Arconic, at least in theory, should be a faster grower. Alcoa bulls have tried to compare the Arconic assets to Precision Castparts, a Portland, Ore.-based maker of aerospace fasteners and other components acquired last year by Warren Buffett's Berkshire Hathaway for $32.3 billion. But there are key differences between the companies that could put a damper on Arconic's valuation.
For one, less than half of Arconic's current sales come from aerospace customers, compared to nearly three-quarters of PCC's sales at the time of the deal. Precision Castparts sold into what has been a generational bull market for commercial airplane orders, and Arconic's reliance on generally lower-margin auto components could weigh on investor nerves.
It is also unclear how long the aerospace surge can last. Alcoa sent investors into a panic in April when it reported decreased demand for aluminum from aircraft makers. Similarly, while automakers are increasingly turning to lighter-weight aluminum in their products U.S. auto sales are currently firing on all cylinders, and any eventual slowdown in demand could eat into revenue at Arconic.
Under Kleinfeld, Alcoa invested heavily in diversification, attempting to free the company from its dependence on the commodity cycle. Post-split investors will have exposure to both the commodity cycle and demand fluctuations in the notoriously up and down autos and aerospace sectors. Here's hoping demand holds up.