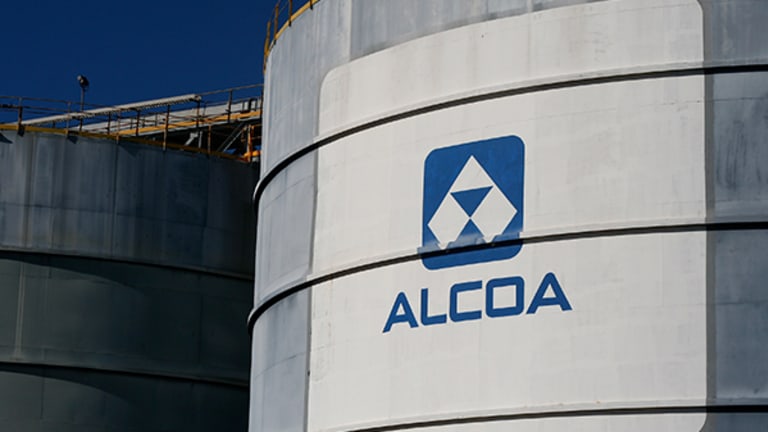 Alcoa Offers Hope for Post-Transition Gains, Plus Cramer's Take
The aluminum company, which is in the process of splitting itself in two, sees an uptick in sales to aerospace customers in the second half and renewed interest from China.
Alcoa (AA) - Get Alcoa Corporation Report  caused a slight panic among aerospace investors three months ago when it reported first-quarter results that included decreased demand for aircraft parts. This quarter offered a much more optimistic outlook.
New York-based Alcoa reported second-quarter earnings of $135 million, down from $140 million a year prior, on revenue of $5.3 billion. The company earned 15 cents a share, or 9 cents a share including all charges, besting or on a GAAP basis matching analysts' estimates of 9 cents. 
Alcoa's results have been clouded by charges and cuts in recent quarters related to the company's planned split into two independents by year's end, but the forecast for aerospace was undeniably positive. CEO Klaus Kleinfeld, during a call with investors, said that the technical issues that have slowed new jet and jet engine production are largely now in the past, with the company expecting a significant boost to earnings from the sector by year's end.
Kleinfeld said that it is a "transition year" in aerospace, with demand softening for older jet models but interest high for newer products that are now coming online.
"The whole supply chain is really ramping up now," Kleinfeld said. "We believe that particularly on the jet engine side, we are seeing already very strong demand coming in."
Aerospace is of increasing importance to Alcoa, making up nearly half of the sales of its finished products business.
Alcoa's results are followed closely because the company's raw materials are used in a large number of end markets, giving the company unique insight into the overall economy. But the company's going through a transition year of its own in 2016, limiting the near-term upside for investors.
Kleinfeld, after spending more than $5 billion in recent years to buy companies including Firth Rixson and RTI International Metals, is preparing to spin those finished products businesses off as an independent, sacrificing diversification to create two more focused, specialized entities.
Alcoa last month laid out some of the specifics of the two businesses, with the finished products group, to be renamed Arconic, expected to be both the faster-growing and less cyclical business but also the one that will be burdened with much of Alcoa's existing debt. The remaining Alcoa, which will house the company's traditional business of mining bauxite and producing aluminum, will have a much more pristine balance sheet as it attempts to thrive in an industry that has been hit with shaky global demand and a flood of lower-cost supply from developing markets.
Kleinfeld said on the call that shareholders will be receiving shares of an Arconic that is "gearing for profitable growth" across the board and of an Alcoa that has taken out costs, reduced debt and right-sized its portfolio.
Longer-term, the split could also make the Alcoa business a more attractive takeover target, particularly for a Chinese commodity buyer. Current-day Alcoa -- with its ties to aerospace supply chains -- would be a complex deal for a Chinese buyer, but freed from those businesses the metals operation would be freer to participate in consolidation among commodities titans.
Renewed demand for aluminum from China contributed to this quarter's results, a potential sign the country's appetite for raw materials is growing again. A resurgence in Europe may also help.
"There are two things at work in Alcoa. The first is that the economy is getting better, particularly western Europe and China, that's was a major thesis. That's good for the commodity sector," said TheStreet's found Jim Cramer. "The second area is the Arconic, the far more engineered products company...That's autos, the aluminization of autos."
However, it's a transition year, for both Alcoa and its aerospace business. Investors are hoping they are both near ready for takeoff.
"That's aerospeace bouncing back to double digits next year after some de-stocking now," Cramer said.