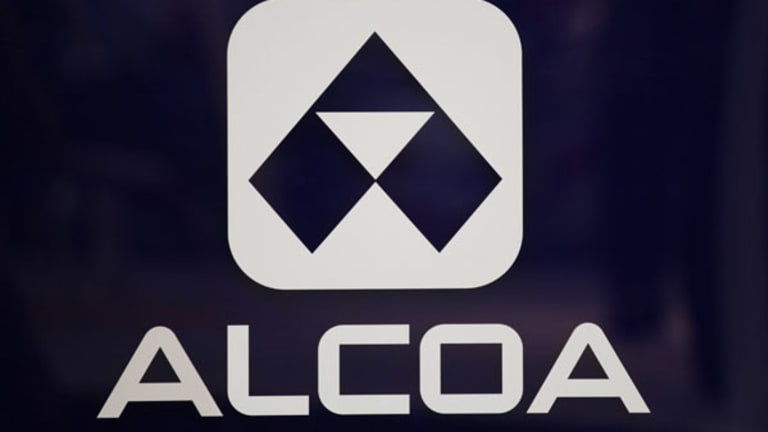 Alcoa Gets Earnings Season Off to the Right Start
Alcoa kicked off the fall earnings season with what baseball fans would call a solid single to left.
NEW YORK (
) --
Alcoa
(AA) - Get Report
has become the traditional lead-off hitter to earnings season, and the company got things off to
, delivering an unexpected profit of 2 cents a share on revenue of $5.8 billion.
Excluding special items, Alcoa earned 11 cents a share.
The numbers were a sort of razzie for the
Dow Jones Industrial Average
, which recently dropped Alcoa (along with
Hewlett-Packard
(HPQ) - Get Report
and
Bank of America
(BAC) - Get Report
) in favor of sexier offerings
Nike
(NKE) - Get Report
,
Visa
(V) - Get Report
and
Goldman Sachs
(GS) - Get Report
.
But the news was significant in another way, demonstrating that old-line, basic-material companies can find ways to succeed by finding new markets. In Alcoa's case, this can be summed up in one word: transportation. Aluminum is lighter than steel, and Alcoa has increased its penetration in both car and plane manufacturing.
In its conference call, Alcoa executives took the time to attack the London Mercantile Exchange, or LME, for changes to its warehousing policy it said distorted the market.
This is seen as an opportunity by the
CME Group
(CME) - Get Report
, which plans to offer an aluminum futures contract soon. Alcoa wants the LME to start reporting how traders are using its warehouses, as is required in the U.S.
The price manipulation made possible by LME rules actually made it into popular culture this last quarter when John Oliver of
The Daily Show
ran
on
Goldman Sachs
's
(GS) - Get Report
use of it.
Alcoa's place at the intersection of international price-fixing, high-tech manufacturing and popular culture may seem trivial, but it's not. Like a classic lead-off hitter, the results for this basic materials company tend to set the table for the rest of earnings season.
Basic-material stocks have actually done a good job of mirroring the broader
S&P 500
index this year. They are very similar. They're down about 1.28% while the market as a whole is up only less than 1%, and the pattern of movements in both has seldom diverged. They may not seem sexy, but they're called basic for a reason.
Because Alcoa was dropped from the Dow, it may not be seen as a lead-off hitter by all traders, who will be waiting instead for
JPMorgan Chase
(JPM) - Get Report
to report on Friday.
But the performance of metals, as compared with the overall market, shows they're still relevant. (The Dow rotates stocks into its index so that the index will always trend upward: Only
GE
(GE) - Get Report
remains from the original list of 12 offered by Charles Dow in 1896.)
So what does the Alcoa result mean for Alcoa and for the general market? Here is my view.
For one thing, it means that the U.S.'s cost advantage in energy, especially natural gas, remains a powerful driver for economic growth.
It means energy efficiency, as a design goal, remains an important trend. Lighter materials, like aluminum, have a continuing advantage over heavier materials like steel. Since efficiency can help pay for new goods, and energy prices remain high, that's also bullish.
In short there's a tailwind behind U.S. business that exists outside questions about government policy. Many American businesses that were becoming noncompetitive and irrelevant, like Alcoa, are now profitable and relevant again.
To use an October analogy, it's a solid single to left. We'll see Friday whether JPMorgan Chase can follow up and get traders cheering.
At the time of publication, the author held shares of GE and BAC.
This article is commentary by an independent contributor, separate from TheStreet's regular news coverage.
Dana Blankenhorn has been a business journalist since 1978, and a tech reporter since 1982. His specialty has been getting to the future ahead of the crowd, then leaving before success arrived. That meant covering the Internet in 1985, e-commerce in 1994, the Internet of Things in 2005, open source in 2005 and, since 2010, renewable energy. He has written for every medium from newspapers and magazines to Web sites, from books to blogs. He still seeks tomorrow from his Craftsman home in Atlanta.