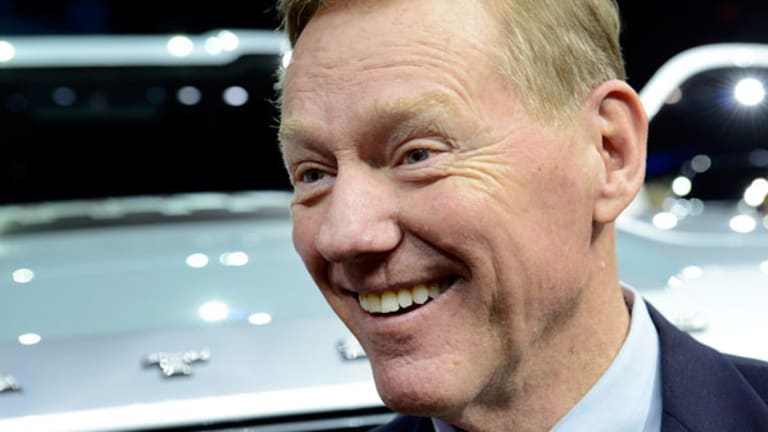 Alan Mulally Not Microsoft's Next CEO
While he hasn't taken a tremendous push to quiet the rumors, it seems unlikely that Mulally will head to Microsoft.
NEW YORK (TheStreet) -- While Ford's (F) - Get Ford Motor Company Report current CEO Alan Mulally has not made great strides to quiet the rumors regarding the possibility of him becoming Microsoft's (MSFT) - Get Microsoft Corporation Report next CEO, I find the possibilities quite slim.
Frankly, the idea seems fairly absurd.
Have we so quickly forgotten that Mulally and other Ford board members have reiterated that there would not be a chief executive change before 2015? And that current Microsoft CEO Steve Ballmer has said he will be gone within 12 months?
Sure, this could all change, but that's quite a while for Microsoft to wait around.
Let us also forget for a moment that Mulally is an industrial man. Before working at Ford he was at
Boeing
(BA) - Get Boeing Company Report
, where he worked since graduating college in 1969.
The man cares about aerodynamics, not the inside of a computer. And while a fantastic manager and leader, I don't know that he would be an effective chief executive for a struggling technology company.
Like Ford a few years ago, Microsoft is having issues. The latter is facing a market where PC sales continue to decline and don't appear to be bottoming any time soon.
But Microsoft isn't necessarily losing market share like Ford,
General Motors
(GM) - Get General Motors Company Report
and
Chrysler
were in the early part of the millennium.
Microsoft is facing an entire shift in the computer world, where tablets and mobile devices continue to increase, rendering PCs as less necessary -- and less desirable.
For the autos, it would be like if a completely new mode of transportation came into the market and auto sales for
every
automaker in the world suffered as a result.
Mulally is a strong leader with an engineering background, and has proven his savvy business management skills. This was apparent when Ford was the only one of the Big Three to not declare bankruptcy.
The guy knows his stuff, without a doubt. But this isn't a company-specific issue. Microsoft isn't bleeding money left and right with enough inefficiencies to write a book, like Ford was.
Microsoft needs a new leader. I absolutely agree with that. 100%.
But replacing a struggling tech giant with someone like Mulally would kind of be like
Apple
(AAPL) - Get Apple Inc. Report
with Tim Cook.
Now, I have defended Cook in the past and I can see how the above sentence may seem hypocritical, but allow me to explain.
Unlike Microsoft, Apple isn't in trouble -- yet. It still has creative genius Jony Ive. The company continues churning out record profits and at this point just needs someone to effectively manage the company.
That's Cook's role.
Microsoft doesn't
just
need a manager though. It needs a new leader. An innovator. Someone who can spinoff certain assets, unlock value and find the company's next growth catalyst.
It has enough Tim Cooks. Now it just needs a Jony Ive.
Not only do I believe that Mulally will stay at Ford, but I believe he's the wrong man for the Microsoft job.
Sure, he's got a home in Seattle where Microsoft is based, and likes to yuck it up with Ballmer & Co. from time to time, but that doesn't mean he's going to run the company.
I think the media got a hold of this 'Mulally for CEO' campaign and ran with it. I'm willing to be wrong, but man, I just don't see it happening.
At the time of publication the author was long F and AAPL.
This article is commentary by an independent contributor, separate from TheStreet's regular news coverage.
Bret Kenwell currently writes, blogs and also contributes to Robert Weinstein's Weekly Options Newsletter. Focuses on short-to-intermediate-term trading opportunities that can be exposed via options. He prefers to use debit trades on momentum setups and credit trades on support/resistance setups. He also focuses on building long-term wealth by searching for consistent, quality dividend paying companies and long-term growth companies. He considers himself the surfer, not the wave, in relation to the market and himself. He has no allegiance to either the bull side or the bear side.