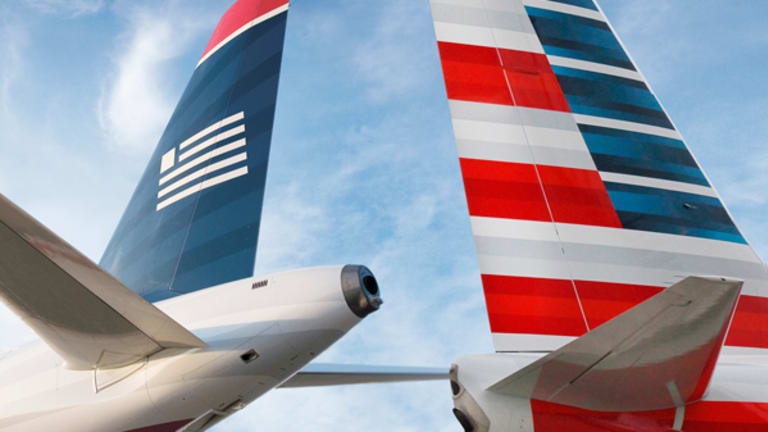 Airline Merger: DOJ Wins Big at National, Loses on Connecting Routes
US Airways and American can merge, but they will lose 44 of 51 American departures at Reagan National.
US Airways and American can merge, but they will lose 44 of 51 American departures at Reagan National.
CHARLOTTE, N.C. (TheStreet) -- It's puzzling to hear all the pronouncements that the Justice Department failed to get anything in return for settling its lawsuit opposing the merger of US Airways (LCC) and American( AAMRQ) .
At Washington Reagan National Airport, the key battleground in the DOJ's struggle for merger concessions, the DOJ seems to have gotten nearly everything it wanted. On the 1,000 network connections that were at the heart of the complaint it filed in August, DOJ seems to have gotten very little. But there a solution, in the words of aviation consultant Bob Mann, "was all ephemeral stuff -- it's not even manageable."
Start with the assumptions that while the key for DOJ was to get every one of the slots used by American before the merger, US Airways didn't want to give up any slots at all, which is what CEO Doug Parker argued in appearances before Senate subcommittees reviewing the merger bid in Marchand in June.
Asked Tuesday during a media conference what was the toughest concession in the settlement package, Parker responded: "The most painful is the slots at Reagan."
Today, US Airways operates 243 daily departures at National, while American operates 51. After the merger, the new American will operate 250 daily departures at National, according to a US Airways employee newsletter published Thursday. So if Justice asked for all of the American slots at Reagan, it got enough to enable 44 daily departures. Those slots can now turn over to competitors.
It is assumed those competitors will exert downward pressure on the fares at National, especially because the Justice Department has specifically declared that carriers with low-fare models can bid for them, while Delta (DAL) - Get Report and United (UAL) - Get Report cannot.
"It seems to me DOJ got a good settlement for a lawsuit that airline apologists said had no basis in fact," online travel commentator Joe Brancatelli tweeted. "Of course, no merger would have been better."
The settlement "opens 138 slots for low-cost carriers at Reagan National and LaGuardia as well as gates at five other major airports, which the Justice Department views as transformational for consumers," said Jack Butler, a Skadden Arps partner who represents American's official creditors committee and has been involved in the merger and settlement effort.
At the same time, Butler said the new American Airlines has retained the assets it needs to meet its business objectives and is still expected to generate more than $1 billion in annual net synergies in 2015 -- the same as when the merger was announced in February. "Sometimes, when parties work in good faith to find common ground, it is possible to meet everyone's needs" in a settlement, Butler said.
The settlement does not change the economics of AMR's plan of reorganization that was approved by the bankruptcy court last month, Butler said. That plan will become effective at the closing of the merger, which is expected in December. "This merger still provides enhanced potential for full recovery for AMR's creditors and a meaningful recovery for its equity holders," he said. "It remains an incredibly successful restructuring."
Wolfe Research analyst Hunter Keay argued in a report that after making 104 daily slot concessions at National, which after all include 16 slots already leased to JetBlue (JBLU) - Get Report, new American "will still be bigger than it was prior to the merger with a net gain of six daily slots (250 from 244).
"We believe the DCA divestitures reduce merger synergies by less than 5%," Keay wrote.
Although it secured slots at National and 17 slot pairs (34 slots) at LaGuardia and pairs of gates at five other airports, the settlement did not specifically address the issue that seemed to dominate the Justice Department's complaint that accompanied its lawsuit.
DOJ "lost on the idea of (enabling more) network competition," Mann said. In terms of the focus of the complaint's main tenet, that a merger would eliminate a competitor on about 1,000 routes around the country, "there was no meaningful impact," Mann said. "You couldn't measure it or provide a remedy."
At the same time, DOJ was, in a sense, fighting history. Europe has three global airlines; China has three global airlines; the global airline industry has three alliances. It was important for the U.S., 35 years after deregulation, to join the club with a strong hand: three viable global airlines.
It made little sense to try to block an inevitable outcome that is in country's best interest, even if fares potentially increase on some routes. But it did make sense to ramp up pressure on the big three airlines at seven key airports, particularly the principal airport in the nation's capital. And that is what Assistant Attorney General William J. Baer did.
-- Written by Ted Reed in Charlotte, N.C.
>To contact the writer of this article, click here: Ted Reed