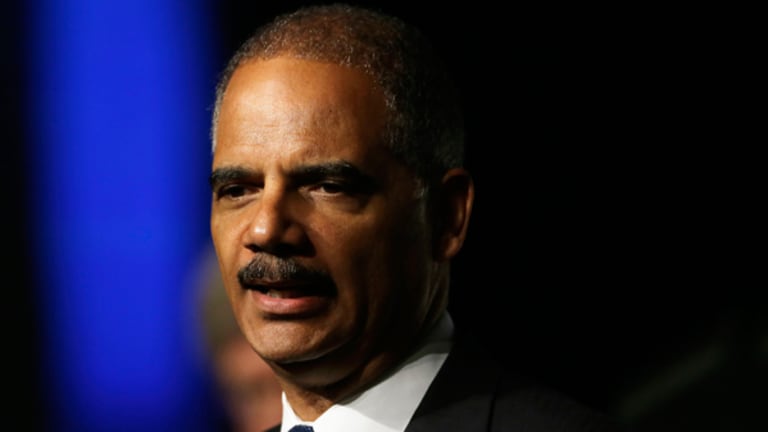 Airline Case Shows That Eric Holder Just Lets Stuff Happen
The attorney general needs to remind the rest of his department that he is in charge.
WASHINGTON D.C. (
) -- Not to join in the chorus of calls for Eric Holder to resign, but the attorney general does sometimes give the impression that he doesn't have the tightest grip on the people who work for him.
Perhaps Holder needs to remind the rest of the department that he is in charge -- at times he appears to have ceded control to others. Or perhaps he needs to return to Columbia Law for a refresher course in the legal precedents in the cases he gets involved in.
The airline industry is aghast by the Justice Department ignoring precedent in its decision to oppose the merger of
American
( AAMRQ) and
US Airways
(LCC)
. Reporters are aghast that the Justice Department would secretly obtain records of telephone calls by reporters and editors for
The Associated Press
. Medical marijuana advocates are aghast that cases are prosecuted aggressively by U.S. attorneys after Holder said they would not be prosecuted. Beyond being aghast, some are jailed.
To briefly review DOJ's decision to oppose the airline merger, it followed decisions since 2007 to allow the mergers of
Delta
(DAL) - Get Delta Air Lines Inc. Report
with Northwest, of
United
( AAMRQ) with Continental and of
Southwest
(LUV) - Get Southwest Airlines Company Report
with AirTran.
The US Airways/American merger would have combined the fourth-largest carrier with the fifth-largest carrier. Based on 2012 combined international and domestic revenue passenger miles, new American including US Airways would have 23% of market, United would have 22%, Delta would have 20% and Southwest would have 13%. The airline industry would then have three global carriers of nearly equal size, and Southwest would have the biggest share of the domestic market. It is hard to view this market share distribution as anti-competitive.
Another problem here is that preventing a merger invalidates labor contracts that would boost wages and benefits for thousands of American and US Airways employees, who would then make the same wages as Delta and United employees. "The DOJ's premise is to (seek) cheap airfares on the backs of labor," Dennis Tajer, spokesman for the Allied Pilots Association, which represents American pilots, has said.
It is not unlikely that merger decisions will result in thousands of labor union members staging demonstrations against President Obama, who was elected with labor's help.
It is no surprise that Holder keeps his job. Everybody in the workplace knows that the best way to keep your job is to win your boss's favor and to manage up. That is better than being competent, every time. Still, it is hard to think that the boss will welcome labor demonstrations that result from an illogical lawsuit.
As for the decision to authorize listening to
AP
employees' phone calls and then to get a search warrant for a
Fox News
reporter's e-mails, every reporter I know is troubled. Holder's defense is that he recused himself in the first instance and OK'd the second. That's not good enough in a country where a free press has been a foundation of democracy for two-and-a-half centuries.
As for the decision not to prosecute the user and producers of medical marijuana, Holder's supposed policy has been ignored by U.S. attorneys in several states. Many people have been convicted based on the position Holder took, but could not legally support.
In general, people expect the country's top law enforcement official to be consistent, to follow appropriate precedents and, when there is a problem, to propose enforceable and logical remedies.
You should not just be your boss's pet.
-- Written by Ted Reed in Charlotte, N.C. He has worked as a stringer for AP.
>To contact the writer of this article, click here: