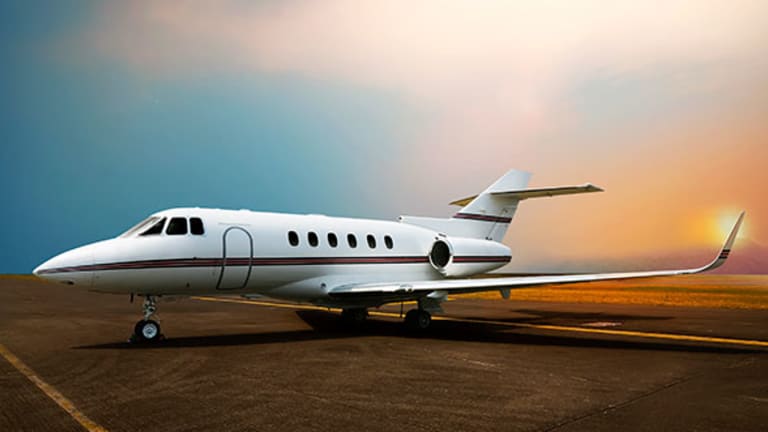 Air Ubers and Air Taxis Are Set to Disrupt the Commercial Airline Industry
The private aviation industry is embracing technology to make private flying more acceptable to the general public.
An increasing number of private jet booking companies offering all-you-can-fly services or last-minute deals at an affordable rate might be the new frontier of air travel.
As travelers grow tired of long security lines and mandatory TSA pat-downs at the airports, many are choosing to opt out of the traditional air travel system for new membership-based or jet-sharing services offered by airline tech startups such as Wheels Up, Hopscotch Air, Private Jet Services Group, Stratajet and JetSmarter, which just raised $105 million in its latest round of funding.
While the traditional private jet flying business is often considered to be archaic and expensive, these new private jet booking startups saw an opportunity in using technology to revamp the industry. The end result is that some of them can now offer relatively affordable hassle-free air travel experiences that include perks such as quick and easy takeoffs, free valet parking, catered in-flight meals and lots of legroom.
"The private jet industry was very archaic -- its brick-and-mortar process of picking up the phone, waiting hours and speaking to numerous different people in order to charter a jet was outdated and inconvenient," JetSmarter CEO Sergey Petrossov said via email.
Launched in March 2013, the Fort Lauderdale, Fla., startup counts rapper Jay-Z and the Saudi royal family as early investors. JetSmarter, valued at $1.6 billion in the latest funding round, is also uniquely positioned as the only private jet venture where bookings are solely done through its mobile app technology. The company operates on a business model similar to that of Uber Technologies in that it connects flight operators and clients without owning any aircraft.
"Our aim is to make flying private something accessible to the masses, not just a privileged 1%. We offer 4,000 free flights each month to our members who have access to these flights daily," said Petrossov, who began flying private after selling his first IT company in 2009.
Membership fees for JetSmarter, however, are not exactly cheap. A $15,000 initiation fee for the first year is required on top of an $11,500 annual membership fee every year thereafter. Members also need to fly with the company about 12 to 15 times a year on average.
JetSmarter has partnered with more than 800 air carriers across the globe, which provide their inventory for its 6,700 members to book and fly. With $105 million of fresh cash, the company plans on expanding its JetShuttle product -- shared private jet flights where users can search for and book an already scheduled fight or create their own JetShuttle -- into Latin America, China and India. JetShuttle flights are free for members in the U.S., Europe and the Middle East.
Three-year-old Wheels Up is another such company that offers its almost 4,000 members "free" flights based on a combination of initiation fees and annual dues. The company owns its fleet of aircraft and particularly prides itself on its exclusive ownership of the Beechcraft King Air 350i.
"The King Air 350i, which I like to call the flying SUV, is an exclusive that nobody in our industry can operate in fleet format, so that differentiates us from our competitors," said Kenny Dichter, founder and CEO of Wheels Up.
Individuals and corporations pay a fee of $17,500 and $29,500, respectively, to join Wheels Up, after which they can pay a fixed hourly rate as they fly.
"It's like Amazon (AMZN) - Get Amazon.com, Inc. Report Prime or Netflix (NFLX) - Get Netflix, Inc. (NFLX) Report . You pay a membership fee and then you can go," said Dichter, who confirms the company is open to deals, whether partnerships or purchases, to achieve its goal of becoming the top player in the industry within five years.
While companies like Wheels Up and JetSmarter fly globally, regional players in the private aviation space also are digging into the growth and opportunities that a revitalizing industry seems to promise.
Launched in 2009, Hopscotch Air offers on-demand regional private aviation at affordable prices. The company operates on an "air taxi" model competitively priced with commercial airlines. A trip from New York to Boston is $1,700 for an entire plane, one-way or same-day round trip.
"The way that Americans travel in this country is that they often do regional travel," said Andrew Schmertz, co-founder and CEO of Hopscotch Air. "The industry needs our focus on the regional travel market. The high-end jet market, I don't think it's going to grow; it's a tool of the wealthy. ... The air taxi model is more a tool of small-business owners, lawyers, entrepreneurs and people who have maybe upper-middle-class jobs but are not wealthy."
Still, as alternatives to traditional airlines and private aviation pop up all over the country, some note the often difficult economics of flying privately.
"There have been many companies eager to claim 'The Uber of private jets.' These companies often have substantial well-known celebrity or venture backing and suggest they are truly a 'tech' company operating in the aviation space ... companies such as Beacon, BlackJet Technologies, Gotham Air, among others. I am pretty confident they are not 'uber-ing' anything at the moment," said Michael Farley, chief revenue officer at Private Jet Services, which operates using a consultancy model. 
All three companies failed earlier in 2016. Jay-Z's Roc Nation reportedly was an investor in BlackJet.
A Jay-Z representative was not immediately available for comment.