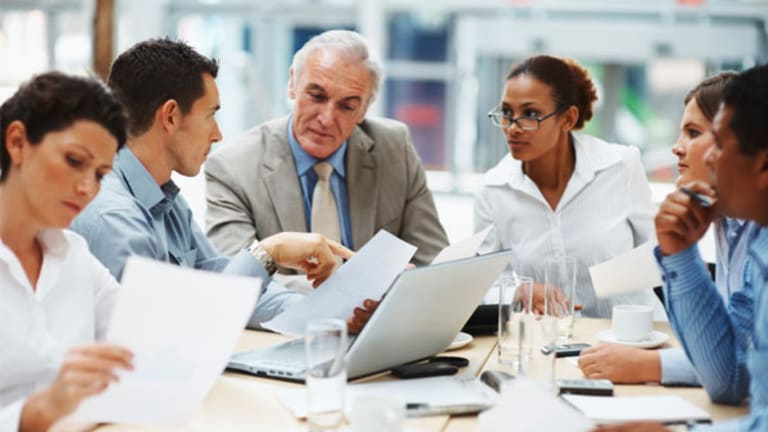 9 Stocks With Questionable Auditor Oversight - Weiss
Are we dealing with incompetence or craven desire to please clients at all costs?
Every now and then, I like to write about a Wall Street institution or practice that stinks, preferably on ice. This time I'm not doing that. The subject of this article hasn't quite risen to that level. To truly stink, there must be some pretense of adding value. No one can reasonably make that claim about corporate auditors.
Oh, you think I exaggerate? Then consider for a moment a legal case that is a veritable Vesuvius of precedent in auditor-land, but has drawn little media attention as it has slogged its way through the court system of New York. Shareholders of
AIG
(AIG)
are suing the insurer's auditors at PricewaterhouseCoopers, claiming the auditors failed to detect fraud at AIG. New York's Court of Appeals took up this case the other day. PricewaterhouseCoopers traveled up to Albany to put forth a legal doctrine called
in pari delicto
, meaning "mutual fault." In other words, PricewaterhouseCoopers is free of liability because AIG did the deed. So tough luck for AIG shareholders, lawsuit-wise, the auditors claim.
Yes, I know, it's funny. A good laugh is definitely therapeutic, though it's less amusing when you consider that a lower court, apparently on solid legal grounds, actually cited that daft Latin nonsense in tossing the shareholders' suit out of court. It has been used successfully by auditors to defend their nonfeasance in the past, most recently by
Grant Thornton
in staving off claims from
Refco
shareholders.
Now, I'm not a lawyer so I wouldn't pretend to understand the kind of legal mindset at work here. I agree that, if not overturned, it means that auditors will be handed a
when they fail to detect fraud, as a shareholder lawyer put it. But let's put the legal mumbo-jumbo aside and address the underlying issue.
It's reached the point, especially if "I don't gotta do nuthin" (as
in pari delicto
can be colloquially translated) is allowed to stand, that auditors simply have no reason to exist. Public companies might as well fire their high-priced auditors and buy fancy rubber stamps with "auditor" written on them. They'd save a lot of money, and the proceeds can be donated to Haitian relief.
If it was just the AIG and Refco cases I wouldn't be so vehement about this. It's just that you can't toss a dart at a double-entry ledger book nowadays without hitting a company that is playing fast and loose with its accounting, with no interference from its auditors.
One of my favorite bloggers, the former
Crazy Eddie
book-cooking mastermind Sam Antar, has a hobby of doing the kind of stuff that auditors are paid to do, which is, theoretically, to root out gamey accounting. He has single-handedly--just for kicks--uncovered accounting shenanigans at more public companies than you can shake a green eyeshade at. Every one of those companies had auditors, usually with Big Four accounting firms, that were supposed to actually find that kind of stuff.
Lately Sam has been zeroing in on the accounting equivalent of bad wheel alignments--commonplace accounting boners in calculating non-GAAP earnings measures. Just the other day, Sam
questioned five public companies
--
A. H. Belo
(AHC)
,
FirstService
(FSRV)
,
Animal Health International
(AHII)
,
Schawk
(SGK)
and
Penn National Gaming
(PENN)
- raising concern about how they calculate their EBITDA (earnings before interest, taxes, depreciation and amortization).
Before that, he pointed out what he considers
of EBITDA at
Overstock.com
(OSTK)
and, more recently
at Penson Worldwide ( PNSN) and Comtech Telecommunications (CMTL) .
Long after Sam alleged accounting shenanigans in his blog,
Overstock restated its earnings
precisely along the lines of Sam's posts.
If you go through Sam's blog posts that I've just linked above, you'll notice that in every case, Sam came to the conclusion that accounting rules had been violated by simply reading each company's
SEC
filings -- not by getting some informer to talk.
The auditors, of course, did more than just read the filings. They're actually supposed to attest to their accounting virility. In each instance, they rubber-stamped their approval of the company's particular method of accounting--which, in Overstock's case, turned a fourth quarter 2008 loss of a $705,000 into a "profit" of $1.014 million before that booboo was reversed in a restatement.
Now all this comes down to technical stuff, chiefly Regulation G, which covers non-GAAP financial measures, For instance, Penson Worldwide, a Wall Street trade-clearing firm, is believed by Sam to have acted improperly by including stock-based compensation in working out its EBITDA. It is not the kind of thing that stands out in bold relief to a non-accountant. In other words, it is precisely the reason why companies are supposed to have independent auditors -- to read, understand and apply technical SEC regulations that maybe their own accountants failed to understand. Sort of a big, human eraser, such as you have at the end of your pencil.
So are we dealing with incompetence or craven desire to please clients at all costs? That's really the only unanswered question here. I have my own theory. I think that auditors are just having fun with the rest of us. They know they're useless, so instead, in SEC filing after SEC filing, we're treated to exhibitions of applied mathematics,
Do you want 7 to go into 28 a total of 13 times? Sure. Just hire a Big Four auditor, and he's got a rubber stamp with your name on it.
Easy Math - Watch a funny movie here
Gary Weiss has covered Wall Street wrongdoing for almost a quarter century. His coverage of stock fraud at BusinessWeek won many awards, and included a cover story, "The Mob on Wall Street," which exposed mob infiltration of brokerages. He uncovered the Salomon Brothers bond-trading scandal, and wrote extensively on the dangers posed by hedge funds, Internet fraud and out-of-control leverage. He was a contributing editor at Conde Nast Porfolio, writing about the people most intimately involved in the financial crisis, from Timothy Geithner to Bernard Madoff. His book "Born to Steal" (Warner Books: 2003), described the Mafia's takeover of brokerage houses in the 1990s. "Wall Street Versus America" (Portfolio: 2006) was an account of investor rip-offs. He blogs at garyweiss.blogspot.com.