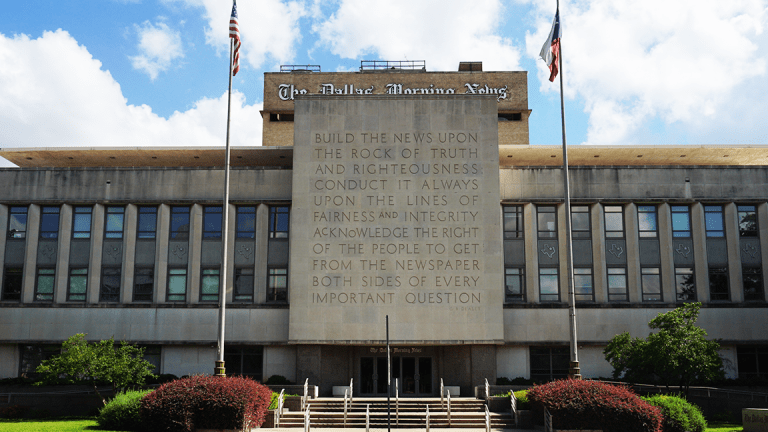 Dallas Morning News Reinvents the Art (and Science) of Local Digital Marketing
Belo + Co., the new marketing services umbrella of paper owner A.H. Belo, reinforces its leading local model in transforming local 'advertising.'
Plus one. Plus two. Plus three. Call it the new addition, and it's the now-more-public new business strategy of A.H. Belo Corp. (AHC) - Get A.H. Belo Corporation Class A Report , longtime owner of the fast-changing Dallas Morning News.
On Tuesday, Oct. 31, A.H. Belo restructured itself into two operating divisions. Belo Media Group (BMG), formerly DMN Media, concentrates on the local news and information business. The second, Belo + Co., pulls its diverse digital marketing experiments under one umbrella. Each of those pluses stands for a new digital marketing service that Belo has innovated -- started up or acquired -- over the past five years. All totaled, Belo + Co., housed in the Campbell Centre building five miles north of the Morning News, now counts 145 employees.
Belo + Co. proclaims local knowledge: "The Oldest Company in Texas Knows Texans." Which leads to its up-to-date services: Prospecting. Lead generation. Conversion. Marketing automation. Social and content marketing.
Both newspaper people and their advertiser customers have gotten familiar with those terms over the past decade. Belo's new trick: taming that blizzard of buzzwords into a manageable, and increasingly profitable, business. Take what has been a sometimes ungainly set of digital marketing tools, and offer them -- holistically, and backed by business intelligence -- to midsize businesses.
"It's what I call the local enterprise space, maybe what some would call more of that mid-market space," explained Grant Moise, executive vice president of A.H. Belo and general manager of The Dallas Morning News. "I don't know of anyone else who has gone and done it the way we have."
Belo + Co. becomes a single brand, encompassing what had been the Vertical Nerve (search engine marketing and optimization and conversion), Distribion (multichannel marketing automation), MarketingFX (print material marketing), Speakeasy (social and content marketing) and Connect (programmatic advertising) businesses. One integrated sales staff -- "one service, one reseller" -- represents its diversity of services, in the chart shown below, with specialists called in as needed for each account. Belo bought 80% of three of the companies -- Vertical Nerve, Distribion and MarketingFX -- in January 2015. This January, it bought the remaining 20%. Tim Storer, a founder of those companies, now serves as Belo + Co.'s president.
"We see the pain points in the market," Storer said this week. "And we're seeing systemic change in the marketplace." In short form, Belo + Co. aims to build a big new business by addressing these new realities.
The big idea: Sell midsize and larger local companies vital digital marketing services, often in addition to advertising space itself. Sell them space -- print and/or digital -- and a service. That's plus one. Sell them two services. That's plus two. Sell them three services. That's plus three.
It's more than an idea. It's become the strategy separating The Dallas Morning News from most of its peers in the newspaper trade. Most importantly, it's a strategy seems to be slowly bearing fruit.
The Transformative Aim
On Monday, Belo released its third-quarter financials. Like its peers, the company suffered more major declines: down in double digits in print advertising, leading to a 9% decline in overall advertising revenue.
The silver lining in those numbers? Through the third quarter, digital advertising and marketing services in 2017 amounted to 39.3% of total advertising and marketing services revenue. That means that the company depends on print for about 60% of its ad revenue. As digital advertising and marketing services -- the majority of which is now driven by Belo + Co. -- cross the 50% of ad revenue threshold, Belo's transition to a digital future becomes easier. That becomes an important number. The fact that Belo's percentage tracks just below The New York Times' (at 43.3% of all its ad revenue counted as digital in its third-quarter financials) proves out a key strategy. By comparison, most newspaper companies can count only 10% to 25% of ad revenue as digital.
In assessing Belo's public financials, it looks like its total digital advertising and marketing services now represent more than $50 million annually. That would be up more than 8% over 2016.
That's good growth, if still insufficient to offset those industrywide print ad losses. At this point, Belo is still about 6 percentage points off, annually, in offsetting its print loss.
For CEO, president and chairman Jim Moroney, a proud member of the founding Belo family as great-grandson of Morning News founder George Dealey, this is a once-in-several-generations transformation required of those families still believing in the community role of newspapers.
Moroney said the shift away from print to digital spending toward the end of the past decade set him on a new path: "My customers were still healthy, but I was getting a smaller and smaller share of their marketing budget. My share was declining. We still had a good relationship with them. The brand was still strong. So I said, 'What do we need to do to earn new market share from our advertisers?'"
That's what started the impetus to a full-spectrum marketing services business. The goal here: Make the business more digital-reliant and less print-reliant, as print fortunes continue their deep decline.
Clearly, there Belo is succeeding. Through the second quarter of 2017, core print advertising now makes up 28% of the company's revenue. That's down from 46% in 2010. (The comparative number from the industry leader, The New York Times, which has launched itself into a different universe than large metro papers, is 17%.)
Digital advertising and marketing services make up 22% of revenue, up from 7% in 2010. Beyond revenue, though, the sometimes stealth issue is profit. Digital sales profit margins are slimmer, in general.
That's one reason that Belo has moved its marketing services business up the food chain.
Daily newspaper companies have embraced the marketing services trade for a half a decade or longer. Hearst Corp.'s LocalEdge pioneered it. GateHouse Media LLC has won attention for its Propel, recently renamed UpCurve. Gannett Co. (GCI) - Get Gannett Co., Inc. Reportbought and is integrating ReachLocal, after several internal development efforts. Digital First Media Inc. relies on Adtaxi in that field.
In talking with these companies over the years, a couple of points have emerged. There's a business there, given merchant need for digital marketing help. Second, it's a tough business with high churn and too-low margins. It takes a lot of work to produce too-meager profits. They've also learned that reselling others' products -- such as Google and Facebook ads -- produces skimpy profit margins. All newspaper companies confront these realities and have been restrategizing their marketing services approaches.
Here, Belo + Co. swings more for doubles and triples in the marketplace.  Belo + Co. materials emphasize: "Focus on the 'M' in SMB." The new Belo + Co. target: companies earning $10 million to $750 million in revenue and spending at least $1 million for marketing. In other words, forget the little guys; they are too much work for the money.
The Belo + Co. strategy, then: Focus on midsize enterprise customers and on self-built services to make higher margins.
As one example, its Speakeasy social and content marketing business now sees an average $7,000 client monthly spend, compared with about $1,500 when it started up its business in 2015.
The Big Commercial Picture
It's a commercial turnaround strategy -- even as the Morning News, a laggard in digital subscriptions, makes successful new forays into digital reader revenue, now counting 22,000 digital subscribers -- that separates the company from its peer metro pack.
In addition, it may serve as a model for others willing and able to invest in similar businesses. Further, the company may well extend its services well beyond the Dallas Metroplex, later in 2018 and beyond. Already about 50% of Belo + Co.'s 400 clients are based outside the Dallas-Fort Worth metro area, according to Belo + Co.'s Storer. That percentage may well grow, as the new operation extends its reach. To do that, it may go increasingly direct to midsize enterprise customers or work with local media partners that leverage its services.
As Moise said, "Part of the 2018 plan, in terms of what we're calling kind of a reseller channel, could be regional agencies that want to white-label some of what we do, or it may be that another daily would say, 'Look, I want to go resell these solutions in their entirety.'" 
As the unit expands, it applies its recent experience. Key to that experience is an analytics operation that is in the process of doubling its staffing.
How does analytics-driven selling work in practice?
Mike Orren now runs the newly structured Belo Business Intelligence unit, the new analytics-centric foundation serving both Belo + Co. and the reorganized Dallas Morning News-centric Belo Media Group, which will be headed by Belo ad and events executive Alison Draper. BBI both serves existing customers and packages would-be solutions to prospective Belo clients. In total, 30 people work that part of the business. Significantly, BBI now houses eight in analytics -- a large number by single, regional newspaper standards.
Think of BBI as a kind of glue for the new commercial strategies of A.H. Belo, a third new group. If it's analytics-based, it's very practical, market-focused analytics.
"We are the product team for both Belo + Co. and BMG," Orren said. "So we're telling them what they're going out to market with and how it's packaged and how it's priced." Orren has lots of practice at that. For Belo, he started up the social and content marketing Speakeasy -- now part of Belo + Co. -- toward the end of 2012.
"Let's say we work with a national furniture chain," Orren said. "They give us their sales data for their Dallas store. They gave us every card swipe from the day that they opened. And then my group takes that and produces an analysis that not only tells them where their biggest opportunities and market were.
"It also refuted their belief that their store in a certain city was enough of a destination that they should be focusing on the travel market. We totally refuted that belief. We then scaled for them how big a share of market they could expect to get over the next five years. We tied it to a plan that involved print, digital, direct mail and pretty much every tool we have in the toolkit that was relevant to reaching people and the lookalikes of their biggest spending customers."
It's not 1999 anymore in the selling of local advertising. As Orren said: "Then we take that in to go sell them instead of a just, 'Hey, we're doing a special section on garden next week.'
"That process took a month working on that analysis, before the seller [Belo's salesperson] ever went back and got face-to-face with them. We sent seller and data geek together to present to the client and say, 'Here's what we got.' So yes, there's huge value in that.
"We also told them which neighborhoods should be performing for them that aren't, and they come in thinking that it's a perfect radius and it's obviously not true once you layer in the lookalikes and the demographics and, 'Oh, look,' here's a pocket that's 30 minutes from their store that's super rich to mine and they haven't really been focused on that."
That's the in-practice plus solutions -- "print, digital, direct mail and pretty much every tool we have in the toolkit" -- that underlie this new approach.
Moise put the furniture store case in perspective. "We're always tracking how many of our traditional Dallas Morning News clients are buying what we call one plus, two plus, three plus, solutions," he said.
"It's clear to us that when an advertiser can become more vested in us, buying more of a breadth of our solutions, that it really helps us retain our business relationship. That is a real key data point that helps us know if we're making inroads, especially on the traditional side."
Storer noted that less than 10% of the local (BMG) clients are also Belo + Co. clients. "It's important to note that not all BMG accounts are good fits for B+C, but this does highlight that there is still a lot of opportunity for growth within the existing BMG client base."
That notion leads to other key metrics. What's the average annual spend of ad/marketing customers? Is it increasing if and as merchants attribute greater return on investment to Belo + Co.'s solutions?
That kind of internal analysis accompanies the external analyses Belo now emphasizes as it works its markets differently.
Media companies talk a lot about data, but here we see the beginning fruits of applied data. Data -- and the drawing of intelligence from it -- is the essential underpinning of Belo's leading reinvention. 
It's a simple enough concept: Merchants need help with the complexities of digital marketing. And who better to trust that the old guys in the market who know all the new methods? Who can best advise them on overall marketing strategy? Belo calls it a "one-stop 'money manager' approach."
Among the many ways that Belo's new plan moves well beyond traditional advertising is in how it sees its "advertising customers." If Belo can execute well, the strategy says, these customers will become long-term ones, appropriately glued to Belo's "platform." That's a new annuity business, much as circulation revenue was -- and may be again in the digital world -- for so many years. The key word for Belo in that: retention.
With all these digital marketing approaches brought under one tent, Moise pointed to one key trend. "Our churn's gone down." Newly serving -- and retaining -- local businesses, thus, joins in digital subscription sales in the battle to win, and keep, new customers for local news companies.
More of What's Trending on TheStreet: