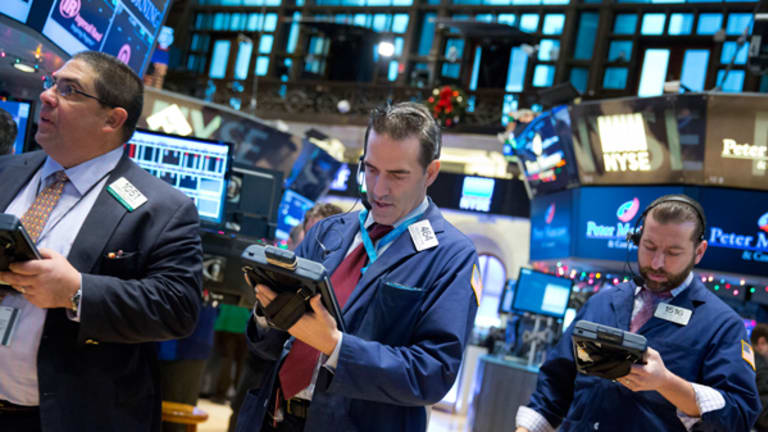 Again? Stock Indexes End Lower for Fifth Consecutive Day
A buying opportunity is near.
A buying opportunity is near.
NEW YORK (TheStreet) -- The stock indexes closed down for the fifth day in a row on Thursday.
The DJIA lost another 106.38 points to close at 17,320.71 while the S&P 500 was lower by 18.60 to close at 1,992.67. The Nasdaq lost 68.50 points to finish at 4,570.82 and the Russell 2000 was down 22.35 at 1,154.71.
For the month of January, which is only two weeks old, the DJIA has lost 2.78%, the S&P 500 is down 3.21%, the Nasdaq has lost 3.48% and the Russell 2000 has lost 4.10%.
At the same time, the S&P 500 Trust Series ETF (SPY) - Get Report volume has been huge on the down days versus the two up days in January. The S&P is now down eight out of 10 trading days in January.
It appears there is something very different with the stock market in 2015 versus 2014. The "buy the dip" crowd is non-existent. The market issues that raised red flags are beginning to come to the forefront. By early next week the stock indexes will finally be oversold enough that the markets can put in a sustainable upside bounce.
But until we see the magnitude of that bounce, the S&P 500 is now in "trend bearish" territory, which is a three-month or longer time frame. 
The S&P Goldman Sachs Crude Oil Trust Index (OIL) - Get Report continues to exhibit downward price pressure. However, the weekly time frame regarding price shows an extraordinarily oversold signal. A turn higher seems probable in the near future.
The SPDR Gold Trust (GLD) - Get Report appears to exhibit a bullish price pattern at the current time. However, at the same time, it appears to be approaching near extreme overbought conditions. Chasing does not seem to be the proper course of action for traders.
In sum, a buying opportunity is near. Next week should provide traders and investors a better opportunity to establish long positions.
This article is commentary by an independent contributor. At the time of publication, the author held no positions in the stocks mentioned.