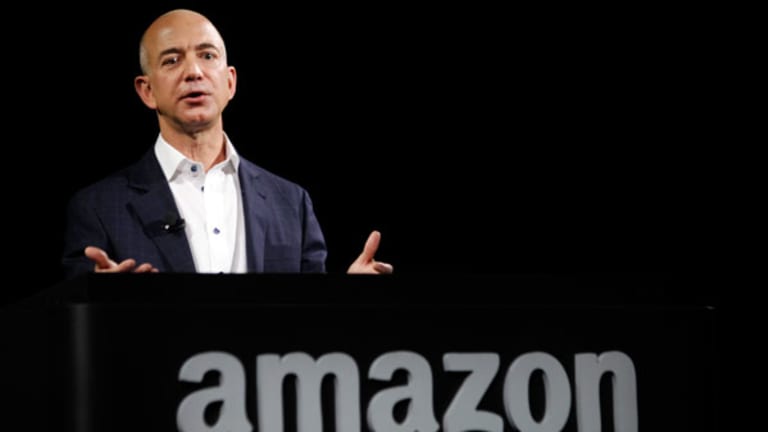 Publish date:
After Vanquishing E-Book Rivals, Amazon Now Makes Peace With Publishers
Investors should expect more profits from Amazon's media sales now that it's moving back to agency pricing.
Investors should expect more profits from Amazon's media sales now that it's moving back to agency pricing.
NEW YORK (TheStreet) -- Now that Amazon (AMZN) - Get Amazon.com, Inc. Report has swept away its competition in the $3 billion U.S. e-book business through years of aggressive discounting, it's starting to make peace with publishers, which should mean more profits at the world's largest bookseller. 
In recent months, Amazon has signed new contracts with three of the world's five largest publishers: Legardere's Hachette, CBS's (CBS) - Get CBS Corporation Class B ReportSimon & Schuster and most recently, Macmillan. Those contracts return much of the pricing control of e-books back to the publishers. Not long ago, Amazon fought hard for that control. 
So what's changed? 
Amazon has solidified its already strong strong market share position since the 2012 federal court ruling that mandated major publishers allow discounting on e-books by Kindle, Barnes & Noble's (BKS) - Get Barnes & Noble, Inc. Report Nook, Apple's (AAPL) - Get Apple Inc. (AAPL) Report iBooks and other e-book retailers. 
"This is a big win for Kindle owners, and we look forward to being allowed to lower prices on more Kindle books," said an Amazon spokesperson at the time of the settlement. And discount Amazon did, causing prices for best-selling e-books to fall by more than 50% in under two years. 
Nook had been Amazon's most serious competitor during the years when the e-book price-fixing trial was playing out in court. Back then, Nook often matched Amazon's discounts, resulting in big losses. These days, Nook is much diminished.
Under the previous pricing agreements, publishers and booksellers shared the proceeds of e-book sales, with 70% going to the publisher and 30% going to the retailer -- so-called agency pricing. Under the court-mandated pricing agreements, publishers sold e-books to retailers, which in turn set their own prices; heavily discounted e-books were often sold at a loss.
"Amazon holds a 64% market share of Macmillan's e-book business," said Macmillan CEO John Sargent in a letter to authors and readers discussing the company's new deal with Amazon. That number is likely higher for other major publishers, as Macmillan sells e-books directly to readers, unlike some of the others.
In 2013, e-books were a $3 billion business, according to the BookStats report. Amazon is thought to control more than two-thirds of it. The company does not break out in its earnings reports how much money it makes from e-books. 
Amazon has famously absorbed losses on deeply discounted merchandise to put pressure on competitors. In this case the strategy has worked.
But now the company is under pressure itself from shareholders to book a profit. This pressure has played out across other Amazon businesses, even the physical book business, where the company doesn't seem to be offering the same deals it used to.
E-books are no different. With agency pricing agreements in place and a solid lock on the biggest markets in the world, Amazon is poised to address its slim margins. Amazon reportedly has a 90% market share in the U.K., the world's second-largest e-book market.
A little over a year ago, locked in a discounting battle with competitors, Amazon was briefly selling the e-book edition of a mega-bestseller, Donna Tartt's The Goldfinch (Hachette), for $1.79. With a wholesale price thought to be near $10, Amazon was losing more than $8 for every copy it sold. The Goldfinch was the No. 3 e-book best-seller that week, meaning it likely sold thousands of copies a day. Under agency pricing agreements, the e-book will now be sold at whatever price the publisher sets and Amazon will take a set cut. The e-book edition of The Goldfinch is currently for sale on Amazon for $6.99. 
When reached for comment, an Amazon spokesperson said via email, "We are happy with this agreement, as it allows us to grow our business together with Macmillan and their authors. Importantly, the agreement specifically creates a financial incentive for Macmillan to deliver lower prices for readers." The company declined to comment further. 
A Barnes & Noble spokesperson declined to comment.