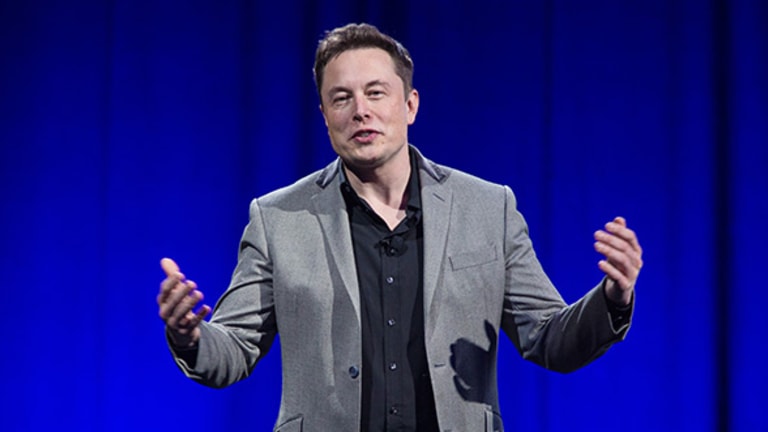 After SolarCity Bid, Elon Musk's Powered-Up Tesla Faces Cold Reception on Wall Street
The entrepreneur late Tuesday proposed a $2.8 billion merger between Tesla and SolarCity, his two largest holdings. Investors questioned the financing and the business rationale.
Tesla Motors (TSLA) - Get Tesla Inc Report  CEO Elon Musk took to the podium early Wednesday morning to explain the rationale for his company's $2.8 billion bid for SolarCity (SCTY) . He was met by a skeptical Wall Street audience.
Shares of Tesla dropped more than 10% in after-hours trading Tuesday and premarket trading Wednesday after Tesla disclosed its bid, costing the company more in market capitalization than the total value it is offering to pay for SolarCity. The offer would combine two-thirds of Musk's current corporate empire under one roof, combining Tesla's business manufacturing electric cars and battery storage products with SolarCity's solar power systems for homes and businesses.
Early Wednesday, Tesla shares fell 8.6%.
Tesla, in a blog post late Tuesday, said it was prepared to offer between $26.50 and $28.50 a share in stock for SolarCity, which like Tesla counts Musk as its largest shareholder. The offer, which is subject to due diligence and a final agreement, represents a premium of 21% to SolarCity's closing price Tuesday.
Given the overlap between the two companies, Tesla and SolarCity are making efforts to ensure any deal would be free of conflict. An offer would be subject to approval of a majority of "disinterested" stockholders at both companies with Musk and Antonio Gracias, like Musk a board member at both companies, recusing themselves from voting on the proposal.
Tesla said it intends to proceed with the bid "only on a friendly basis." SolarCity said in a regulatory filing it would carefully evaluate the proposal, with CEO Lyndon Rive telling employees "there are tremendous synergies between these two companies." Musk, in addition to serving as CEO of Tesla, is chairman of SolarCity, and Rive and Musk are cousins.
Tesla is pitching the deal as creating a one-stop shop for green-minded customers who would like to use SolarCity panels to generate enough energy to power their vehicles and, via Tesla storage units, power their homes. The company sees opportunities to cut costs and boost revenue by selling SolarCity gear in Tesla showrooms, and using SolarCity installers to set up battery storage units.
"I have zero doubt about this," Musk said on an investor call Wednesday morning. "Arguably we should have done it sooner."
But even if Musk has no doubts, a lot of people not involved in either company do. Tesla holder Ross Gerber, head of an investment management firm, said on Twitter Wednesday morning following the call that the firm is against the merger, saying, "We will not vote for this and we will encourage other Tesla shareholders."
SolarCity has struggled of late, its shares losing more than half their value in the past 12 months prior to the Tesla bid after missing earnings and warning of weakness in the quarters to come. Critics including famed short-seller Jim Chanos has predicted cash burn above and beyond the $400 million SolarCity analysts expect this year, with Chanos calling SolarCity a "subprime" finance company due to the way it offers financial support to customers buying its units.
Given Tesla's ambitious plan to ramp up production of its automobiles and bring its Model 3 to market in the quarters to come, the company seemingly doesn't need either the management distraction or the added debt burden of SolarCity. The company raised $1.4 billion in a secondary offering earlier this year to fund Model 3 development but some analysts have warned Tesla could face further capital needs even before adding SolarCity's $3.2 billion in debt and money-losing operations.
Barclays auto analyst Brian A. Johnson in a note said he saw "little in the way of synergies, much in the way of cash burn" from the proposal, making an additional Tesla capital raise more likely.
"Given limited access to capital for SolarCity, we believe the core rationale for this deal is for SolarCity to take advantage of Tesla's relatively favorable access to and cost of capital," Johnson wrote. "However, the combined entity is likely to magnify the losses and cash burn that both were seeing individually."
Patrick Jobin, who covers SolarCity for Credit Suisse, in a note predicted Tesla will be challenged to convince its shareholders the deal has merit.
"We are unconvinced of the strategic and financial rationale of the proposed transaction," he said, putting a 20% to 40% probability that a deal gets done.
Even analysts who buy into Tesla's logic for the deal seem to be worried about execution. Piper Jaffray analyst Alexander Potter wrote that the combination is an interesting idea "but Tesla may be asking too much of itself," while Oppenheimer's Colin Rusch said investors are likely to view the transaction as "a bailout for SolarCity and a distraction" to Tesla.
"While we remain bulls on the solar industry, we do not view this acquisition as the best and highest use of Tesla's capital and human resources," Rusch wrote.
Then again, raising money has never been an issue for Tesla, as shown with its recent secondary, and most bulls and bears already agree that the automaker's Model 3 rollout schedule is unrealistic so a deal distraction that leads to delays wouldn't necessarily sink the stock.
Musk, in attempting to combine Tesla and SolarCity, is laying out his long-term vision of a world where consumers would generate, store and consume their own electricity. His task now is to convince shareholders to buy into his plan to make that vision a reality.