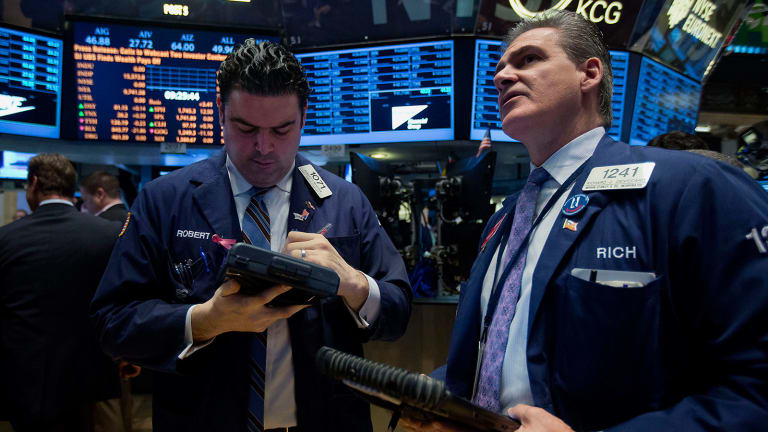 Even If Market Opens up, It's Headed Lower
Following a turbulent trading day, the decline stage still does not look complete.
This story has been updated with current market information and thoughts from Jim Cramer. 
NEW YORK (TheStreet) -- Despite the bounce in futures, the U.S. indexes are still headed to lower lows before rebounding. 
With futures at major U.S. indexes up in low single-digit percentages, the Dow Jones Industrial Average could open nearly 500 points higher today, following a brutal day of trading in which it closed some 600 points lower.
As an astute observer noted yesterday, "The goal of Elliott Wave analysis is to analyze sentiment, not participate in it!"
Most of the market seemed to be freaking out when the S&P 500 opened and proceeded to drop to the 1867 level in a ridiculously extended third wave. From that point, the market rallied almost 100 points off that support level. As we headed higher, our target was set in the 1953 region, which was where the market seemed likely to turn down yet again.
True to form, it dropped 80 points. But the manner in which it dropped did not prove that the market was going directly to lower lows. We focused upon the 1874 level as the support which could turn it back up strongly.
Yet again, the market turned up another 45 points from there.
So yes, there was some phenomenal trading today.
The problem is that the decline stage -- even as stretched out as it currently is -- still does not look complete.
TheStreet's Jim Cramer agrees. "I am adamant that any bounce will still be used for selling," he wrote of today's open.
The market is setting up to strike the 1835-to-1867 zone one more time to complete this pattern off the recent highs, and suggests a potentially larger rally into September.
That rally is unlikely to take us to new all-time highs. However, we have only struck the minimal target we had for this larger degree correction, and ideally much lower levels will still be seen.
In the smaller degree pattern, the ideal is to see the highs today targeted and even moved over a bit, towards the 1975-to-1980 zone for a larger degree corrective rally, setting us up for one more drop to complete this structure.
But make no mistake, there's no definitive evidence that the market has to head higher to strike lower lows.
So play this one step at a time, as the market does not always provide ideal set-ups, and lower lows are more likely than not at this point.
This article is commentary by an independent contributor. At the time of publication, the author held no positions in the stocks mentioned.