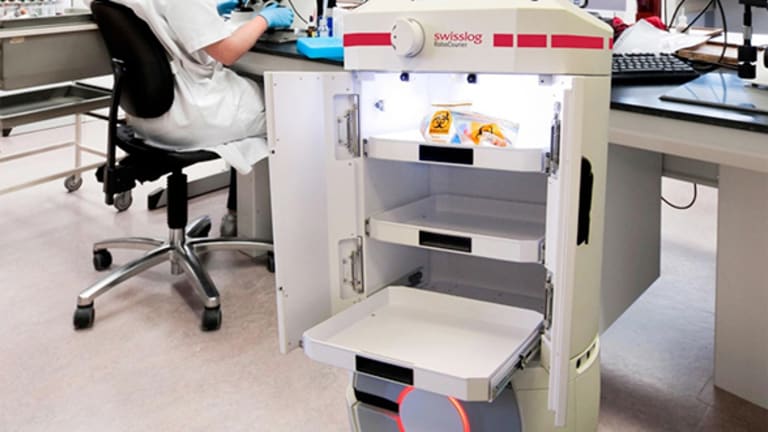 After Obamacare, Robots May Be Cure for Health Care's Problems
Robots will have an overwhelmingly beneficial effect on healthcare compared to other industries. This is because healthcare does not meet the needs of the marketplace today.
NEW YORK (TheStreet) -- Despite Obamacare's efficacy at reducing costs while helping more patients have access to health care, the industry has many problems outstanding. Robots are coming to save the day. 
Robots are going to have an overwhelmingly beneficial effect on health care compared to many other industries. This is due to the fact that health care simply does not even remotely meet the needs of the marketplace today. Robotics will provide additional capacity and capability to satisfy humanity's need for better heath.
Health care's problems have been well-known: costs outpacing inflation dramatically; tens of millions without coverage; too many medical errors; and poor quality of care or partial care. Obamacare, the first nationwide attempt to curb these problems, seems to be working.
According to the U.S. Department of Health and Human Services, Obamacare has reduced the count of Americans lacking health insurance to where only 13.2% of U.S. residents now lack coverage, down from 20.3%. More than 14 million people have gained coverage. (This does not include uninsured children who gained health coverage but are not counted.)
Obamacare is now practically set in stone with a second positive 6-3 ruling by the Supreme Court upholding critical portions of the Affordable Care Act. Health care companies and Wall Street have strongly approved this ruling by means of soaring health care stock prices following the decision.
While this first dramatic attempt to reform the health care industry has made much progress, there are many more problems that need to be solved.
The U.S. suffers from a shortage of doctors and nurses. AMN Healthcare's undefined 2013 Clinical Workforce Survey reported that 78% of hospital execs believe there is a shortage of physicians and 66% believe there is a shortage of nurses. The long and arduous education process, cost of education, interning requirements, accreditation and certification requirements combine to keep the number of qualified candidates much below what the market actually needs.
Rural areas get much worse health care than urban areas. There are fewer people and therefore fewer doctors and facilities. Rural areas of the United States have 25% of the population but are served by only 10% of the physicians. And death rates for those under 24 is 25% higher than in urban areas. The demand for health care is definitely there and is not getting satisfied.
Robotics are actually filling that gap already. Some Rural hospitals are using telehealth robots to help counter ease the shortage of specialists in the areas they serve.
Hamilton County in Kansas is closer to Denver in Colorado than to Wichita in Kansas -- though, far away from both. Hamilton County Hospital, a small local hospital, was on the brink of closing because of financial and staffing problems. Many of the hospital's patients were on Medicare. But management at the hospital turned the situation around adding telehealth robots such as Intouch Health/iRobot's (IRBT) RP-7i Robot.
With the new robots, patients, doctors and other medical providers could be connected regardless of location. Patient volume immediately grew 40% and continued growing 15% month-over-month. And the hospital reduced health care costs in aggregate.
And it doesn't stop with robots filling in key gaps for doctors and patients. Robots like the Aethon TUG and Swisslog's RoboCourier act as distribution system within hospitals. They move through elevators, corridors, specialties and patient rooms. They can deliver equipment and medication to the places that need them. They can make scheduled as well as on-demand deliveries.
In a 300-bed facility, an estimated $4 million is spent annually on the task of pushing carts. One TUG robot working two shifts costs less than one full-time-employee, according to the Aethon. Robots like Aethon's TUG will help reduce strain at understaffed hospitals -- and perhaps reduce some errors. 
Unlike some other industries such as trucking, where robots provide efficiencies, in health care robots can be expected to expand available healthcare coverage, satisfy the market more completely and thus increase the business pie.
This article is commentary by an independent contributor. At the time of publication, the author held no positions in the stocks mentioned.