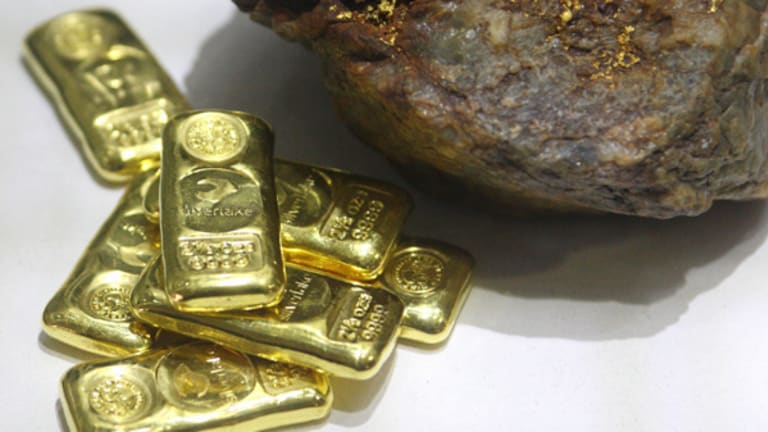 After a 12-Year Low, What's Going on with Gold?
Gold dropped 28% in 2013. Will gold be a bull or bear in 2014?
NEW YORK (TheStreet) -- Will gold be a bull or a bear in 2014?
We have been watching gold prices fall since October of 2012, when the spot price was $1,793 per ounce. Gold prices had advanced every year from 2001 through 2012. During 2013, gold's price fell 28%. After tagging a low of $1,181.40 per ounce on New Year's Eve, the spot price of gold has risen to $1,253.40.
While many analysts are claiming that the price of gold has bottomed, others remain bearish. Despite gold's strong start during the first days of 2014, a number of analysts -- such as Jeffrey Currie at Goldman Sachs -- see gold prices falling lower. Currie expects gold to sink as far as $1,050 per ounce by the end of the year, more than a 15% drop.
On the other hand, at Germany's Commerzbank, analyst Eugen Weinberg sees the price of gold headed 12% higher this year. On Dec. 19, Mr. Weinberg explained that if gold's price could maintain a long-term bottom at above $1,220 per troy ounce, investor interest would likely increase. So far during 2014, gold has closed above $1,220 per ounce during every trading session on the Chicago Mercantile Exchange. Beyond that, on Jan. 20, Commerzbank reported that Friday, Jan. 17 brought the highest single-day inflow of gold to ETFs since October of 2012, at 7.4 tons.
As gold prices were falling, mining companies were scaling back their operations. This involved less expansion of existing facilities as well as reduced exploration. By September of 2013, exploration had been cut to half the level in 2012. Obviously, this will result in reduced availability of the metal when demand improves, probably driving prices higher at a faster pace.
During the weak gold market of 2013, demand for physical gold was maintained by China and India. For the first three quarters of 2013, those two nations purchased over 1,500 tons of gold, with 821 tons purchased by Chinese investors and buyers alone. As demand increases in the West, China and India are not likely to lose their taste for the yellow metal.
The Chinese government itself is increasing its gold reserves. A good deal of commentary has focused on the notion that as part of its effort to have the dollar replaced as the world's reserve currency, China is stocking up on gold.

On Jan. 17, the Shanghai Daily reported that information obtained from Jeffrey Nichols, managing director of American Precious Metals Advisors, suggests that the Chinese government may soon announce that it has more than doubled its gold reserves from 1,054 tons to 2,710 tons. Since 2009, the People's Bank of China has not reported an increase in its gold holdings. The Shanghai Daily article quoted the opinion of one expert who explained that if the Chinese central bank admits that it has made such an increase in its gold reserves, it would "drag up" the gold market.
After cutting back their expenses during 2013, the larger gold miners are beginning to spend money again, especially in the area of acquisitions. With gold mining stocks still at depressed levels, some of the larger miners see the present moment as the opportune time to buy smaller, struggling operations. Goldcorp (GG) launched a bid to buy out Osisko Mining (Toronto:OSK), and on Tuesday Osisko rejected the bid. Primero Mining (PPP) purchased Brigus Gold (BRD) in December.
Technical factors also support the bullish case for gold with a recently formed "double bottom" and a positive shift in relative strength and momentum. Gold prices will have to demonstrate some follow-through before anyone gets too excited, but this could be the moment which gold investors have been hoping for since New Year's Eve.
The only sure thing about gold is that the "barbarous relic" will continue its volatile ways as it usually has over its long and alluring history. Nevertheless, fundamental and technical factors support the notion that gold could go higher over the days, weeks and months ahead.
At the time of publication, the author's comopany, Wall Street Sector Selector, held shares of iShares Gold Trust (IAU) - Get iShares Gold Trust Report, but held no positions in any of the other stocks mentioned.
Follow @WSSectorSelect
This article represents the opinion of a contributor and not necessarily that of TheStreet or its editorial staff.