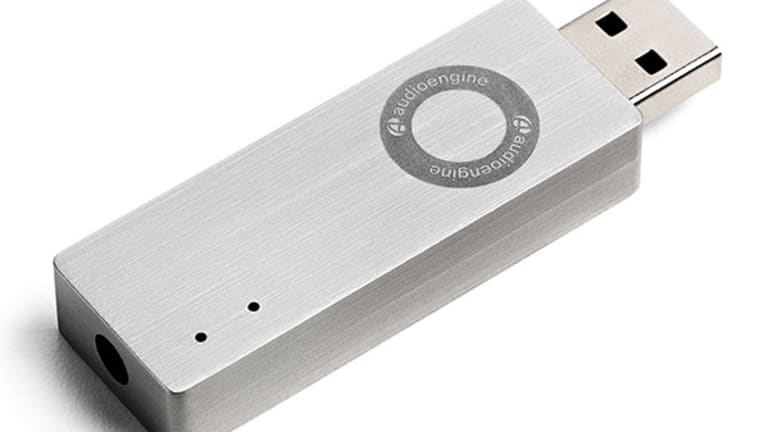 Affordable Digital Audio: Audioengine D3
The desktop audio experts at Audioengine have a new digital audio converter you should consider.
NEW YORK (TheStreet) -- We've told you about two stand-alone, super-affordable DACs (Digital-to-analog Audio Converters) from the company with an attention-grabbing name. And about the newly upgraded version of Audioquest's DragonFly.
External DACs are designed take the place of cheap integrated circuits inside your computer which translate digital audio files into an analog form that you can actually listen to.
There is another plug-in USB DAC you'll want to consider: the brand-new Audioengine D3. The company has made its name by offering incredible value with every product it offers. The self-powered A5+ speakers ($399 to $469) are terrific. The new smaller A2+s (starting at $249) set the standard for desktop speaker systems at any price.
Audioengine's newest converter, the D3, is the third such device designed by the company and the first to plug directly into a computer's USB port. Although it is somewhat similar in size and shape to the DragonFly, it's very different in a number of ways.
First, it's made from aluminum not plastic. It's small, but solid. There are few frills past the cute little carrying case and an adapter for headphones (with big plugs) which come in the box. There are no multi-colored lighting schemes, just an LED to show that the D3 is on and another to show you when you're listening to a higher resolution (24/88 or 24/96) digital music file. Those files are much better sounding than the usual Amazon (AMZN) - Get Free Report or Apple  (AAPL) - Get Free Report iTunes download.
The D3 plugs into any free USB port on a PC or Mac. The computer automatically recognizes, installs and configures it. Plug in a set of good headphones (it's also a headphone amplifier) and you're all set.
What does set the D3 apart from the competition is the sound. After a sufficient break-in period (as with most sound gear) I found the Audioengine to sound terrific, especially when it comes to reproducing those low, bass notes which are the anchoring foundation of recorded music. Not overblown. In short: tiny device but big, accurate bass.
The D3 is available through the Audioengine Web site and retails for $189. Add a pair of Audioengine's speakers and a computer source and you'll have yourself one heck of a great sounding, 21st century music system.
 -- Written by Gary Krakow in New York.
To submit a news tip, send an email to tips@thestreet.com.