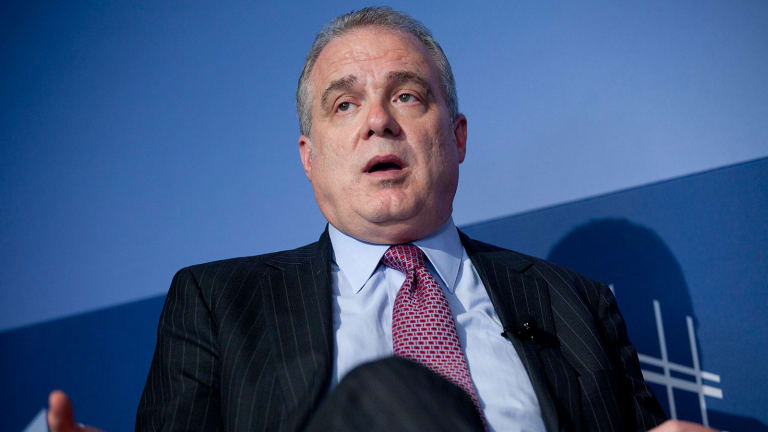 Aetna's CEO Knows Blockbuster $34 Billion Deal Could Go Up in Smoke
What Aetna's CEO Mark Bertolini had to say on TV Tuesday.
Health insurance provider Aetna (AET) released its 2016 fourth quarter financial results before the market opened on Tuesday. Earnings came in above expectations, while revenue was below analysts' predictions.
On a non-GAAP basis the company reported earnings of $1.63 a share, above the $1.44 a share analysts expected. Revenue of $15.7 billion was just under the $15.9 billion analysts had forecast.
Looking ahead to 2017 the company is expecting earnings of $8.55 a share, while analysts are looking for earnings of $8.79 a share.
Aetna CEO Mark Bertolini appeared on this morning's "Squawk Alley" on CNBC. He was there to discuss the earnings report as well as the attempted $34 billion deal to merge with Humana (HUM) - Get Humana Inc. Report . The deal was blocked by a federal judge last week on antitrust concerns.
The company is looking into its options to try and get the combination done and has until Feb. 15 to make a decision, which is when the merger agreement ends.
"We believe this combination will provide a better product for seniors, a better product for the Medicaid population, more affordable and simpler," Bertolini said. "We're disappointed where we are now, but until Feb. 15 we really don't need to make a call. And we're doing all the homework necessary now to understand what are next steps could be."
The company said it recognizes the possibility that no deal with Humana will go through. CNBC's Bertha Coombs questioned the CEO about the Obamacare fee and if it will go away. She also asked the CEO if the company has had any conversations with the Trump Administration about this issue.
Trump has vowed to repeal and replace Obamacare, which he has called a "disaster."
"In our forward projections for 2017, we actually have the insurer fees starting again," Bertolini said. "The health insurance fees and taxes starting again throughout the year. And we collect those fees before the year actually starts because some people will bridge between 2017 and 2018. Should that happen, that will have an impact on our earnings. That will be negative for 2017. We've incorporated that into our thinking on how to manage our risk going forward."