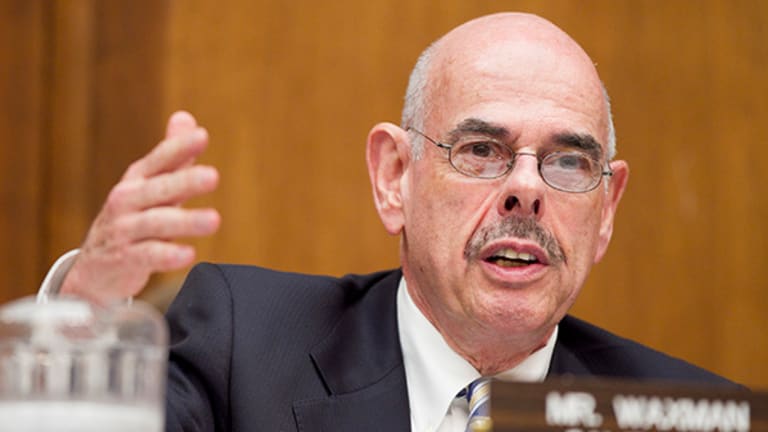 NEW YORK (TheStreet) -- In irony worthy of an Alanis Morissette song, health insurance companies such as Aetna (AET) , Cigna (CI) - Get Cigna Corporation Report, Humana (HUM) - Get Humana Inc. (HUM) Report, UnitedHealth Group (UNH) - Get UnitedHealth Group Incorporated Report, WellPoint (WLP) and others should be sorry to see Rep. Henry Waxman (D-Calif.) go. The 20-term Congressman announced several months ago that he would not seek reelection. A liberal Democrat from Los Angeles, Waxman was a foe of the health insurance industry as he supported a single-payer system. But without Waxman, the Affordable Care Act, or ObamaCare, would never have become law.
From ObamaCare, health insurers have done very well thanks to the millions of new customers.
Much of what the Obama administration has accomplished can be directly attributed to Henry Waxman. When his retirement was announced, an article in The New York Timesreported that, "One of his most notable accomplishments, the Affordable Care Act, which he was instrumental in writing, is shaping up as the centerpiece of campaigns all over the country...." There was no secret to the success of Waxman as he stated that, "you outlast [the opposition]. You keep working. You keep looking for combinations."
There was much more that made Waxman the most effective member of Congress I have ever witnessed in action.
Much of my career was spent on Capitol Hill working in senior positions (twice I was granted "Top Secret" clearance). From 1995 to 1997, I sat a couple of feet away on the opposite side of the aisle from Waxman on the House Committee on Government and Oversight, which was the main investigative body during the Clinton administration. On several occasions I met with lobbyists from Altria (MO) - Get Altria Group Inc Report and Philip Morris (PM) - Get Philip Morris International Inc. Report  to quiz them about their dealings with Waxman as he was the most determined opponent of smoking in Congress.
The word from Big Tobacco: Henry Waxman was a formidable foe who was a man of honor.
That made Henry Waxman easy to work with, no matter what the issue. He was honest in his needs and his approach. You cannot ask for anything more on Capitol Hill.  With its low ratings in polls, the United States Congress is nonetheless packed with talent and integrity. Just because you disagree with someone's politics does not make them a bad person. Only a fool lies to someone else on The Hill as it would destroy their reputation and effectiveness forever.
What separated about 99.99% of the members of Congress in history from Henry Waxman was the skill set that he brought to the job. When many are elected to Congress, they think it is going to be easy. They believe that Congress is filled with idiots. Quickly, they realize that is far from true.
They then realize that being an effective legislator requires the ability to spot an issue, the intelligence to frame it so that it attracts supporters on and off The Hill, and then the perseverance to continue pushing it until it passes, seizing on every opportunity in the process of a bill becoming law. Very, very few come even close to having this legislative skill set.
As just one example, the great majority of the members do not read the reports issued by a committee. When Waxman was a member, the staff had to be focused on him as he was a master at not just reading, but rewriting the reports to advance his legislative agenda. Little things like that mean a lot on Capitol Hill, just as they do with everything in life.
Many times I worked on weekends. The only member of Congress I ever saw on a Saturday or a Sunday was Henry Waxman. His hard work led to the passage of The Affordable Care Act. From that, insurers such as Aetna, Cigna, Humana, Wellpoint, and Unitedhealth Group have acquired millions of new clients with more on the way.
The shareholders of those and other health insurance entities should remember Waxman well. Over the last year of market action UnitedHealth Group is trading more than 27% higher, Cigna is up over 28%, Aetna has soared almost 29%, WellPoint has risen over 43%, and Humana has surged over 54%.
But Waxman will be missed most of all by Congress as an institution. Exceptional members of Congress like Henry Waxman raise the standard for all. It is like having Michael Jordan on the team: everybody plays better learning from him and from trying to keep up with him.
Any member of Congress or staffer who took the time and effort to watch and learn from Rep. Henry Waxman does their job far better, and from that both the House and Senate will benefit long after his retirement.
At the time of publication, the author had no positions in any of the stocks mentioned.
This article represents the opinion of a contributor and not necessarily that of TheStreet or its editorial staff.