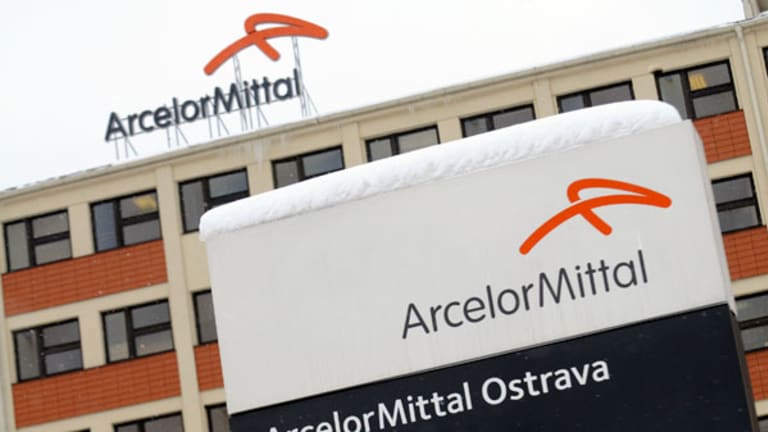 Publish date:
Aegon, ArcelorMittal Among Europe's Investing Opportunities
Profits can be made by investing in European companies that have not recovered fully from the recent recession but have room to run.
Profits can be made by investing in European companies that have not recovered fully from the recent recession but have room to run.
NEW YORK (TheStreet) -- European stocks including Aegon N.V. (AEG) - Get Report, Veolia Environment S.A. (VE) and ArcelorMittal (MT) - Get Report present opportunities for long-term investors because of the continued economic problems of the continent.
In an interview in Barron's, Carl Weinberg, chief economist of High Frequency Economics, described Europe as being in a recession. For investors, those are the conditions that are ideal for buying individual stocks to profit over the long term.
Legendary investors have mastered this form of "buying low."
During The Great Depression, Sir John Templeton, deemed "arguably the greatest stock picker of the century" by Money magazine in 1999, bought 100 shares of each company listed on the New York Stock Exchange that was selling for less than $1. When the United States economy recovered, he did very well. He was also one of the first to invest in Japanese companies in the 1960s.
Opportunities like those now exist in Europe.
Like many financial services companies, Holland's Aegon N.V. has recovered from its lows of the Great Recession. But it is still undervalued compared to others in its sector. Aegon is selling at a price-to-book ratio of 0.51 and a price-to-sales ratio of 0.28. Lincoln National (LNC) - Get Report, another insurance company with a comparable market cap and price-to-earnings ratio, has a price-to-book ratio of 1 and a price-to-sales ratio of 1.13.
It is much the same story with Veolia Environment S.A., a French waste management company.
As with Aegon, it is selling at a deep discount to both its sales (0.24) and book (0.74) value. Waste Management (WM) - Get Report has a price-to-sales ratio of 1.54 and a price-to-book ratio of 3.20. The analyst community projects earnings-per-share growth of over almost 55% for the next five years for Veolia Environment. For Waste Management, earnings-per-share growth over the next half decade is estimated to be only 3.10%.

Based in Luxembourg, ArcelorMittal is the world's largest steel company.
It embarked on a costly expansion campaign before the onslaught of the most recent recession. Its shareholders have been paying the price since as the stock has fallen more than 80%. The price-to-book ratio is 0.62 and the price-to-sales ratio is 0.38. By comparison, Nucor Steel (NUE) - Get Report has a price-to-book ratio of 2.17 and a price-to-sales ratio of 0.89. The next five years of earnings-per-share growth for Nucor Steel is estimated to be 8.5%. For ArcelorMittal, earnings per share are expected to increase over the next half decade by 51.8% annually.
Updating the Sir John Templeton score, on October 16, 2008, Warren Buffett wrote an op-ed for The New York Times with the title Buy American: I Am.
In that piece, "The Oracle of Omaha" advised investors that "bad news is an investor's best friend. It lets you buy a slice of America's future at a marked-down price. Over the long term, the stock market news will be good."
He followed that with investments in Goldman Sachs (GS) - Get Report and General Electric (GE) - Get Report that did very well.
Meanwhile, back in Europe, there is still plenty of upside for the shareholders of Aegon, ArcelorMittal, and Veolia Environment. While the Dow Jones Industrial Average has more than recovered from the Great Recession in crashing through the 16,000 barrier, Aegon was over $20 in late 2007 and is under $9 a share now. ArcelorMittal was well over $100 a share in June 2008 and now around $16 a share. In late 2008, Veolia Environment was near $100 a share. At present, it trades around $16.40.  All have dividends that pay investors to wait; and will add to the total return as each stock recovers.
There are many other publicly traded companies in Europe ripe for investment, too. The overall economic situation is bleak but the world is the market for many of those firms. It does not take a Warren Buffett or a Sir John Templeton to see the potential in these stocks.
At the time of publication the author had no position in any of the stocks mentioned.
This article was written by an independent contributor, separate from TheStreet's regular news coverage.
Jonathan Yates is a financial writer who has had thousands of articles appear in periodicals and Web sites such as TheStreet, Newsweek, The Washington Post and many others. Much of his career was spent working on Capitol Hill for Members of Congress in both the House and Senate, on both committee and personal staff.  He was also General Counsel for a publicly traded corporation.  He has degrees from Harvard University, Georgetown University Law Center and The Johns Hopkins University.