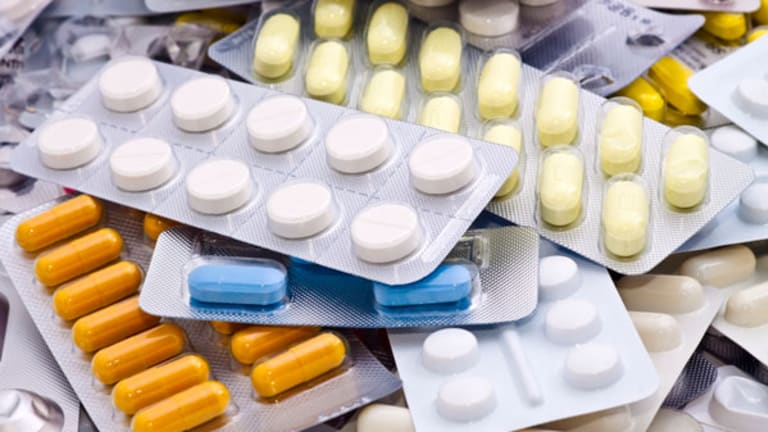 Publish date:
Aegerion Stock May See a Resurgence After Hitting Bottom From Ongoing Controveries
Things can get really sticky for orphan-focused biotechs regarding the size of their patient populations, as Aegerion knows too well.
Things can get really sticky for orphan-focused biotechs regarding the size of their patient populations, as Aegerion knows too well.
NEW YORK (TheStreet) -- Receiving orphan drug designation from the Food and Drug Administration is like manna from heaven for biotech companies, as long as there are enough patients to sustain profitability. Estimating the patient population for a rare disease can get tricky.
Aegerion Pharmaceuticals (AEGR) knows this problem well, which is why its stock price has dropped from $100 per share to $30 per share in seven months. Aegerion's chart looks scary, but I believe the bottom may finally be in. Its shares closed Friday at $34.06, down 52% so far this year.
Investors love companies that develop drugs for rare, or orphan, diseases because the likelihood of getting the drug approved is higher. Since 1983, the FDA lists 3100 orphan drug designations. Out of those, 455 have been approved, amounting to a 14.6% approval rate, with an average period of 4.26 years from orphan designation to approval.
That may not seem like much, until you consider the overall numbers. The approval rate for all drugs from preclinical stages is 8%, and approval takes anywhere from eight to 20 years on average. Bottom line, if a company gets an orphan designation, chances of approval are nearly doubled, and approval time is shortened by as much as 80%.
Interestingly, the orphan drug addiction for biotechs has really heated up in the past five years. Thirty-six percent of all orphan designations have been granted in the last five years, along with 28% of the approvals. For perspective, the Orphan Drug Act is over 30 years old.

Getting an orphan drug approved and selling it profitably are not the same. Companies and investors sometimes overestimate the number of patients afflicted with a disease, only to learn later the commercial opportunity isn't as lucrative as expected.
Which brings me back to Aegerion and its approved orphan drug Juxtapid for the treatment of homozygous familial hypercholesterolemia (HoFH), which affects one in a million people in the U.S., or about 300 people. Heterozygous familial hypercholesterolemia (HeFH) is a very similar disease but much more prevalent, diagnosed in 1 of every 500 people.
Late last year, Aegerion got in hot water over some statements made by its CEO about the benefits of Juxtapid in HeFH, for which the drug is not approved. This has led many investors to discount the company's Juxtapid sales forecasts.
Bottom line: The stock has plummeted because investors believe Aegerion won't be able to find enough HoFH patients to treat with Juxtapid to reach profitability.
I disagree. By the end of 2013, Aegerion was treating 467 patients globally, worth a little over $48.5 million in revenue. Juxtapid is now approved in Europe and the company's commercial rollout there is well underway.
Even with off-label Juxtapid sales for the more prevalent HeFH out of the picture in Europe, Aegerion could conservatively be treating over 600 patients by the end of 2015 in the U.S. and Europe. At Juxtapid's current pricing, this would generate anywhere between $140-150 million in revenue next year. This is slightly below the company's own estimates, but is in line with its current valuation.
A competing drug sold by the Genzyme unit of Sanofi (SNY) - Get Report doesn't appear to be performing well at all. A bigger potential risk might be the looming approval of so-called PCSK9 cholesterol-lowering drugs from Regeneron Pharmaceuticals (REGN) - Get Report, Amgen (AMGN) - Get Report and others. 
Aegerion's stock price  has declined considerably, but the business is viable and growing. The negative investor sentiment seems overblown at this point.
At the time of publication, Spiro had no positions in stocks mentioned, but he may initiate a long position in AEGR this week.

This article represents the opinion of a contributor and not necessarily that of TheStreet or its editorial staff.
>>Read more: 4 Swing Trades for Friday, June 6 and Beyond: InterMune, Sanmina, More