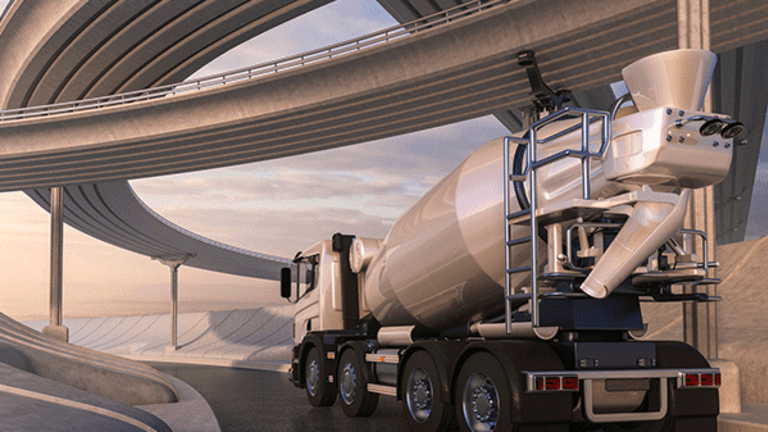 Aecom CEO Burke Sees Transportation as 'No. 1' U.S. Infrastructure Project
President Donald Trump said his border wall is currently being designed, and reiterated that the U.S. will build a 'great wall.'
Infrastructure asset company Aecom (ACM) - Get AECOM Report reported its 2017 first-quarter financial results on Tuesday. Earnings per share of 53 cents were in line with analysts' expectations. Revenue of $4.35 billion was below the $4.46 billion analysts had forecast.
Aecom CEO Michael Burke appeared on Wednesday morning's "Squawk on the Street" on CNBC to discuss the results and President Donald Trump's infrastructure plan. When Trump was running for office he promised to invest in and fix "America's crumbling infrastructure." Shares of Aecom are up about 35% since the election.
Another Trump promise that is boosting infrastructure stocks is the proposed wall along the U.S./Mexico border. On Wednesday, the president said the wall is currently being designed and rebuffed statements suggesting he was "only kidding" about building it. Homeland Security Secretary John Kelly later said that the wall construction could be underway in two years.
"I don't know if that will be built and on what time schedule, but we have a long history of providing national defense and border security for the U.S. government and governments around the world," Burke said. "Certainly we'll look at those projects as they come up."
CNBC's Carl Quintanilla asked Burke what should be built first: roads, bridges or the wall.
"We think the No. 1 project that needs to be done in this country is transportation," Burke responded. "In fact, in December Aecom prepared a report for the Treasury Department of the 40 top transportation and water projects that need to be completed here in this country."
The projects Aecom outlined in its report will require about $330 billion of capital expenditures. In Aecom's estimates, those projects will generate two to three times the capex in economic benefits.
"It's good for the country and alleviates some of the traffic congestion issues we have around this country," the CEO said.