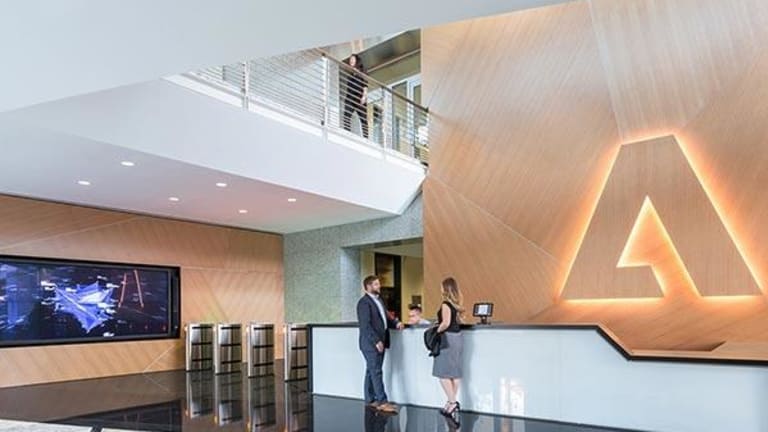 Adobe's Dominant Position in This One Market Keeps It a Wall Street Darling
Strong earnings, strong business.
Software companies embracing subscription-based business models like to talk about how the transition makes their businesses more predictable. About how it removes the uncertainty of software license deal timings with the steady quarter-by-quarter recognition of revenue stemming from multi-year subscription deals.
For Adobe Systems Inc. (ADBE) - Get Report , there's also an added predictability that comes from having a large chunk of its subscription sales tied to several very popular, if not dominant, media-creation software franchises. And as those franchises maintain their leadership positions and get packaged into solutions expanding Adobe's addressable market, the company is quite predictably topping analyst estimates that bake in a measure of uncertainty.
This column originally appeared on Real Money, our premium site for active traders. Click here to get great columns like this.
After the bell on Tuesday, June 20, Adobe reported May quarter (fiscal second quarter) revenue of $1.77 billion (up 26% annually, better than the previous quarter's 22%) and adjusted EPS of $1.02 (up 44%). That beat consensus analyst estimates of $1.73 billion and $0.95. The company also guided for August quarter revenue of $1.815 billion and adjusted EPS of $1.00, above consensus estimates of $1.8 billion and $0.97.
Adobe also hiked its fiscal 2017 (ends in October) sales guidance, predicting full-year revenue would grow 23%. That's slightly better than a consensus for 22.4% growth, and (given Adobe's history) might be conservative.
Shares rose 3.6% in after-hours trading to $146.00, making fresh highs yet again. They're now up 42% in 2017, after having also popped following a strong February quarter report.
Adobe is a holding in Jim Cramer's Action Alerts PLUS Charitable Trust Portfolio. Want to be alerted before Cramer buys or sells ADBE? Learn more now.
Annualized recurring revenue (ARR) for Adobe's Digital Media franchises -- they include products sold through its Creative Cloud and Document Cloud subscription plans -- rose 7% sequentially and 34% annually to $4.56 billion, slightly topping a $4.54 billion consensus. Importantly, Adobe also guided for Digital Media ARR to rise by about $300 million sequentially in the seasonally slow August quarter. The pre-earnings consensus only called for ARR to reach $4.65 billion, a $90 million increase relative to the reported May quarter level.
Strong momentum for Creative Cloud subscriptions featuring apps such as Photoshop (image/graphics-editing), Lightroom (photo-editing), Illustrator (graphics design) and Premiere Pro (video-editing) remains Digital Media's biggest growth driver. Creative revenue rose 34% annually to $1.01 billion (57% of total revenue); Adobe noted on its earnings call that Creative Cloud ARPU trends remained positive, and that it especially saw strong subscriber growth in Germany and Japan.
Much of this growth stems from how Creative Cloud is increasing the amount of long-term revenue Adobe gets from traditional clients in the media/publishing industry and elsewhere, as it convinces business units that may have been buying licenses for one or two apps to sign up for subscription plans covering a slew of PC apps, mobile apps and cloud services. On the call, CEO Shantanu Narayen singled out Premiere Pro as a product whose users were often being converted into subscribers of multi-app packages.
But Adobe is also benefiting from how Creative Cloud is helping it land consumer and small-business customers that previously either pirated its software or opted for cheaper alternatives. And on a macro level, it's getting a lift from strong demand among web publishers for advanced media-editing tools that can help them create quality mobile and social media-friendly content. And from healthy interest in such tools among consumer photo enthusiasts and video-creators.
Though Creative Cloud maintains the spotlight, it's worth noting that Document Cloud returned to growth in the May quarter, after more than a year of revenue declines amid a subscription transition. The business, which covers Adobe Acrobat and the Adobe Sign (formerly EchoSign) electronic signature solution, saw revenue rise 5% to $199.9 million, with ARR growing 25% to $520 million.
Adobe added on the call that Acrobat unit sales rose by a double-digit clip across Creative and Document Cloud. It also predicted a June product refresh -- it includes new Sign features and the arrival of Adobe Scan, an app that lets mobile devices turned scanned documents and images into PDFs -- would provide a boost in the current quarter.
The Experience Cloud -- if features all the offerings previously found in Adobe's Marketing Cloud ad software/services business, as well as its recently-acquired TubeMogul video ad-buying platform -- delivered another solid quarter. Revenue rose 29% annually to $495 million thanks to organic growth and to a lesser extent TubeMogul.
In March, the company unveiled a slew of new ad software/services offerings, including ones that pair traditional Adobe solutions with TubeMogul's. A month later, rival Oracle Corp. (ORCL) - Get Report strengthened its ad software suite by buying Moat, a provider of cross-device ad measurement tools. The cost was reportedly above $850 million.
As in prior quarters, operating leverage helped Adobe's EPS growth (44%) easily outpace revenue growth (26%). On a GAAP basis, cost of revenue rose just 18% to $239 million, and operating expenses 21% to $1.03 billion. $266 million worth of buybacks also didn't hurt. With a prior $2 billion buyback authorization now used up, Adobe plans to start using the $2.5 billion authorization it announced in January this quarter.
If there's anything to be concerned about right now, it's that Adobe's big 2017 run-up has led to steeper multiples. Shares now go for 28 times a pre-earnings fiscal 2018 EPS consensus of $4.98.
At the same time, it's likely that EPS consensus, already having risen by $0.18 this year, isn't done going higher. And business software franchises showing strong growth, facing limited competition and possessing very good sales visibility tend to be valued at a premium. The easy money may have been made in Adobe at this point, but there are also few storm clouds on the horizon.
Visit here for the latest business headlines.