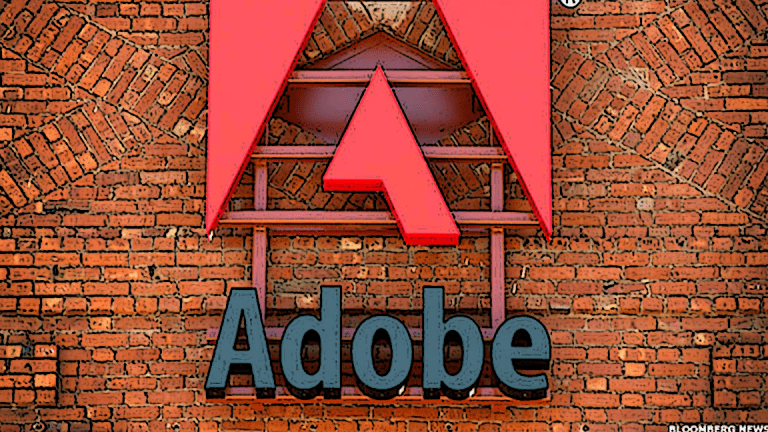 Adobe's Decline After Earnings Reflects a More Risk-Averse Market
Though the software giant reported solid top-line numbers, worries about the earnings hit caused by a recent acquisition are weighing on shares.
On the whole, Adobe's (ADBE) - Get Report latest results and guidance suggest business remains pretty good for the media and marketing software giant, and that its long-term growth drivers remain firmly in place.
However, with Adobe's shares up 40% on the year going into earnings, and over 140% over the last two years, that's not enough to prevent a selloff following a report featuring a fairly good -- but not blowout -- set of numbers that raised a concern or two about the near-term impact of a recent acquisition.
Results and Guidance
On Thursday afternoon, Adobe reported November quarter (fiscal fourth quarter) revenue of $2.46 billion (up 23% annually) and non-GAAP EPS of $1.83 (up 45%). Revenue, which got a $21 million boost from the late-October closing of Adobe's $4.75 billion deal to buy marketing automation software firm Marketo, topped a $2.43 billion consensus. However, EPS, which saw a $0.07 hit from the Marketo deal, missed a $1.88 consensus.
Likewise, with Marketo boosting sales and pressuring EPS, Adobe guided for February quarter revenue of $2.54 billion (up 22%) and EPS of $1.60 (up 3%). Revenue is above a $2.51 billion consensus, while EPS is below a $1.87 consensus.
For fiscal 2019 (ends in Nov. 2019), Adobe's guidance (possibly conservative, given its guidance history) is for revenue of $11.15 billion (up 23%) and EPS of $7.75 (up 15%). Revenue guidance is above a $10.78 billion consensus, while EPS guidance is below a $7.96 consensus. Worth noting: Adobe expects recent currency swings and deferred revenue write-downs related to the Marketo deal to hurt fiscal 2019 revenue by $35 million and $75 million, respectively.
As of the time of this article, Adobe's shares are down 7% in Friday trading to $230.67, while the Nasdaq is down 2%.
Media and Marketing Software Momentum
Adobe's selloff comes even though its bread-and-butter Creative Cloud platform had another solid quarter. The company's closely-watched digital media annualized recurring revenue (ARR), which is fueled by subscriptions involving Adobe's Creative Cloud and (to a lesser extent) Document Cloud platforms, was at $6.71 billion (up 5% sequentially and 25% annually) at quarter's end in spite of a $123 million forex adjustment.
Adobe also forecast it would add about $330 million in Digital Media ARR in the February quarter, and (in spite of forex pressures) raised its guidance for fiscal 2019 net new ARR by $50 million to $1.45 billion. A prior target for Digital Media revenue (over half of total revenue) to rise about 20% in fiscal 2019 was reiterated.
Business was also healthy for Adobe's Digital Experience segment, which covers a variety of marketing software and services offerings. Excluding Marketo, Digital Experience revenue rose 22% to nearly $670 million, with subscription revenue growing 30% to $554.4 million. A $1.68 billion deal to buy e-commerce software firm Magento (it closed in June) helped, but so did healthy organic growth.
Thanks to the Marketo deal, Adobe now expects Digital Experience revenue to rise about 34% in fiscal 2019, up from prior guidance of approximately 20% growth. Roughly 31% growth is expected in the February quarter. Digital Experience annual subscription bookings are still expected to grow about 25% in fiscal 2019.
To sum it up, the trends and factors that have helped Adobe's shares fly higher over the last few years are still clearly in place. Chief among them: A still-dominant position in content creation software; the ability to leverage Creative Cloud subscriptions to both grow the company's customer base and derive more long-term revenue from existing clients; and (much like rival Salesforce.com (CRM) - Get Report ) a strong position in a marketing software market that's benefiting from several ongoing trends. Those trends include rising online ad spend, e-commerce growth and larger investments by enterprises in solutions meant to help them better engage with customers and understand what they want.
Salesforce.com is a holding in Jim Cramer's Action Alerts PLUS member club. Want to be alerted before Jim Cramer buys or sells CRM? Learn more now.
The Big Picture
Three months ago, Adobe's results and guidance might have been enough to move shares higher post-earnings. Quite possibly, investors would focus post-earnings on Adobe's continued top-line momentum, rather than the larger-than-expected, near-term EPS hit that the company expects from a deal that strengthens its marketing software position.
In today's more risk-averse market environment, however, it's the spending/EPS worries that are taking precedence. Given that Adobe's stock wasn't exactly cheap going into earnings -- shares traded for close to 25 times their fiscal 2020 free cash flow consensus going into earnings -- the company was dealing with a very small margin of error.
Save 66% with our '12 Days of Holiday Deals' Sale. Join Jim Cramer's Action Alerts PLUS club for investors and get our best deal of the year. Click here for details or to sign up.