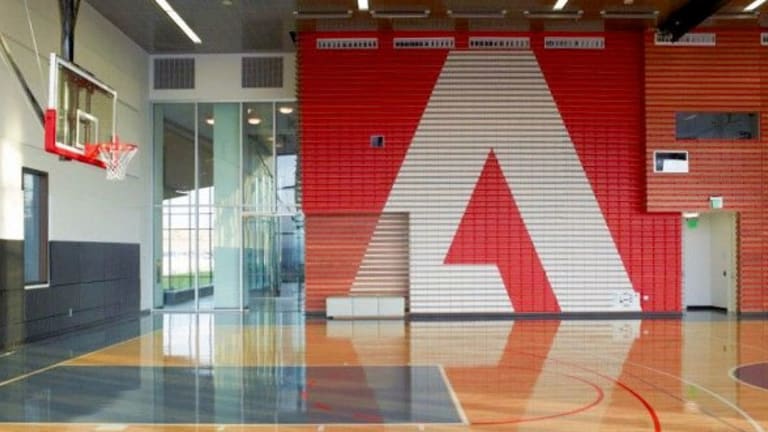 Adobe Drops on Concerns That Cloud Sales Will Soften Next Quarter
Second-quarter EPS beat the Street and sales matched expectations.
Second-quarter EPS beat the Street and sales matched expectations.
Though Adobe (ADBE) - Get Report satisfied Wall Street forecasts for its second fiscal quarter, shares of the digital media group fell after hours on Tuesday as investors focused on guidance for the coming quarter.
Adobe reported earnings per share of 71 cents, topping the consensus of 68 cents according to FactSet. Revenues of $1.4 billion were in line with expectations.
CEO Shantanu Narayen told investors that the results marked a record for Adobe, and cited "the continuous delivery of breakthrough product innovation" across the range of digital media tools it provides via the cloud.
However, Adobe said it expects fiscal third quarter revenue of $1.42 billion to $1.47 billion, towards the low side of Wall Street's forecast of $1.47 billion. Shares dropped $4.35, or more than 4%, to $95.37 in after hours trading.
Analysts questioned the apparent softness.
CFO Mark Garrett said that Adobe is still on track to meet its targets for fiscal year 2016, and suggested that the third quarter guidance reflects regular, seasonal changes to the business rather than a recalibration of expectations.
"We didn't give specific Q3 or Q4 targets," Garrett told investors.
"The quarters are playing out exactly as expected," Narayen added.
Investors are also adjusting to changes in the ways that Adobe gauges the business. As it offers more niche software packages alongside its Creative Cloud portfolio of Photoshop, Premiere, After Effects and other applications, the company puts less emphasis on its subscriber count. Adobe  is highlighting annualized recurring revenue, or ARR, which totaled $3.41 billion for its digital media properties, up from $3.13 billion the prior quarter.
With consolidation hitting large software groups, one analyst asked whether Adobe is poised to make an acquisition above $1 billion.
Adobe has confidence in its ability to grow its businesses organically, Narayen said. The company would consider acquisitions, he added, but added that partnerships can address some opportunities.
"Commerce is on some peoples' minds," Narayen said, noting that Adobe has partnerships with IBM (IBM) - Get Report , SAP (SAP) - Get Report and Demandware (DWRE)  , which Salesforce.com (CRM) - Get Report is buying for $2.8 billion. Evercore ISI analyst Kirk Materne has suggested that Adobe was likely the rival bidder discussed in a regulatory filing about the deal.
The possibility of political disruption, with the U.K. soon voting on whether to exit the European Union, is not weighing on the business, Narayen added.
"There is not a customer on the planet we go visit where digital disruption is not top of mind," he said.