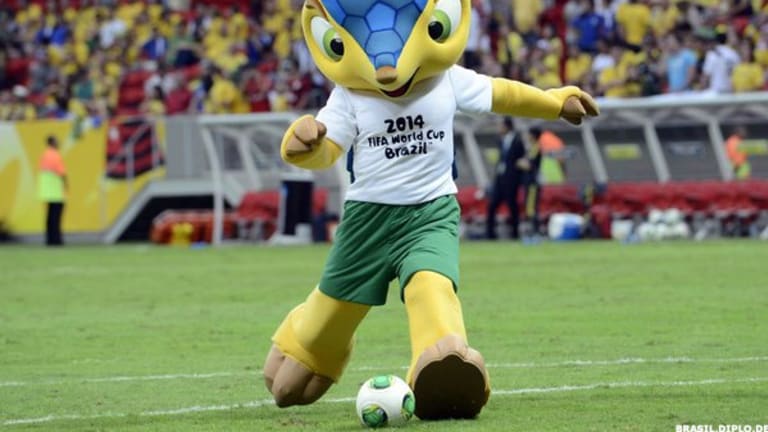 Adidas Looks to Beat Nike for Soccer Dominance in 2014 World Cup
Adidas and Nike are going head to head at the 2014 World Cup, spending millions of dollars to endorse athletes and teams.
NEW YORK (TheStreet) -- On Thursday, the 2014 World Cup in Brazil kicks off, with 32 teams fighting for a chance to claim the top prize. For investors, the company hoping to gain the top prize is Adidas (ADDYY) , a powerful sports brand that has the most to gain and lose from the quadrennial tournament. With Nike (NKE) - Get Free Report nipping at its heels in the soccer market, this World Cup is more important than ever.
The two sporting giants are going head to head at the 2014 World Cup, spending millions of dollars to endorse athletes, teams and even the official soccer ball. Nike has a 17% share of the global sportswear market, while Adidas has a 12% share. Together, the two companies have a 70% market share in soccer, which leaves little room for error or competition.
In 2013, Nike officially saw $1.9 billion in soccer revenue. Adidas, which didn't break out officially, is believed to have seen annual revenue of $2.4 billion in its soccer division in 2013. Adidas has been a major sponsor of the World Cup for quite some time. Nike is relatively new to the market, debuting with the 1994 World Cup, which was held in the United States. Adidas has sponsored FIFA since 1970, and recently renewed that deal through 2030. Also in 1970, Adidas became the official name on the World Cup ball.
Nike is outfitting 10 of the 32 World Cup teams in 2014: Brazil, the U.S., Greece, Croatia, England, Portugal, South Korea, Australia, France and the Netherlands. Adidas outfits nine teams but has the better roster. Puma has eight teams under contract. The remainder of the teams are outfitted by private international companies.
Nike has the clear favorite, Brazil, and also has one of the biggest players under contract: Portugal's Christiano Ronaldo. Adidas has the next three most likely winners: Argentina, Germany and Spain. Americans, who love to tune in every four years to this great event, are also a key win for Nike, with the official USA jersey. However, Adidas is seeing impressive gains in Latin America, where it has Colombia, Argentina and Mexico. A huge Mexican fan base in the U.S. should also help Adidas' sales here.
Adidas is putting its full weight behind Argentina and its star player, Lionel Messi. On Forbes' list of the top 100 celebrities, Messi is ranked 39th. His annual earnings of $41 million rank 48th, while his social presence ranks 10th. In the 2010 World Cup, Messi wound up empty-handed, with no trophy and also no goals scored.
The four-time winner of the most prestigious soccer award, the Ballon d'Or, Messi has turned in an impressive amount of goals over the last two years and seems to be peaking. In 2013, Messi scored 91 goals, the highest-ever calendar year total. Argentina is currently the number two pick by sports books to win the 2014 World Cup, while Messi is the favorite for top goal scorer at 7-to-1 odds.
Messi recently became only the second Adidas soccer player, after David Beckham, to get his own brand, with the launch of the iconic Messi signature line. If Messi can regain form and score some goals, his new "boot" line may lead to riches for Adidas, as fans and players buy into the new shoe brand.
Adidas has four of the top 10 highest-paid soccer shoe endorsees. A list from The Richest reveals Adidas pays Beckham $11.7 million a year, making him the highest-paid soccer player for a shoe endorsement deal. Gareth Bale is paid $5.5 million annually by Adidas. But Bale, the fourth-highest-paid soccer shoe player, won't be in the World Cup, as Wales did not qualify. Mesut Ozil, paid $4.9 million, and Lionel Messi, paid $3.3 million, will be at the 2014 World Cup.
Nike has three of the highest-paid shoe deals for soccer players. with Christiano Ronaldo (No. 2, $8.4 million), Wayne Rooney (No. 9, $1.7 million) and Neymar (No. 10, $1 million). The Adidas F50 scored 761 goals in the top four leagues last season, the highest total for any soccer shoe. Nike's Mercurial shoe ranked second, with 740 goals. 
Adidas has seen its soccer sales skyrocket recently, including impressive gains in Latin America, which will continue with a strong Argentina showing. In the recent first quarter, total  sales were up 27%. Sales in Latin America were up 19%, including a gain of 50% in the market in that region. This follows a fourth quarter that saw sales up 35%, including a gain of 32% in Latin America.
Other items to keep an eye on are the recently revealed pre-cooling vests and sleeves. This Huffington Post article shows the design and more details. The items will be worn by players for Spain, Germany and Argentina at the 2014 World Cup. Players will wear them during warm-ups and possibly halftime to avoid the harsh conditions of summer in Brazil. I'm sure athletic apparel and performance specialist Under Armour (UA) - Get Free Report will be watching. This is the type of item that could go viral during a game in a good or bad way.
The surprising company that could also have a good World Cup is Puma, which is majority-owned (84%) by Kering. Puma has three players on the top 10 shoe deals list, with Mario Balotelli (No. 3, $6.9 million), Cesc Fabregas (No. 5, $5.3 million) and Sergio Aguero (No. 8, $2 million). Puma is also the official shirt sponsor for Italy, Switzerland, Ivory Coast, Algeria, Cameroon, Ghana, Uruguay and Chile.
I wrote about Puma stepping up its sports marketing efforts when it signed Jadeveon Clowney, who was the first player selected in the 2014 NFL draft. Puma continues to be on the comeback trail, and a strong World Cup could continue to strengthen the brand.
In the first quarter of the fiscal year, Kering saw total revenue rise 4%. Puma saw 2013 sales of $3 billion, and only Gucci ($3.6 billion) contributed more to Kering. Puma made up 31% of total revenue, but only 11% of operating income, due to falling operating margins.
Adidas shares have fallen close to 52-week lows and now look more attractive for investors who believe the brand can come back and fend off Nike. In the growing soccer market and in a year that includes a World Cup, there may be room for more than one soccer giant. In Adidas' case, here's hoping its large bets on players and teams pay off.
At the time of publication, the author held no positions in any of the stocks mentioned.
This article represents the opinion of a contributor and not necessarily that of TheStreet or its editorial staff.
>>Read More:
Aegerion Stock May See a Resurgence After Hitting Bottom From Ongoing Controveries
Why Amazon's Smartphone Needs More Than 3-D to Beat Apple's iPhone
ECB Placebo; Beige Book: Best of Kass
Good Luck Getting Profits In $4 Trillion Municipal Bond Market