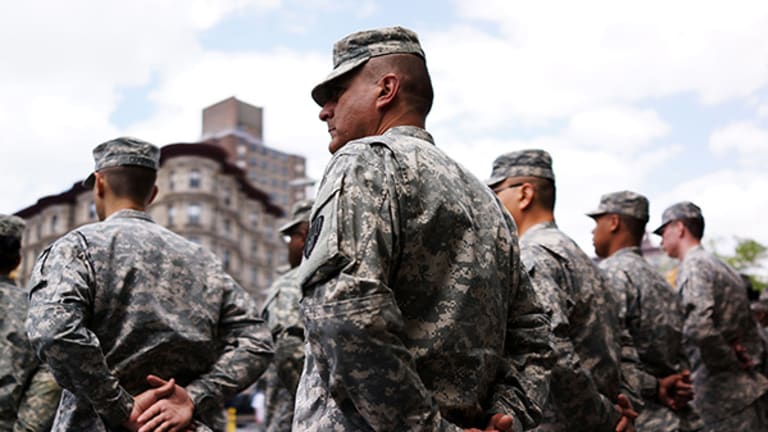 Add the VA Fallen to Your Memorial Day Remembrances
Recent reports of veterans dying while waiting for care at Veterans Affairs facilities are an outrage, but just one of many that soldiers routinely face. Maybe we can actually address this one.
Recent reports of veterans dying while waiting for care at Veterans Affairs facilities are an outrage, but just one of many that soldiers routinely face. Maybe we can actually address this one.
PORTLAND, Ore. (TheStreet) -- Congratulations, mainstream America: You're finally angry about dead U.S. servicemen and women.
Of course, it's strictly for political reasons. Isn't it always? Veterans Day celebrations come and go with a whimper but Veterans For Peace and Swift Boat Veterans For Truth get a hero's welcome from party committees.
This Memorial Day we can talk about soldier suicides like that of of 23-year-old Marine Lance Corporal Jeffrey Michael Lucey of Belchertown, Mass., an Iraq veteran who killed himself after struggling with post-traumatic stress disorder as I wrote about five years ago. We can talk about 21-year-old Army Specialist Adam Kuligowski -- who took his rifle into a bathroom stall at Bagram Air Base in Afghanistan and shot himself on April 6, 2009 -- and his woeful lack of care and supervision.
We can every talk about how a military suicide rate that long ago exceeded combat deaths is a dire measure that is still underreported.
But nobody actually gives a damn until those facts can harm a politician they hate.
Let's make one thing clear: The lack of oversight at Veterans Affairs hospitals and the deaths that have occurred as a result should make everyone angry. It's already cost the lives of people who willingly put themselves in harm's way for their country, their families or, at the very least, their fellow soldiers -- this VA bungling should cost people their jobs as well.
But isn't it just lovely to have the privilege of newfound outrage?
Isn't it just wonderful to believe that this has never happened before and won't continue to happen to active-duty soldiers and veterans under any administration? That the roughly 6,500 former military personnel who killed themselves last year -- which equates to one suicide every 80 minutes -- was just an aberration under once specific administration? Or that money itself could be an answer?
Those are some privileged viewpoints that do absolutely nothing to help veterans and active-duty military. Within the last decade, the budget for Veterans Affairs has increased from $59.7 billion to more than $125 billion. Last year, VA used $40 million in extra Congressional funding earmarked for military suicide prevention to establish a new crisis line (1-800-273-8255) and Web site that was supposed to give veterans non-phone options including text and online chat to reach out if they're contemplating suicide. President Barack Obama event signed an executive order in August authorizing VA to hire additional staff and double the capacity of the crisis line to increase its accessibility.
Congress, meanwhile, has finally realized that doctors can't medicate away a veteran's problems and passed legislation a year ago authorizing more money for peer counseling that would pair returning service personnel with veterans who have made the transition to civilian life.
In every story of both military and veteran suicides, a common theme and complaint is that military personnel are either afraid to seek help with PTSD or other ailments because of the stigma attached to such pleas the fear that they'll be considered soft or cowardly and that veterans often feel isolated when there's nobody around that they feel can relate to their experiences. Having a friendly, empathetic face who's been in similar situations has proven far more effective than popping pills and going straight back to civilian life.
Now we hear that veterans have died while being denied care or were shifted on to secret lists while a VA that was incapable of caring for them waited for space to open up. Earlier this month, the Department of Veterans Affairs and the President submitted a $163.9 billion budget for 2015.
When well-intentioned doctors and nurses at VA are having care held up by bureaucrats and watching patients die in an overburdened system clearly not prepared for two wars and a surge in Post Traumatic Stress Disorder and Traumatic Brain Injury, how do you hand over that kind of money in good faith?
You don't, unless you hold everyone accountable. This goes beyond firing Secretary of Veterans Affairs Eric Shineski and gutting every suit in his department. It's part of the answer, but musical chairs only placates the masses. It goes into actually making the big, painful infrastructure and employee investments into VA that ensure not only care, but personal care beyond medication for every service member.
That's costly, but the findings coming out of the VA prove that the alternative isn't so great either. The June 2012 Monthly Medical Surveillance Report published by the Armed Forces Health Surveillance Center directly addresses military suicide and notes that annual incident diagnoses of mental disorders among active service members have increased by roughly 65% in the last 12 years. About 25% of soldiers had a mental health disorder before enlisting compared to 11.6% of the general population, Harvard researchers reported in the March 4 issue of JAMA Psychiatry. About 11% of Army soldiers likely met criteria for two mental health disorders prior to enlistment.
That doesn't just go away when service members are discharged, either. The Department of Veterans Affairs estimates that roughly 13% of the overall U.S. homeless population are veterans, with 50% experiencing severe mental illness and 75% struggling with substance abuse.

It's hard enough to get an average American to remember fallen soldiers on Memorial Day. This Memorial Day, however, it's become overwhelmingly clear that we need to remember that even members of the Armed Forces who make it home are dying as a result of what they suffered during their deployment.
It's worth remembering long after Memorial Day that the VA system as it currently exists requires far more than just money to help those already back from Iraq and now returning from Afghanistan and other areas of deployment.
It's something many would rather forget once a new outrage of the day scrolls across a 24-hour news crawl or when we pack up for vacation this summer, but there's a cost to our latest wars that still needs paying. There's a promise that was made to those who fought and a debt owed by those who didn't.
Lean on your representatives, reach out to veterans' organizations both public and private and turn your outrage into something more substantial than a status update, tweet or forwarded email.
Stop playing the anger game and start paying attention to the realities around you. Maybe then you won't be so shocked and appalled by the treatment of soldiers that's been depressingly and frighteningly inadequate for a long while now.
-- Written by Jason Notte in Portland, Ore.
>To contact the writer of this article, click here: Jason Notte.
>To follow the writer on Twitter, go to http://twitter.com/notteham.
>To submit a news tip, send an email to: tips@thestreet.com.
RELATED STORIES:
>>We Keep Paying The Cost Of Our Wars
>>Toxic Cocktail: Army Struggles With Mental Health Care
>>Veterans To Get More Small Business Loans
Jason Notte is a reporter for TheStreet. His writing has appeared in The New York Times, The Huffington Post, Esquire.com, Time Out New York, the Boston Herald, the Boston Phoenix, the Metro newspaper and the Colorado Springs Independent. He previously served as the political and global affairs editor for Metro U.S., layout editor for Boston Now, assistant news editor for the Herald News of West Paterson, N.J., editor of Go Out! Magazine in Hoboken, N.J., and copy editor and lifestyle editor at the Jersey Journal in Jersey City, N.J.