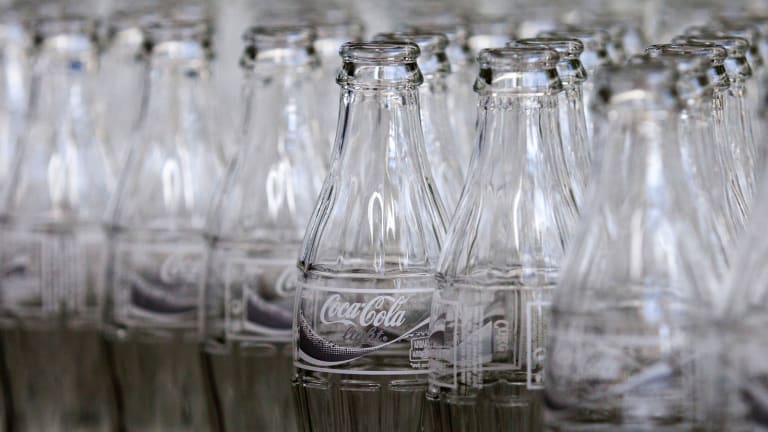 Add Big Soda Companies to Your Portfolio to Ride Natural Sweeteners Trend
Companies such as Coca-Cola and PepsiCo are introducing new sugar-based products that should boost sales.
Just a handful of years ago, when consumers were asked to name a healthy food ingredient, sugar probably would never have come to mind. After all, the dietary guidelines published by the U.S. Department of Health and Human Services cautions that added sugar shouldn't exceed 10% of consumed calories.
Sugar was the bad guy -- foods and drinks were marketed as being "low sugar," and sweetening substitutes such as Johnson & Johnson's Splenda satisfied America's sweet tooth.
But now that trend is changing. Rather than losing weight, American consumers are becoming more focused on eating natural not chemically created foods, with an emphasis on organic and non-GMO products. As a result, Splenda is falling by the wayside, and consumers are instead reaching for products that are being manufactured with real sugar.
That's where investors can reach for profits, as well. The big soda companies, Coca-Cola (KO) - Get Free Report , PepsiCo (PEP) - Get Free Report and Dr Pepper Snapple undefined that base their drinks on cane sugar will offer good investment opportunities. Sales of their products are likely to remain robust, and it's possible that one or more of them will help themselves through a key acquisition. 
In the soda industry, smaller companies such as Jones Soda and Reed's spearheaded the renaissance of cane sugar as an artificial sweetener. These companies' steered tastes in soda away from artificial sweeteners and high fructose corn syrup, which mainstream soda companies began using in the 1980s. Carried by such health food stores as Whole Foods Market, the niche brands grew during the first decade of the 21st century.
However, the big soda brands, including Coca-Cola, PepsiCo and Dr Pepper Snapple have been catching up with new products, leading to profits for investors. In fact, it's from these major brands that investors can now find the biggest profits from the natural sugar soda craze.
To be sure, the smaller companies such as Reed's were once hot stocks. But the bigger companies provide stronger, more solid histories of delivering gains to investors.
You see Jim Cramer on TV. Now, see where he invests his money and why PepsiCo stock is a core holding of his multimillion-dollar portfolio. Want to be alerted before Jim Cramer buys or sells PEP? Learn more now.
Aside from featuring natural sugar-derived versions of their classic sodas, these companies are also continuing to launch new craft soda lines. This week, Pepsi launched its 1893 line of sodas made with fair-trade cane sugar. And the company has already launched its Stubborn line of gourmet-inspired, natural sugar-sweetened fountain soft drinks.
The "big three" soda players have also been busy acquiring smaller soda lines. Through Monster Beverages, Coca-Cola now owns a huge stake in Hansen's natural sodas, and Pepsi has owned Izze fruit-sweetened sodas since 2006. In fact, it would not be a surprise if one of the Big Soda companies bought out Reed's or Jones in the near future.
In addition, should consumers' tastes change again (as they most certainly will), the Big Soda companies have the resources to adjust their offerings. That's why these food and beverage stalwarts are well-suited for your long-term investing strategy.
Although it's tempting to scoop up shares of small natural sugar soda companies such as Reed's, a safer bet for profits will remain the biggest three soda companies, Coca-Cola, PepsiCo, and Dr Pepper Snapple. They have proven records of growth and steady businesses, the savvy to embrace growing taste trends, and diverse portfolios that will continue to sweeten investors for years.
Are you making the right investment moves for your retirement, or are you blowing it by making all-too-common money mistakes? There are crucial steps that you should be taking now, to build wealth over the long haul. To find out whether you'll have enough money in your later years, download our free report: Your Ultimate Retirement Guide.
This article is commentary by an independent contributor. At the time of publication, the author held no positions in the stocks mentioned.