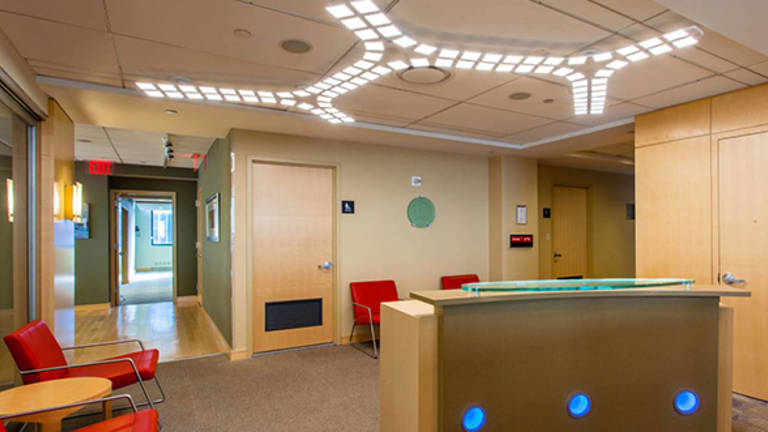 Publish date:
Acuity Brands Is Off 26%, has Several Downgrades, but Could Be Worth the Risk
Investors who can stomach the risk may take this opportunity to buy Acuity Brands shares at a discount.
Investors who can stomach the risk may take this opportunity to buy Acuity Brands shares at a discount.
Acuity Brands (AYI) - Get Report is among the worst-hit stocks today.
The lighting solutions company, which draws two-thirds of its revenue from LED products, missed Wall Street earnings expectations for the third straight quarter on Tuesday.
The company's shares are now down 26.5% year to date, underperforming peers such as LSI Industries (LYTS) - Get Report .
There are several reasons for this underperformance by the company, whose sub-brands include Holophane and Peerless. The stock, however, could be a great opportunity for investors who understand the risks.
Acuity Brands, which brings in more than $3 billion in annual sales, has operations in North America, Europe and Asia. Of course, geographical diversification is no guarantee of success.
In the second quarter, the North American lighting market declined. Moreover, the company's sales in some international markets, including Europe and Mexico, were down year over year. The weakness in revenue has been apparent in the company's earnings for three quarters now. Revenue growth missed expectations in Q2 and Q1 of this fiscal year, and again in Q4 of the last fiscal year, even though there was year-over-year growth.
Acuity Brands' problems are also related to its management's miscalculations. CEO Vernon Nagel has admitted that the company carried a higher manufacturing cost structure in Q2, just like it did in Q1. This was because the company had anticipated that it would service a greater level of demand. But the demand was not as high as expected.
This was reflected in the drop in operating income from $135 million a few quarters ago to $108 million in Q2. While there is the possibility of long-term growth in the LED lighting space, Acuity Brands' missteps are worrisome.
Competition from players like Bel Fuse (BELFA) - Get Report and Johnson Controls International (JCI) - Get Report will only grow stiffer.
Third-party forecasts show that the softness in demand for Acuity's products may continue through the remainder of fiscal year 2017. This means that the North American lighting market should return to growth in fiscal 2018.
Hence, over a dozen analysts have cut earnings per share estimates for Acuity for this and the next year. They expect less than 2% EPS growth this year, before a rebound next year. While Acuity is focused on growth opportunities for both new construction and renovation projects, the profit scenario remains patchy.
The negative sentiment surrounding Acuity Brands offers the opportunity to buy the stock cheap.
With the stock having lost more than a fourth of its value in little more than three months, there is a money-making opportunity here if you can stomach the risk. The 10 analysts providing 12-month price forecasts for Acuity Brands have a median target of $241, representing a 40% upside. The stock trades at 24.6 times trailing earnings. Money can be made in this stock.
---
 Acuity Brands is an excellent growth opportunity. If you're looking for other growth opportunities, there's an experienced trader who turned $50,000 into $5 million by using his proprietary trading method. For a limited time, he's teaching how to make $67,548 per year in profitable trades if you follow his simple step-by-step process.Click here now for details.
The author is an independent contributor who at the time of publication owned none of the stocks mentioned.