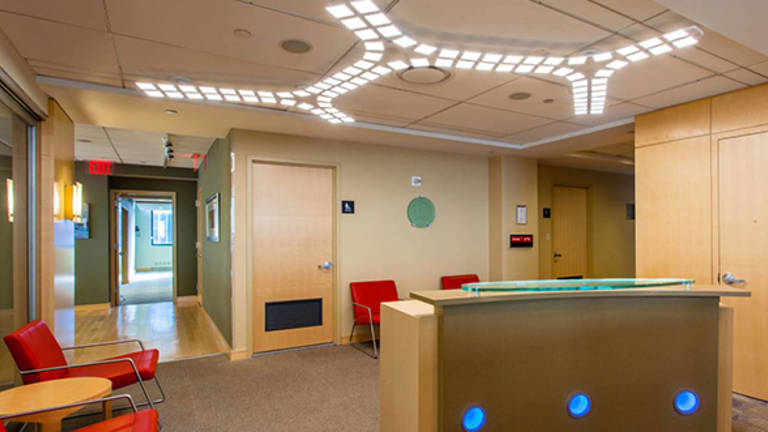 Acuity Brands Earnings: Tons of Bright Spots Despite Expensive Stock
Acuity Brands' stock may seem pricey, but few companies in the S&P 500 index can grow earnings at an average annual two-year rate of 30%.
Acuity Brands' stock may seem pricey, but few companies in the S&P 500 index can grow earnings at an average annual two-year rate of 30%.
NEW YORK (TheStreet) -- Lighting products supplier Acuity Brands (AYI) - Get Report is scheduled to report fiscal third-quarter earnings results Wednesday before the opening bell. Acuity's stock has been on fire, lighting up the market with a 30% gain already in 2015 and dominating the broader averages.
But valuation fears have crept in. Not only is Acuity's stock trading at lifetime-time highs at around $186 a share, but its stock also carries a multiple of 41 compared to a P/E of 21 for the S&P 500 (SPX) index. In other words, if Acuity's shares traded on par with the S&P 500 index, its stock would be valued at around $83 a share and not $182. This $83 a share figure factors in Acuity's fiscal 2014 full-year earnings of $3.97 per share and applies a P/E of 21.
However, in Acuity's case, "expensive" doesn't imply limited value.
Acuity is projected to grow full-year 2015 earnings per share by 35% to $5.36 a share. And as for fiscal 2016, consensus earnings per share estimates call for a 25% year-over-year jump, reaching $6.70. So, while Acuity's stock may trade at twice the market rate, few companies in the S&P 500 index are expected to grow earnings at an average annual two-year rate of 30%.
And here's the thing, those projections may yet be conservative. Why? Average analyst earnings-per-share estimates for Acuity's quarter ending in August have climbed 1.2% in the last three months. Additionally, Acuity's recent $252 million acquisition of Distech Controls may not yet be factored into its 2016 estimates.
Distech Controls, a Quebec-based company that specializes in building automation and energy management technology, will add strong growth capabilities to Acuity's lighting products, potentially giving Acuity a role in the growing market of the Internet-of-Things. This likely move into the Internet of Things, combined with Acuity's ability to grow its profit margin with its existing businesses, suggests Acuity's stock actually remains undervalued.
This explains why Acuity's shares still have a consensus "Buy" rating and an average analyst 12-month price target of $192, suggesting some 5% gains from current levels. But given how well Acuity continues to execute, posting three straight quarters of earnings beats, its high analyst target of $207 a share seems more reasonable.
And depending on the earnings forecast Acuity provides Wednesday, the stock may climb even further.
For its fiscal third quarter results, Acuity is expected to post earnings of $1.34 per share, marking a 34% jump above last year's earnings of $1 a share. Revenue for the quarter is projected to climb 14% year over year to $686 million. Meanwhile, its fiscal full year that ends in August is expected to yield a 35% increase in earnings to $5.36 a share, while full-year revenue of $2.71 billion would mark a 13% climb.
With quarterly and full-year earnings projected to grow at twice and three-times the rate of its revenue, respectively, this underscores the strength of Acuity's pricing power and the focus management has placed on profitability. Until these metrics diverge, Acuity -- regardless of its expensive price -- should remain a must-own stock.
This article is commentary by an independent contributor. At the time of publication, the author held no shares in any of the stocks mentioned.