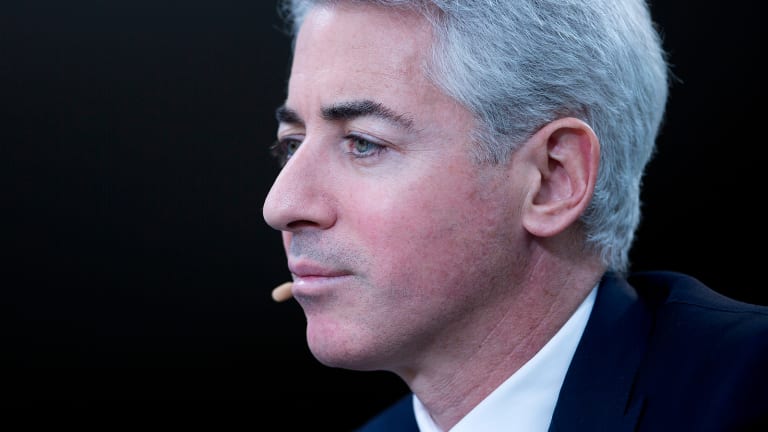 Activist Investor Ackman's Herbalife Tactics a Poison for the Hedge Fund Industry?
Bill Ackman of Pershing Square Capital Management seems to be trying to intentionally hurt the manufacturer of nutrition supplements but he's gone too far.
NEW YORK (TheStreet) -- Greed may be good when the profits are earned honorably. But Bill Ackman may have crossed a line in his fight to boost the stock price of nutrition supplements manufacturer Herbalife (HLF) - Get Herbalife Nutrition Ltd. Report . 
The activist investor, founder and CEO of Pershing Square Capital Management has accused the company of mismanagement, in his effort to increase returns on his investment. But Ackman's tactics have raised fundamental questions about the his and other fund operators' potential to unfairly influence a company's stock price. At times, Ackman has seemed intent on destroying the company so he can profit on a short position. He's pursued this apparent objective by using government and other institutions to scrutinize Herbalife's performance. 
This may ultimately hurt the hedge fund sector, which is already facing greater regulation. It is occurring, although the industry continues to generate money for its clients, and to do so in compliance with the law. According to Forbes in 2013, "in total, the 25 highest-earning hedge fund managers and traders made $24.3 billion in 2013. The lowest earning hedge fund managers in one recent list made $280 million last year." 
To be sure, hedge fund managers pursue their goals in ways that are not always betting on a company's future success. But there is nothing wrong with shorting a stock and betting against an organization in a free market to deliver returns for fund participants. Ackman has gone steps beyond that approach and seems to be trying to drive shares lower so that his investors can profit. 
Ackman says that he looks to take advantage of short-term, downward moves in prices. The website Insider Monkey notes that Ackman "is particularly successful at special situations investments."
His top holdings included Valeant Pharmaceuticals  (VRX) , Air Products & Chemicals (APD) - Get Air Products and Chemicals, Inc. Report , Canadian Pacific Railway , and Zoetis (ZTS) - Get Zoetis, Inc. (ZTS) Report at the end of 2Q 2015. For several years, Ackman has been crusading against Herbalife, which he contends was operating a "pyramid scheme" that targets poor people, a view he laid out in a December 2012 research report.
Could he be motivated by something other than standing up for consumers? Given the current Herbalife share price, Ackman's short bet on the stock has not paid off. "We shorted it at $47 but because of option premium, borrowing costs, dividends, investigative expenses, our break-even is around $31, $32," Ackman said not too long ago. 
Last year, the New York Times seemed to catch Ackman in the act of manipulating at least one lawmaker into investigating the company. In an article, The Times told the following anecdote. 
"At a Midtown Manhattan steakhouse last June, William A. Ackman, the activist hedge fund manager who had bet a billion dollars on the collapse of the nutritional supplement company Herbalife, offered his latest evidence to a handful of other hedge fund managers about why the company's stock could soon plummet. Mr. Ackman told his dinner companions that Representative Linda T. Sánchez, Democrat of California, had sent a letter to the Federal Trade Commission the previous day calling for an investigation of the company. The commission had not yet stamped the letter as received, nor had it been made public. But Mr. Ackman, who had personally lobbied Ms. Sánchez and stood to profit if the company's stock dropped as a result of the call for an inquiry, already knew what it said, and read from a copy of it that he had on his cellphone. When Ms. Sánchez's office ultimately issued a news release a month later, it was backdated as though it had been made public the day before Mr. Ackman's dinner talk."
The same New York Times article reported groups such as the Hispanic Federation and the National Consumers League sent numerous letters to federal regulators. "Each person contacted by The Times acknowledged in interviews that they wrote the letters after being lobbied by representatives from Pershing Square, or said they did not remember writing the letters at all. Mr. Ackman's team also then started to make payments totaling about $130,000 to some of these groups, including the Hispanic Federation - money he said was being used to help find victims of Herbalife."
In January as Herbalife shares hovered around Ackman's professed break even price, he said that he expected Herbalife's stock price to collapse to zero and said it would happen within a year.
Several weeks later in mid-March,The Wall Street Journal, reported, "Federal prosecutors and the Federal Bureau of Investigation are probing potential manipulation of Herbalife stock and have interviewed people hired by hedge-fund billionaire William Ackman, who has led a long-running campaign against the nutritional-products company, people familiar with the matter said."
If this story proves to be true, it is an indictment of Mr. Ackman -- not Herbalife. In the 2015 KPMG/AIMA/MFA Global Hedge Fund Survey titled "Growing Up: A New Environment for Hedge Funds," 77% of more than 100 hedge funds "cited increased regulation as the biggest threat to the industry overall; 84% said that their operating costs had increased as a result of compliance obligations."
¿
Must Read:
5 Stocks Warren Buffett Is Selling

Hedge fund managers throughout America can't be happy that Ackman is bringing scrutiny to the hedge fund industry. Destroying a profitable company for private gain is inconsistent with a healthy free market system. Rep. Sean Duffy (R-Wisc.), Chairman of the House Financial Services Subcommittee on Oversight and Investigations, should use his committee as a standing committee to conduct oversight on crony capitalism. Bill Ackman would be an excellent first witness.
Not one to back down, Ackman recently shared a 29-slide presentation comparing Herbalife to Vemma Nutrition Company. Why? Because in late August, the Federal Trade Commission (FTC) had a federal court halt and freeze the Arizona-based Vemma's assets, accusing Vemma of operating as an illegal pyramid scheme. It's curious, though that the FTC didn't go after a bigger fish like Herbalife first.
This article is commentary by an independent contributor. At the time of publication, the author held no positions in the stocks mentioned. 
Follow Chris Versace on Twitter and Facebook.