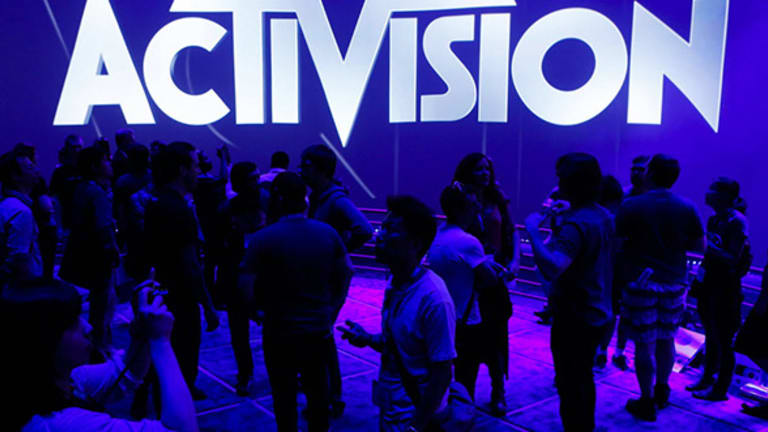 Activision Blizzard, Zynga and Glu Mobile: Buy, Hold or Sell
Is Activision's acquisition of King a good one? Will Zynga ever affect a turnaround? Will Glu Mobile repeat the Kim Kardashian success with its raft of upcoming celebrity-based games?
With a flurry of earnings reports and an acquisition announced within a span of only four days last week in the interactive-entertainment space, traders seeking a stake in the ongoing explosive growth of this new market have been reassessing the landscape. Questions include: Is Activision's acquisition of King Entertainment a good one? Will Zynga ever affect a turnaround? And will Glu Mobile repeat the Kim Kardashian success with its raft of upcoming celebrity-based games? 
Let's take a look at the space and each of these stocks. 
data by
Activision Blizzard (ATVI) - Get Free Report  -- Hold/Sell
It was a one-two punch delivered by Activision Blizzard, as the week started with the company announcing an acquisition agreement with King Digital Entertainment (KING) on Monday (Nov. 2), and ended on Friday (Nov. 6) with the company reporting a much-better-than-expected third-quarter earnings report. Of the two events, the acquisition of King has investors buzzing most. 
If approved by King's shareholders and the Irish High Court, the addition of King will move Activision to the world's No. 2 (by revenue) interactive-entertainment company, behind China's Tencent Holdings. The $5.9 billion, all-cash deal would raise Activision's user base to 550 million, moving it up to the fourth position behind behemoths Facebook (No.1) and YouTube (No.2), with WeChart/Webdn holding the third spot. 
In addition to acquiring King's $920 million of cash, Activision's expects a 30% bump to revenue and earnings next year from the acquisition, as well as a "significant" boost to free clash flow, which was recently reported as reaching $180 million for the third quarter.
However, the synergies between the two companies don't match very well, which has raised several troubling questions, such as: Is Activision's acquisition of King merely an easy means of entering the mobile game space? How will Activision solve King's low hit rate (2.2%) and dangerously declining user base? Strategically, how will Activision's hardcore customer demographics compliment King's casual (and increasingly reluctant) gamers? No one seems to have answers. Even Activision CEO Robert Kotick doesn't have any. From a release about the acquisition:
"A big part of the opportunity [from the purchase of King Entertainment] is to explore the intellectual property that exists at Activision Blizzard and see if it makes sense in [the mobile games network]."
Unless Activision can show investors where this acquisition makes sense to the future of both enterprises, the company's lofty price-to-sales ratio of 5, anticipated long-term debt of more than $6 billion (after the deal is complete), and fully-priced valuation, offer no compelling reason to buy the company's shares. Therefore, should shareholders hold or sell? It's a toss up.
data by
Zynga (ZNGA) - Get Free Report  -- Sell
Following the company's third-quarter earnings release on Nov. 3, some shareholders have surmised that Zynga may be on the cusp of turning around, but the long-awaited promise back to growth won't manifest until the second half of next year, according to once-again-CEO, Mark Pincus. 
Third-quarter results revealed a mixture of improvement, deterioration and hint of managerial incompetence. While revenue of $176 million barely beat the consensus estimate, it was flat year-over-year. Earnings-per-share was essentially a break even. Bookings were strong in the social casino games segment, but overall retention is down, with year-over-year daily active and monthly active users off 21% and 27%, respectively. Guidance of $170-to-$185 million fell significantly short of the consensus estimate of $204 million. While cost-cutting measures in the third quarter prevented a loss, further cuts won't be easy to implement or be significant enough to protect stockholders from losses if revenue won't grow.
The earnings woes of the Zynga turnaround isn't all to this ongoing saga. The announced resignation of CFO David Lee -- in addition to the abrupt departure of former-CEO Don Mattrick on Apr. 8 -- and operational delays of the company's promising titles CSR2 and Dawn of Titans continue to weigh heavily on the company's performance and credibility to execute.
Moreover, Pincus's stated reason for the delay of these two titles may not make that much sense. With Zynga's vast experience with social media giant Facebook, why would Pincus advise stockholders to expect delays to the launching of CSR2 and Dawn of Titans until 2016 while the company completes the social aspect of these games? Did Pincus and co. just discover that they forget this vital marketing tool? And to ask a more general question in regard to the company's management structure: Why does it now make sense that Pincus takes control of day-to-day operations of the company when more than two years ago it didn't make sense (thus the reason for the Mattrick hire)?
Without the $200 million stock buyback program, Zynga is a "sell."
GLUU
data by
Glu Mobile (GLUU) - Get Free Report  -- Buy
Glu Mobile's better-than-expected revenue of $64 million trickled down to a better-than-expected bottom line of $7.7 million, an earnings-per-share of $0.06.
But the great news for the third quarter turned quickly to very ugly news regarding the company's expectations for the fourth quarter, as management issued a draconian 40%-to-45% cut to revenue guidance from previous estimates. Instead of $89-to-$102 million, management now expects revenue to reach $50-to-$52 million for the fourth quarter, mostly due to "significant under-performance of anticipated install for important Q3 launches, including Deer Hunter 2016, Eternity Warriors 4, and James Bond World: World of Espionage," Chairman and CEO Niccolo de Masi said in a conference call.
However, because of Glu Mobile's great success with its flagship title, Kim Kardashian: Hollywood, which grossed $18.8 million in the third quarter (29% of aggregate revenue), the company has doubled-down on its strategy of celebrity-based games.
With several exclusive celebrity games partnerships lined-up for launch in 2016 and 2017, de Masi said that the more than one billion social followers of his celebrity partners are expected to generate unprecedented exposure of its games to Glu Mobile's primary customer demographics. In addition to the launch of Kate Perry Pop scheduled for Dec. 17, celebrity-themed titles expected to launch next summer, include ones with the Jenner sisters, Britney Spears and Nicki Minaj. In addition, de Masi announced the signing of two "male known musician talents," but didn't release their names.
Now that expectations of great fourth quarter have been shattered, Glu may now be a compelling value as we approach the release of the company's inventory of celebrity-based titles, starting with Kate Perry Pop in only five weeks. And of all the Glu Mobile analysts' comments generated from a atrocious fourth-quarter guidance, the one that captures the Glu Mobile story best came from Cowen & Company analyst Doug Creutz, who said in his Nov. 6 report:
"Recent title launches have under-delivered, as we anticipated, but the financial downside was more severe than we expected. The company clearly has some issues with its male-skewing action titles; however, with 'Katy Perry Pop' launching on Dec. 17, we think the stock still presents good risk/reward at current levels."
If Kim Kardashian can bring mobile game players in by droves, why would Katy Perry fans (and fans of the Jenner sisters, Britney Spears and Nicki Minaj) not do the same? At a price-to-sales of only 1.57 -- substantially less than ATVI's 5.07 and ZNGA's 3.05 -- and a previously effective strategy to regain revenue growth, Glu could represent the best value and chances of increasing market capitalization of the three most popular names in the interactive-entertainment space. 
This article is commentary by an independent contributor. At the time of publication, the author holds no positions in ATVI, ZNGA or GLUU but intends to buy GLUU long term after this report is published.