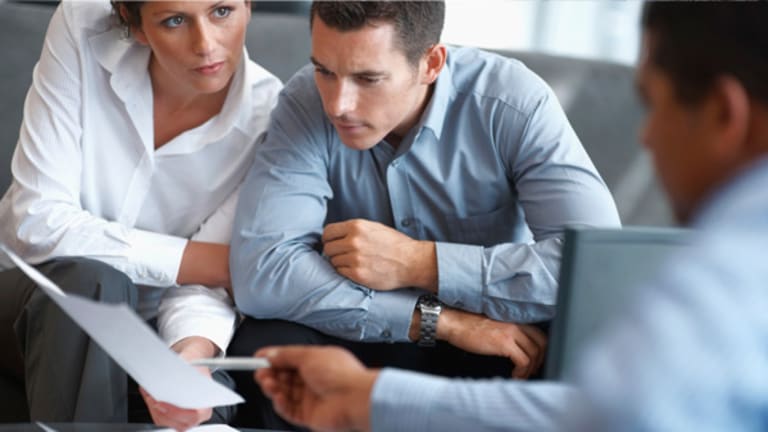 NEW YORK (TheStreet) -- Investors placing bets in the long term growth potential of telecommunications equipment makers such as Ciena (CIEN) - Get Ciena Corporation Report and Juniper (JNPR) - Get Juniper Networks, Inc. (JNPR) Report have to first hope that carrier spending from the likes of AT&T (T) - Get AT&T Inc. Report, Verizon (VZ) - Get Verizon Communications Inc. Report and Comcast (CMCSA) - Get Comcast Corporation Class A Report will return to their previous lofty levels.
Carriers Not Carrying Their Weight
However, with their spending having lacked confidence all year and looking less likely to rebound, I'm starting to wonder if a stock such as
Acme Packet
(APKT)
which has been all over the map this year can still produce the premiums its current multiple suggests -- particularly for the fact that roughly 80% of its revenue comes from carrier spending.
Both of those companies have been shown to care more about other forms of capital reinvestments such as share repurchase programs and less on equipment. But investors have shown to not care.
Instead, on Tuesday, the stock surged more than 7% closing at $18.87 with no positive news other than Acme announced the date of its third-quarter earnings report Oct 25.
As a leader in session delivery network solutions, the company does have a pretty good chunk of its market, but its management showed little confidence that it can sustain its revenue levels by having cut guidance in its second-quarter report.
What's more, rivals such as Ciena,
Adtran
(ADTN) - Get ADTRAN, Inc. Report
and
Alcatel-Lucent
(ALU)
have shown no growth momentum as each have been awaiting an anticipated second half surge in carrier spending that has yet to materialize. And likely won't. So it would seem investors in this sector and in particular those causing the surge in Acme Packet on Wednesday are possibly waiting in vain.
What Is Acme Really Worth?
It seems investors and analysts are either unable to agree or make up their minds about the value of the company. As noted above, the stock has been all over the map this year.
After starting the year at $31.91, it then surged more than 17% to $36.27 in February. Five months later, the stock dropped to its 52-week low of $13.26 or 63% of its value as it was hurt by slow revenue growth and weakness in carrier spending.
Since that low period of $13.26 it has risen as high as 50% to $20.14 to where it sits today at just under $19. What's its real value? It seems investors have had a hard time justifying the lofty forward multiples absent sustainable growth momentum.
The stock has moved in both directions by as much as 50%. Is there anything to be made of the indecisiveness? Should the drastic correction be interpreted as an overreaction or has the stock now approached its fair market value?
That said, despite its recent drop from $36, the stock is far from being considered cheap as it yet trades at a price-to-earnings ratio of almost 70. Also there are increasing concerns about the competition.
As noted, while Acme has a sizable lead in the session delivery market, no market leader maintains its lead forever -- particularly where it involves prominent rivals such as
Cisco
(CSCO) - Get Cisco Systems, Inc. Report
which has the overall lead in network equipment and routing and switching technology.
Not to be discounted are the technologies from other rivals such as
F5
(FFIV) - Get F5 Networks, Inc. Report
,
Hewlett-Packard
(HPQ) - Get HP Inc. (HPQ) Report
and
Riverbed
(RVBD)
which are all capable of stealing some market share. These fears, coupled with weak carrier spending have caused analysts to revise their estimates lower not only for this year, but also for 2013.
Bottom Line
Acme certainly has a lot to prove and Oct. 25, when it reports earnings, can't come fast enough. While some investors see its recent drop from $36 as an opportunity, I don't think I am yet ready to proclaim value exists. At least not until the company can show that it can grow outside of its reliance on the carriers and/or the carriers start to show more confidence and open up their wallet to buy gear.
On the bright side, carriers can't pull their purse strings forever. Acme is certain to reap the benefits of the cycle once it turns and investors will then be proven right or wrong. In the meantime, Acme is a decent long term hold at the moment.
While I'm not as excited about it as when it was at $13, it is certainly more attractive now than $36.
At the time of publication, the author held no position in any of the stocks mentioned
.
This article is commentary by an independent contributor, separate from TheStreet's regular news coverage.
Richard Saintvilus is a private investor with an information technology and engineering background and has been investing and trading for over 15 years. He employs conservative strategies in assessing equities and appraising value while minimizing downside risk. His decisions are based in part on management, growth prospects, return on equity and price-to-earnings as well as macroeconomic factors. He is an investor who seeks opportunities whether on the long or short side and believes in changing positions as information changes.