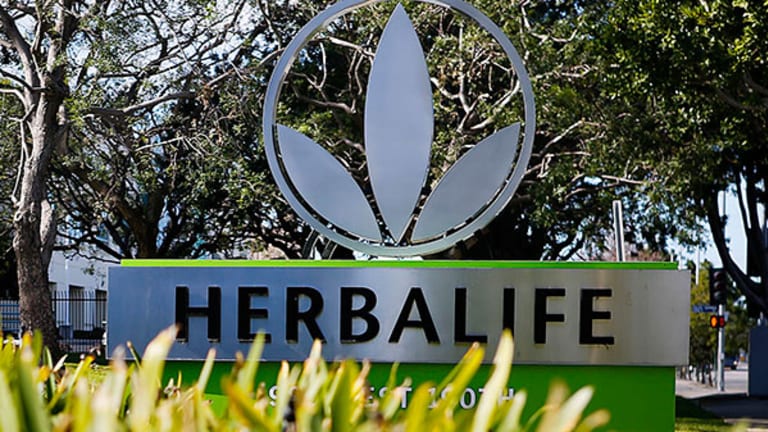 Ackman vs. Herbalife: HLF Spends 10x in Washington Lobbying
Bill Ackman's Herbalife battle may play out in election year campaigning.
NEW YORK (TheStreet) -- If lawmakers in Washington may ultimately decide the fate of Herbalife (HLF) - Get Herbalife Nutrition Ltd. Report, hedge-funder Bill Ackman of Pershing Square Capital Management might want to throw a few more lobbying dollars behind a short trade that once stood at about $1 billion.
A review of publicly disclosed political campaign donations indicates that Herbalife spent about 10 times the amount that Pershing Square did in Washington in 2013. A mid-term election year in Congressional, Senatorial and gubernatorial races across the country, however, could create a new battlefield for Herbalife and Ackman in 2014.
The notion that Ackman's fight against Herbalife may be resolved in Washington was underscored last week when Sen. Edward J. Markey (D., Mass.) asked that the Securities and Exchange Commission and Federal Trade Commission seek more information into Herbalife's business practices. A day later, the League of United Latin American Citizensapplauded Markey's probe.
Both announcements sent Herbalife shares tumbling to six-month lows, however, the company's stock remains well above its trading prices prior to Ackman's disclosure of his short in late December 2012.
A Jan. 23 letter from Markey to Herbalife asked that the company detail the percentage of revenue it earns from customers outside its multi-level distributing network, echoing a similar line of questioning from Ackman and Pershing Square. The Senator also queried for details on the amount of profit the average distributor might make on out-of-network sales.
Markey's questions appear to be aimed at judging whether or not Herbalife is a so-called pyramid scheme, a characterization the company has vehemently denied. His entrance into the debate, meanwhile, re-ignited speculation that political influencing could ultimately decide one of the most controversial trades in the history of the hedge fund industry. 
Were that to be the case, Ackman and Pershing Square are far behind Herbalife in direct campaign spending and lobbying, even as the hedge funder has publicly said his short trade could come down to whether or not the FTC or SEC decides to take up his claims. Publicly disclosed spending figures also show that while Herbalife has increased spending efforts in 2013, Ackman may just be figuring out how to play the Washington game.
In 2013, Pershing Square began lobbying in Washington, spending $90,000.00 with the Wexler & Walker Public Policy Association and $48,000.00 with the Moffett Group, a lobbyist that Politicoreported worked to gain signatures on a letter Rep. Linda Sanchez (D-Calif.) sent to the FTC to investigate Herbalife's business practices. Pershing's lobbyists targeted signatures from the Congressional Hispanic Caucus (CHC), according to Politico's reporting. Prior to 2013, Pershing Square hadn't conducted lobbying in Washington.

Herbalife meanwhile spent $1.34 million on lobbying in 2013, according to OpenSecrets, including $950,000 from the company's lobbying group Herbalife International of America. The company also has spent lobbying money with Downey McGrath Group, Ogilvy Government Relations, the Podesta Group, Glover Park Group and International Business-Government Counsellors.
In addition to lobbying money, Herbalife's political action committee has generally increased its spending on elected officials. The PAC donated $61,478 to elected officials in 2011, $51,993 in 2012 and $106.600 in 2013.
Herbalife's PAC has been active in making direct contributions to legislators such as Sen. Orrin Hatch (R., Neb.) and Rep. Xavier Becerra (D., Ca.) who have shown support for the company's domestic and international businesses. Rep. Becerra asked that the Congressional Hispanic Caucus not sign on to a caucus-backed letter to the FTC. The company's PAC also been a donor to senators and members of Congress on committees that oversee the Federal Trade Commission and the Food and Drug Administration. Herbalife sells health and nutrition products that fall under the purview of both agencies.
Pershing Square and particularly Bill Ackman have also made political contributions. OpenSecrets data shows that Ackman has donated the maximum amount annually to the DSCC since 2007. Ackman also donated $20,000.00 to the Repbulican Senatorial Committee (NSRC) in 2012 and $75,800.00 to the Romney Victory Fund during the presidential election cycle of 2012.
In a recent article, The New York Timesnoted that Ackman's $32,400.00 donation to the Democratic Senatorial Campaign Committee (DSCC) came on April 30, the same day that Sen. Edward J. Markey (D., Mass.) won a primary to fill a Senate seat vacated by the appointment of John F. Kerry as Secretary of State. The gift came before Markey's recent calls for the FTC and SEC to look into Herbalife. Both the Senator and hedge fund deny any connection.
In June, the DSCC donated $45,400 to Markey's campaign, less than 1% of the over $10 million the campaign spent.
Pershing Square sought meetings with Edward Markey's staff, as the Senator investigated claims from his constituents that they have lost money with Herbalife. Bill Ackman and Pershing Square General Counsel David Klafter met with Markey's staff of Oct. 2, 2013 for less than an hour; however, Ackman has never directly met with Markey, a source familiar with the meetings said.
Herbalife also appears interested in meeting with Markey, now that the Senator is lobbying for a closer look at the company's business practices. "We received the letter from Senator Markey this morning and look forward to an opportunity to introduce the company to him and address his concerns at his earliest convenience." Herbalife said in a statement to The New York Times.
Ramping Up
Maybe the spending and political flash points are just getting started. In 2014, races across the country will decide whether or not Democrats hold onto their Senate majority, or whether they can wrestle control of the House of Representatives from Republicans. 
Pershing, however, doesn't make donations in exchange for political favors, or as a means to influence its Herbalife position, a source familiar with the fund said.

Politicians popular among Pershing employees such as Sen. Cory Booker (D., N.J.), haven't been a part of the Herbalife conversation.
Shane Dinneen, the Harvard-educated Pershing analyst who researched Herbalife for Ackman, donated of $5,200.00 to Sen. Booker. Dinneen was among a handful of Pershing employees, including Ackman and general counsel Klafter, to make maximum individual contributions to Booker's election campaign in 2013.
Booker has generally been among the best placed Democrats to advocate on behalf of Wall Street, and has made no public comments about Herbalife to date. Ackman has been a supporter of Booker going back to his days as mayor of Newark, N.J.
Herbalife's shares are roughly a third higher than they were when Ackman unveiled his billion dollar short trade in December of 2012.
Since that disclosure, investors as prominent as Carl Icahn and Dan Loeb of Third Point Management have taken positions against Ackman in a very public manner. After an insider trading scandal at Herbalife's former auditor -- an issue that had nothing to do with Herbalife - the company was able to successfully re-file its financial results with its new auditor PricewaterhouseCoopers, potentially paving the way for an increased stock buyback, according to analysts who cover the stock.
So far, Pershing Square is losing its battle against Herbalife. The company has realized between $400 million and $500 million in losses on its short trade in Herbalife, while paring the funds future exposure to the company through swaps and options.
Still, Ackman has said he won't give up on his bet against Herbalife. Any political groundswell against the company in 2014 might play to Pershing's benefit.
-- Written by Antoine Gara in New York