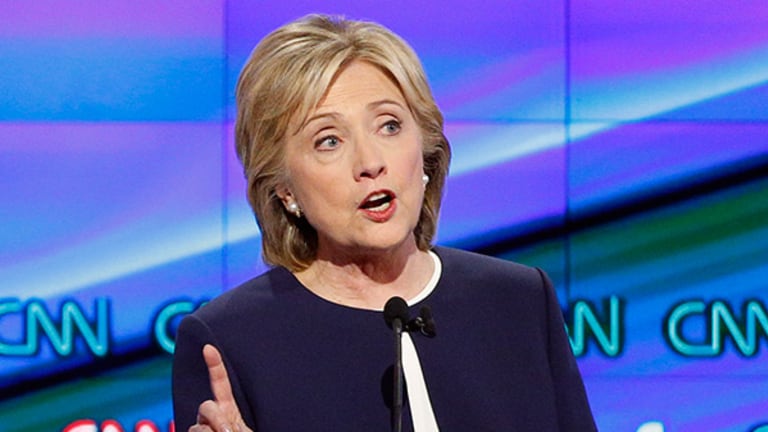 Acadia's New Drug Could Have Potential for Investors
Acadia Pharmaceuticals has been buffeted in recent months but its treatment for psyhosis related to Parkinson's disease has great potential.
A Hillary Clinton Sept. 21 tweet sent the biotech sector into a tailspin. The Presidential candidate said that she would take on those companies that sold overpriced drugs. Clinton's comments resonated with many observers of biotech and big pharma who have repeatedly questioned the business model of drug companies.
In the aftermath, biotech and some pharmaceutical stocks suffered. Many have yet to recover.
One such company is Acadia Pharmaceuticals (ACAD) - Get ACADIA Pharmaceuticals Inc. Report . Acadia is a biopharmaceutical company that focuses on the development and commercialization of small molecule drugs that address unmet medical needs in neurological and related central nervous system disorders. But the company offers an excellent investment opportunity, largely because of a potential blockbuster drug that will help sufferers of Parkinson's disease. Acadia's financial condition is also solid. 
Acadia had plenty of ups and downs this year prior to the Clinton tweet. The stock traded within a 52-week range of $25.87 to $51.99 a share. It gained momentum in March when it pulled out of two healthcare conferences. The rumors at that time were that Acadia was going to be acquired.
The stock hit an intraday high of $46.48 on March 10 but disappointment struck on the evening of March 11. CEO Uli Hacksell said that he would be resigning, and the company announced that its submission of NUPLAZID for Food and Drug Administration approval would be delayed. NUPLAZID is a treatment for psychosis related to Parkinson's disease. 
The stock plummeted to an intraday low of $29.45 on March 26 but rebounded to $51.99 on July 15 on hopes that perhaps once again the company would be acquired or that it would submit NUPLAZID for approval. 
Disappointment again hit on Aug. 6 and 7 and the stock sank to $32.78 when interim CEO Stephen Davis confirmed that the company would submit NUPLAZID for approval during the second half of the year but didn't pinpoint a date. The stock regained its footing and rebounded to $43.89 after the company announced that Davis would be the permanent CEO and that Acadia had finally submitted its application for NUPLAZID to the FDA on Sept. 3. However, the Hillary Clinton tweet knocked down the share price along with stocks of many other drug firms. Acadia finished Oct. 28 trading at $36.44 a share.
At its current price, Acadia has a market capitalization of approximately $3.5 billion. It has cash and total current assets of approximately $274 million and debt of $19.7 million. Its lead drug NUPLAZID could be one of the most promising psychiatric drugs to hit the market since the first SSRI, and Prozac, in 1988. NUPLAZID is Selective Serotonin Inverse Agonist (SSIA) targeting the 5-HT2A receptor. It is estimated that Parkinson's disease affects as many as 1 million people in the U.S. and four to six million wordwide. Nearly 40% of them suffer psychosis.  

Currently, doctor's treat this condition with atypical anti-psychotics such as Seroquel or Zyprexa. These come with side effects, including the worsening of motor skills, mental decline and weight gain. During its Phase III study, NUPLAZID's only affects were urinary tract infections (13%) and falls (11%) compared to a placebo's 12% and 9%, respectively. Additionally, taking NUPLAZID provided psychosis relief, helped patients sleep better and improved mental functioning.
Zyprexa's cost for 30 days on the highest dosage is about $1200 a month, while Seroquel costs about $1100 a month. If NUPLAZID costs around $1100 a month, the yearly pricetag for a patient would be $13,200.
Figure if 40% of the 1 million people in the U.S. who have Parkinson Disease, have psychosis, which makes 400,000 people. If NUPLAZID could capture 1/3 to 1/2 of the population it could have sales in the range of approximately $2.0 billion just in PDP. Currently Acadia trades at approximately than 1.5-times potential sales. 
NUPLAZID is also being studied as a treatment for Alzheimer's disease psychosis and schizophrenia. Also, many of these atypical, antipsychotic drugs are used as part of a treatment for patients with drug resistant depression. NUPLAZID could serve in that way, too.
To be sure, there is a chance NUPLAZID does not receive FDA approval, or there are more delays. Also, trials related to other conditions may not prove successful. But NUPLAZID has a possibly huge upside.
Acadia has made the commitment to go it alone as it has chosen not to partner with another biotech or pharmaceutical firm, nor is it seeking suitors. The company is a potentially great buy for investors who think long-term. 
This article is commentary by an independent contributor. At the time of publication, the author held a long position in ACAD.
Disclosure: Mott Capital Management, LLC is a registered investment adviser. Information presented is for educational purposes only and does not intend to make an offer or solicitation for the sale or purchase of any specific securities, investments, or investment strategies. Investments involve risk and unless otherwise stated, are not guaranteed. Be sure to first consult with a qualified financial adviser and/or tax professional before implementing any strategy discussed herein. Upon request the advisor will provide a list of all recommendation made during the past twelve months. Past performance is not indicative of future performance.