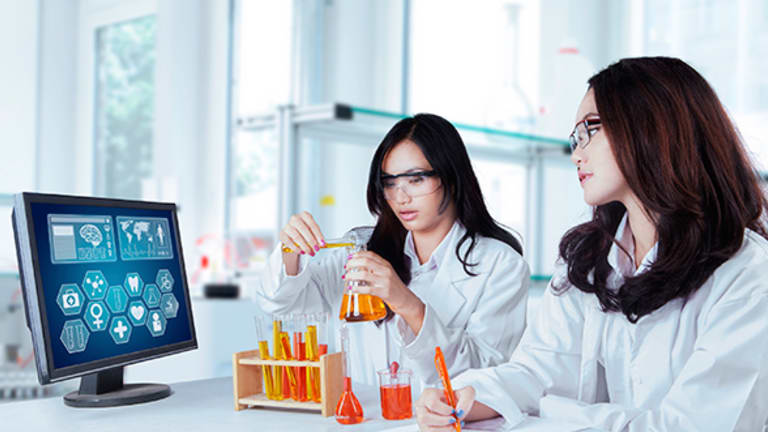 Acadia Pharmaceuticals Stock Has Fallen Too Far Recently
Acadia shares have fallen significantly since the company's Nuplazid drug received FDA approval. Here's why they're worth more.
Acadia Pharmaceuticals (ACAD) received approval from the Food and Drug Administration for Nuplazid on April 29. This is the first and the only drug available to treat patients with Parkinson Disease Psychosis. Despite the good news for ACADIA, its stock has fallen about 14% since the announcement.
Some observers have written that the market had priced in the approval following an advisory committee's 12-2 vote at the end of March in favor of approval. In other words, they've suggested it's a typical case of "buy the rumor, sell the news." Additionally, there seem to be concerns about a slow launch, meaning it may take time for doctors to become comfortable with the drug. Lastly, some analysts only expect $1 billion in revenue a few years out.
It's true that the odds were strongly in favor of approval before the announcement, but investors also appeared to think the drug would get a very restrictive black-box warning. It received the same warning as all atypical antipsychotics, which means the labeling came out slightly ahead of expectations.
The company announced on the conference call that it had hired it sales force and they had started training at the end of April. The company is preparing to launch the drug by June. Again, a June launch is a much faster launch than we expected. This was slightly ahead of expectations, too.
The company hasn't announced pricing yet, but it has said it will be before the drug is launched. Our expectation has been $14,000 per year. If we take $1 billion in revenue divided by $14,000, we get about 70,000 patients receiving treatment. There are 400,000 patients who have PDP. Of course, not all patients are in the position to need the treatment. However, our expectation has been about a one-third of patients. That would be about 130,000, nearly double that 70,000 number. The company also announced plans to file in Europe by the end of June, only increasing the number of patients that might receive the drug. It is our opinion that $1 billion in sales is too low. Of course, there is the possibility pricing comes in lower than our estimate.
Given the information available, the safety profile of Nuplazid is better than those of atypical antipsychotics that doctors are currently prescribing off-label to patients. The benefit of Nuplazid is that it does not affect motor symptoms of the patients, unlike those of atypical antipsychotics. Given the safety benefits, it's likely doctors could beginning using this faster than the market currently expects.
Additionally, looking at the short interest, there are about 20 million shares sold short, and a little less than 80 million shares in the stock's float. The Baker Brothers own about 24.5 million shares and Fidelity owns about 15 million shares. That's about 40 million shares, or half the float that is likely not going anywhere. Yes, the Bakers have a shelf registration statement filed. However, it would seem they have similar filings with other companies they are affiliates of. Additionally, there are a handful of 5% holders. Generously speaking, half the float is available to actually trade on a daily basis. That means 50% of the available-to-trade float has been sold short.
On May 3, through an 8-K filing the company announced the chairman and two other members of the board would be resigning. But a proxy statement filed on April 29 said the board of directors would be reduced to seven members from 10. The more recent announcement of the three members' departure is in agreement with that proxy statement
The 8-K filing also mentioned additional safety studies of Nuplazid. The safety studies should be something the company can comply with considering it already has a phase II Alzheimer's Psychosis trial with approximately 200 patients and plans to launch a study in Alzheimer's Agitation this year as well.
Nuplazid is a novel way to treat PDP. It will give doctors a treatment for their patients that has been approved instead of prescribing drugs off-label. These are my views and opinions.  
I am and the clients of Mott Capital are long shares of Acadia Pharmaceuticals.
This article is commentary by an independent contributor. At the time of publication, the author held shares of ACAD.
Disclosure: Mott Capital Management, LLC is a registered investment adviser. Information presented is for educational purposes only and does not intend to make an offer or solicitation for the sale or purchase of any specific securities, investments, or investment strategies. Investments involve risk and unless otherwise stated, are not guaranteed. Be sure to first consult with a qualified financial adviser and/or tax professional before implementing any strategy discussed herein. Upon request the advisor will provide a list of all recommendation made during the past twelve months. Past performance is not indicative of future performance.