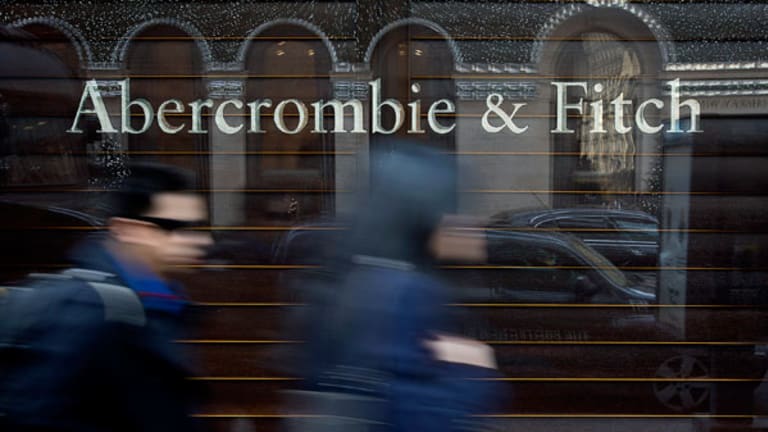 Should Investors Fret Over Abercrombie & Fitch's Stock Dip on Earnings Miss?
Abercrombie & Fitch's turnaround hit a speed bump in the first quarter, sending shares down more than 10% in premarket trading Thursday.
Updated from 9:25 a.m.
Investors did not find Abercrombie's (ANF) first-quarter results particularly sexy, but not everything was doom and gloom.
Shares of the apparel retailer, which had been showing progress on its turnaround due to improved merchandise and lower prices, plunged about 11% in premarket trading Thursday because of a sluggish start to the year. The company reported a loss per share of 53 cents, excluding one-time items, worse than Wall Street forecasts for a loss of 51 cents a share. Net sales came in at $685 million versus Wall Street estimates for $710 million.
Abercrombie wasn't immune to tepid sales at its flagship stores globally thanks to the strong U.S. dollar and threats of terrorism in Europe hurting spending by tourists. Such issues also plagued sales at Macy's (M) most important U.S. store, Herald Square in New York City, as well as at Tiffany's (TIF) flagships in NYC and Europe during the quarter. Abercrombie's same-store sales in the U.S. and internationally fell 2% and 7%, respectively.  
"It's not easy in some of these international markets," said Abercrombie Executive Chairman Arthur Martinez in an interview with TheStreet. "Our large-volume stores are predominantly in Western Europe, and it's a very unsettled environment there -- whether it's personal-safety-related terrorism, the dollar, what's going on with Britain maybe leaving the EU, which could make some goods more expensive."
Abercrombie operates about 117 locations in Europe, with the U.K. being the largest at 34 stores. The store fleet is profitable, says Martinez, who didn't shoot down possibly closing some underperforming locations. 
But Abercrombie's news wasn't all bad.
Same-store sales at California lifestyle-inspired Hollister were unchanged from the prior year, which could be viewed as a win for the value-oriented clothing chain, since same-store sales at Gap's (GPS) mostly U.S.-based Old Navy chain fell 6% in the quarter. In addition, long-time rivals Aeropostale and Pacific Sunwear undefined both filed for bankruptcy after another poor holiday season. Abercrombie was also able to increase its gross-profit margin about 100 basis points year over year, excluding one-time items.
Considering the competitive retail environment, improving margins primarily by keeping higher average unit retail prices and not seeing sales nosedive is a plus. The company is also seeing positive conversion rates, notably in its mall-based stores in the U.S.
These are the clearest signs yet that the company continues to stock more items that finicky teens and 20-somethings want to wear when they decide to actually visit a store.
Added Martinez, "I will leave it to others to predict what's happening to traveling and tourism, but even amidst these traffic challenges, there is business to be done: The job is to improve conversion rates on the customers that do walk into our store, which we did during the quarter."