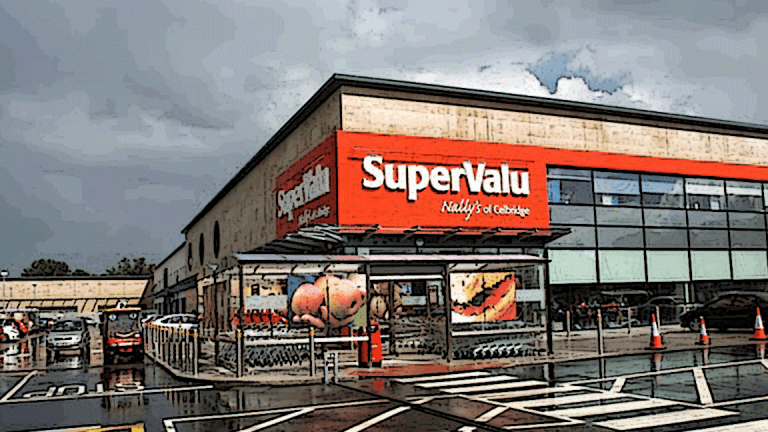 AbbVie Dip Presents Rare Buying Opportunity; Activist Steps Up at SuperValu
Here's what you need to know now for Thursday, March 22.
Another rough day for the markets as trade wars were back in focus with Donald Trump's announcement that he was launching a trade action against China that could be worth $60 billion and vowed to lower the U.S. trade deficit with the world's second-largest economy. The markets futzed around in the red for most of the day and turned sharply lower as the final hour of trading kicked in. Couple tariffs with more negative news out of Facebook (FB) - Get Meta Platforms Inc. Report  and Asia-focused tech names also dipping on the back of Tencent's (TCEHY) recent earnings, the perfect cocktail for a major sell-off was brewed. "This convergence of negative news shouldn't come as a major surprise," writes Rev Deporre over on Real Money. "I am looking for dip buyers to step up but I do not think they will be capable of much V-ish action this time. The negative narrative has been expanding and there will be market players looking to reduce into strength."
For those looking for buying opportunities, a recent plunge in AbbVie (ABBV) - Get AbbVie Inc. Report prompted by a lung cancer drug setback may have created just that at the Abbott Labs (ABT) - Get Abbott Laboratories Report  spinoff. "We would recommend taking advantage in weakness in ABBV's shares," SunTrust Robinson Humphrey Inc.'s John T. Boris said in a note, reaffirming his buy rating and $157 price target on the stock. Shares of Abbie closed down 12.7% to $99.10 on Thursday. The stock remains up about 3% year to date and 52.7% over the past 12 months.
Activist investor watch continues as one well-known and another lesser-known hedgie made moves today. Embattled activist Bill Ackman sold his stake in Nike Inc. (NKE) - Get Nike Inc. Report  , making a quick profit, but TheStreet's sister publication The Deal has said it had its doubts about whether Ackman would ever agitate aggressively and publicly at the company anyway. The move, which was confirmed by The Deal, was first reported by Dow Jones on Thursday, netting Ackman about $100 million profit on the investment. The investment was a badly needed win for Ackman and his fund, Pershing Square Capital Management, which had a -6.2% return year-to-date, following three years of losses and a high-profile unsuccessful campaign at Herbalife (HLF) - Get Herbalife Nutrition Ltd. Report  and a losing $4 billion bet on Valeant (VRX)  .
Even though it's predominantly out of the struggling grocery business, SuperValu (SVU) can't escape the pressure of the industry, let alone its own shareholders. Activist shareholder Blackwells Capital on Thursday expanded its slate of directors for election to the grocery distributor's board from a minority slate of three to a change-of-control panel of six, in a move that emerged after The Deal had suggested last month that an escalation of this sort was likely to happen. SuperValu said the move effectively shows that the fund is seeking control of the company "without paying a premium to all stockholders." There is no denying SuperValu has its troubles ahead. Eden Prairie, Minn.-based SuperValu is divided into two businesses, a grocery store chain and a much better-performing wholesale business that supplies third-party grocery stores. Earlier in March, SuperValu agreed to sell 21 of its 38 of the former, known as Farm Fresh stores, for $43 million. It also said it was looking at potential deals to sell the remaining locations, though it is unclear where the company is in that process.
This is an excerpt from "In Case You Missed It," a daily newsletter brought to you by TheStreet. Sign up here.
Photo of the day: Neither snow nor rain nor heat ...
Love 'em or hate 'em, right or wrong, the weather men and women of the world provide a valuable service to many people across the globe. In the U.S. no face is more synonymous with weather than meteorologist and storm chaser, Jim Cantore, pictured above braving Hurricane Irene from New York's Battery Park in August 2011. The Weather Channel is big business but with a rise in competing television services and mobile apps, it has lost some of its cache over the past few years. After being acquired for $3.5 billion in 2008 by Bain Capital, NBCUniversal and Blackstone, the company was sold Thursday for a paltry $350 million to a small media company, according to Variety. All is not lost for the company's backers as The Weather Channel did sell its business services unit and online properties to IBM for a reported $2 billion in 2015, and in 2013 its owners also collected a $600 million dividend. Read More
Read more from "In Case You Missed It." Sign up here.