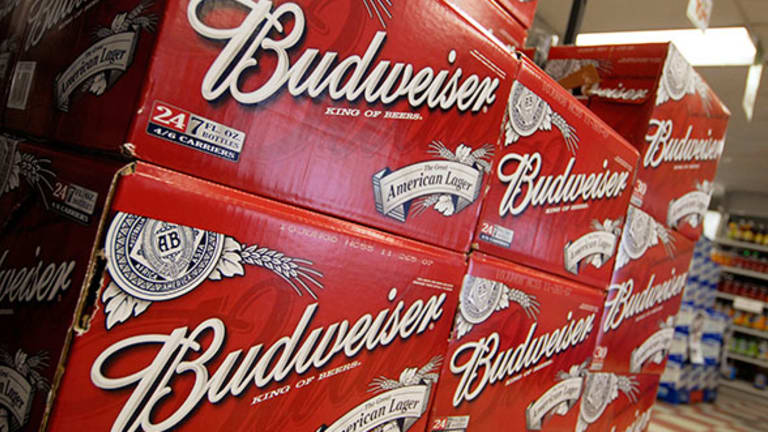 Publish date:
AB InBev, SABMiller Deal May Not Brew the Best Results
Even if AB InBev's acqusition receives regulatory approval, the new, combined entity faces an uncertain future. Competition authorities could play a big role in the deal's success.
Even if AB InBev's acqusition receives regulatory approval, the new, combined entity faces an uncertain future. Competition authorities could play a big role in the deal's success.
Uncertainty is just beginning for Anheuser-Busch InBev (BUD) - Get Report shareholders, despite an agreement with SABMiller's shareholders and board to acquire the latter company. At $106 billion, this is the third largest acquisition ever. The new mega-brewer would produce one in three beers worldwide. Major acquisitions have a reputation for destroying value and only rarely delivering the initial planned benefits. Research has proven this. 
The reasons for failure include paying too much, poor integration, cultural and leadership issues and simply overestimating the benefits that determine the bid price. It is this last reason which may haunt AB InBev's shareholders. How competition authorities, government agencies that control and enforce competition laws, view the combined company could undermine value. The deal that appeared so potentially strong may not wind up that way. 
Big brand brewing is an enormously profitable business with earnings (EBITDA) approaching 40% of revenue. This is because beer drinkers like what is familiar and immediately available. They opt for well-known brands, which means retail distribution will stock to maximize returns. Shelf/bar space is limited, pre-empting other entrants.
Further down the supply chain there are major-scale economies in brewing, distribution and purchasing. Big modern breweries have costs way below smaller breweries. The end result of all this: Beer markets have become highly concentrated, which means there are few suppliers competing on a large scale, and prices are relatively high.
AB InBev's purchase of SAB Miller furthers this trend, generating major cost savings and increasing market presence and control, but ultimately not to the consumer's benefit. The market has matured in North America and Europe where growth has disappeared and big breweries are fighting a rearguard action against craft brewers and wine and spirits. The growth lies in the developing world of Latin and Central America, India, China and Africa.
In reality, AB InBev may be promoting the deal on growth grounds. However, the company's only real growth market is Africa where it is scarcely represented. African growth rates vary by country but probably average 4% to 5%. Outside Africa, substantial divestments may be needed, driven by competition authorities. 

Competition Authorities and Lost Value
The crucial value-destroying will stem from the approach of competition authorities worldwide. Normally, competition authorities become interested when combined market shares exceed 25%. They almost invariably act once market shares approach 40%. AB InBev's consolidated beer market share in the U.S. will be 70% and in China, over 40%. U.S. and China businesses compose over one-third of the acquisition.
Europe and Latin America also present issues that will interest competition authorities. Further significant disposals seem inevitable.
In many jurisdictions competition authorities are concerned as much with maintaining local jobs as protecting consumer interests. The main driver of this deal is cost reduction, although AB InBev's board has emphasized other benefits in its press releases. Protectionism in the guise of safeguarding consumer interests may be problematic for AB InBev and could force the selling of many interests.
Such forced sales normally represent value lost from a deal, as divestments are necessary whatever the level of buyer interest. Indeed, previous pre-emption arrangements may restrict the number of potential acquirers. That is likely to be the case with MillerCoors in the U.S.
The AB InBev board is attempting to sell the deal to competition authorities as a means of creating more consumer choice. The suggestion is that the company will launch existing big brands in new countries. In practice this seems less likely as AB InBev will not wish to spread its marketing spend among more brands than necessary. Rationalisation of ranges is more likely to create further cost savings.
Competition authorities can define the market as they feel appropriate, for example, beer, non-craft beer or premium lagers." A consequence is that AB InBev could be looking at problems and lost value opportunities globally. This might apply not only in the U.S., Canada, Latin America, and China, but also parts of Europe where markets may be defined tightly by country and beer type. Sales of businesses and restrictions on job losses (almost certain in South Africa) will result in lost opportunities to extract planned benefits.

AB InBev has a good record of avoiding the integration traps of cultural and leadership issues because of its experienced, decisive management. However, if the company is prevented from extracting planned cost savings by national interests and the competition's sales, this could wind up as an expensive deal, particularly if the African market doesn't grow.
A third of the total acquisition relating to China and the U.S. is likely to require disposal, plus various other assets. The South African authorities' attitude to job losses may hamper other savings. Indeed, AB InBev is starting to look like the earlier acquisitive conglomerates that were expert at extracting cost but failed dismally to create growth.
Poor performance on this acquisition may end the company's spending spree. A good performance could see Coca-Cola (KO) - Get Report as its next target. Coca-Cola operates in an industry with similar dynamics, drivers and management needs.
This article is commentary by an independent contributor. At the time of publication the author held no interest in the stocks concerned.