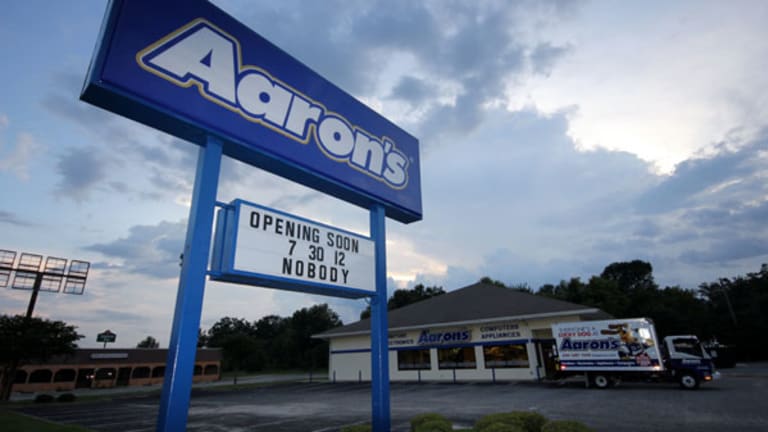 Aaron's Rents, You Should Own the Stock
During these uncertain economic times, there is ample room for Aaron's to grow.
NEW YORK (F.A.S.T. Graphs) -- When investing for growth I like to see a company with a consistent record of above-average earnings growth.
I also like smaller companies because I feel it is easier for them to continue to grow faster. But most of all, I like good value.
Aaron's
(AAN)
meets all these criteria. The following F.A.S.T. Graphs plotting earnings shows that Aaron's has consistently grown operating earnings at the above-average rate of 17.7% since calendar year 2003.
Earnings have grown from 50 cents a share in 2003 to a current estimate of $2.33 a share for fiscal 2014. Furthermore, I like the fact that their debt to capital is only 11%.
As a long-term investor, I believe in buying the business rather than the stock. My reasoning is simple and straightforward. I believe that earnings drive market price in the long run, and therefore, a company with strong earnings will generate strong price performance over time.
When I correlate Aaron's stock price with their earnings, I discover a strong long-term correlation. Even better, I see that Aaron's stock price becomes undervalued from time to time as it falls below its earnings justified valuation (the orange line). These have proven to be great times for the long-term investor to buy, and Aaron's stock price is currently trading at one of those undervalued levels.
Even though Aaron's stock price is currently undervalued, long-term shareholders have been richly rewarded thanks to its fast growth.
A $1,000 investment in Aaron's on Dec. 31, 2001 would have grown to $4,417 today. That equals a 15.6% compound annual rate of capital appreciation, which closely correlates to their earnings growth, adjusted by today's low valuation. Add in their modest dividend, and the annualized total return is 15.8% since Dec. 31, 2002.
Aaron's current PE ratio is at the historical low end of its normal range, their current price to sales ratio is less than one.
Both of these traditional valuation metrics indicate that the company is currently undervalued.
The consensus of 10 analysts reporting to
Standard & Poor's Capital IQ
expect continued long-term earnings growth for this consistent Mid-Cap with a market value of just over $2 billion. Therefore, I believe that there is ample room for Aaron's to grow in the future.
Summary and Conclusions
In a recent press release Aaron's announced that they opened 32 new stores over the last three months. The Great Recession of 2008 caused many consumers to suffer financial stress. Aaron's serves those customers by providing an alternative to purchase. The company rents furniture, computers, appliances and other electronics with a rent-to-own option.
As Aaron's likes to say, "
Credit is Hard, Aaron's is Easy
." Consequently, Aaron's is the industry leader that serves America's moderate customer with affordable payment plans allowing them to participate in the American dream. Therefore, I believe during these uncertain economic times, that there is ample room for Aaron's to grow. For investors seeking above-average capital appreciation, Aaron's looks like an attractive long-term investment at today's levels.
At the time of publication, Carnevale had no position in the holdings mentioned.
This article is commentary by an independent contributor, separate from TheStreet's regular news coverage.