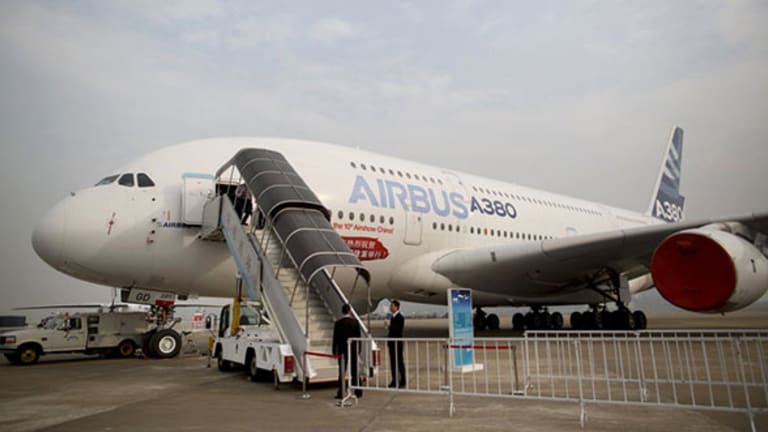 A380 Slowdown Will Impact Range of Aerospace Suppliers
Airbus claims a production cut to the 'whalejet' is temporary, but market dynamics suggest there will be no great rebound for the largest commercial aircraft currently in the skies.
Don't be fooled by comments from Airbus management indicating that production cuts to the company's massive A380 jumbojet are temporary. Expect the company's suppliers, as well as its competitors, to assume the worst for future sales of the largest commercial aircraft in operation.
Airbus on Tuesday cut its target for deliveries of the two-story, 544-seat aircraft to 12 per year in 2018 from 27 in 2015. At that rate, Airbus is unlikely to make money off of its "whalejet" given that the company hopes to break even on 20 deliveries next year, though Airbus did pledge to target "additional cost reduction initiatives" designed to lower the program's break-even requirements.
Airbus CEO Tom Enders remains upbeat about the A380's long-term prospects, telling reporters at the Farnborough Airshow in England Wednesday, "I hope that this is only a year or two and then we can raise production rates again." Market dynamics suggest this is unlikely to be the case.
While the A380 is an impressive feat of engineering, the four-engine jet is a dinosaur in a world where two-engine options are able to fly most long-haul missions at substantially reduced costs. The A380 with its ability to carry massive loads is designed to operate mostly between large international hubs, but airlines are increasingly turning to smaller, more efficient aircraft like Boeing's (BA) - Get Boeing Company Report 787 and 777 models and Airbus' A330 to bypass major hubs and fly customers nonstop to more destinations.
In the current climate, the A380 appears best suited for niche operations including hub-to-hub flights, airports at high altitudes where jets might not be able to takeoff fully loaded with fuel, and some cargo applications. But most of the airlines in need of aircraft for such missions have already ordered the A380, making future sales harder to come by.
Expect Airbus' A380 supply chain to plan for the worst. Many of the suppliers earn little if any margin on new plane production, intending to turn a profit on aftermarket, so a cutback in production is more a hit to revenue than it is to profit. Jefferies analyst Howard A. Rubel estimated that among the suppliers who will take a hit B/E AerospaceBEAV takes in about $10 million per airplane, United Technologies (UTX) - Get n.a. Report takes in at least $7.5 million and both Honeywell International (HON) - Get Honeywell International Inc. Report and Hexcel (HXL) - Get Hexcel Corporation Report each take in more than $2 million.
As a percentage of sales, B/E (7% of anticipated 2016 revenue from the A380) and Hexcel (5%) are most exposed, according to Canaccord Genuity analyst Ken Herbert.
Boeing and Airbus are vicious rivals, but the Chicago-based company has its own long-haul issues to contend with. Boeing's own four-engine option, the 747, has largely fallen out of favor for reasons similar to what is plaguing the A380. Even with Airbus scaling back, Boeing is unlikely to reverse its decision in January to cut production of the 747 to half an aircraft per month.
And while the A380 and the 747 are not apples-to-apples rivals in the cargo market, a desperate Airbus could decide to heavily discount future A380 sales to keep the assembly line operating. Such a move could jeopardize Boeing's forecast for an uptick in cargo 747 sales around the end of the decade as current frames begin to age and cargo carriers seek replacements.