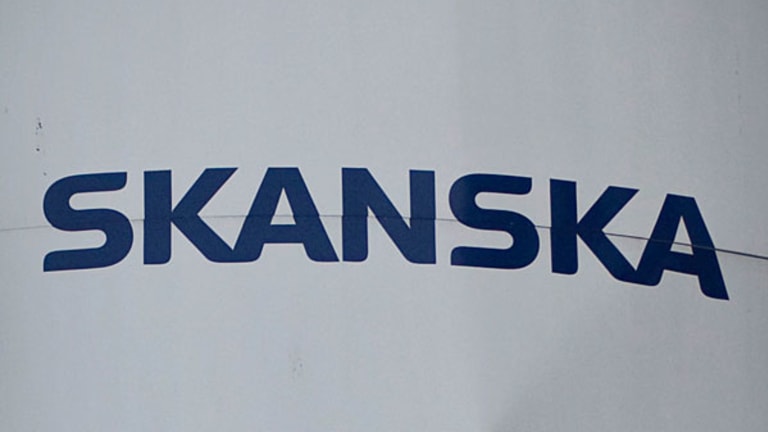 A Swedish Company Worthy of Your Investment
Skanska is a 125-year old construction giant that pays healthy dividends.
Skanska is a 125-year old construction giant that pays healthy dividends.
NEW YORK (
) -- With the commercial real estate recovery well underway, what about investing in a construction company? No, not just a homebuilder but one of the world's leading project development and construction groups.
Skanska
(SKSBY:OTC) is a Sweden-based company that is active in select markets in Europe, the U.S. and Latin America. Although Skanska is one of the top construction and design firms in the world, the U.S. remains Skanska's single largest market. Here, the company has deep roots in building and civil engineering projects, as well as public-private partnerships.
During 2012 Skanksa has increased revenue with around $5.8 billion in revenue for the U.S., which represents 30% of Skanska's global top line.
Skanska's 2012 operating margins were very steady, with profits reported of $267 million, up almost 30% over the previous year.
2012 was Skanska's 125th year in business. From modest beginnings in a small town in southern Sweden in 1887 to becoming a leading global player in construction, engineering and commercial development, Skanska's business model and strategy epitomizes what most companies strive for every day: a sustainable model that works.
TheStreet
recently caught up with one of Skanska's senior executive team members, Michael McNally. He is president and CEO of Skanska USA and he oversees the business operations in the U.S. and Latin America.
McNally has an extensive background in the construction of large, complex projects in a variety of market sectors and, under his leadership, Skanska is responsible for several notable projects, including the renovation of the United Nations' New York headquarters; the University Medical Center in New Orleans;
eBay's
(EBAY) - Get Report
new data center; the New Meadowlands Stadium; the Alaskan Way Viaduct in Seattle; the Brooklyn Bridge and the park below it; and two major projects at the World Trade Center.
Skanska recently made the company's shares more available to American investors by sponsoring a Level I American Depositary Receipt program in the U.S. The ADRs, which each represent one ordinary share of the company, are publicly traded in the U.S. on the OTC Market, under symbol SKSBY. The value of one Skanska ADR corresponds to the value of one Skanska share. (ADR's are dollar-denominated securities that represent ownership of equity in non-U.S. companies. ADRs trade, clear and settle like any U.S. shares and are held in U.S. custody).
Skanska's consolidated revenue increased by 4% during the last six months (January - June 2013), and adjusted for currency effects, revenue increased by 8% and amounted to 62.7 billion krona. The company's order bookings in Construction operations were SEK 60.3 billion; adjusted for currency effects, order bookings increased by 2%.
Skanska has an impressive dividend policy (dividend yield is around 5%). Skanska AB is listed on the NASDAQ OMX Stockholm and traded under the SKA B symbol. Latest price per share is 123.01 krona.
At the time of publication, Thomas had no positions in securities mentioned.
Follow @swan_investor
This article is commentary by an independent contributor, separate from TheStreet's regular news coverage.