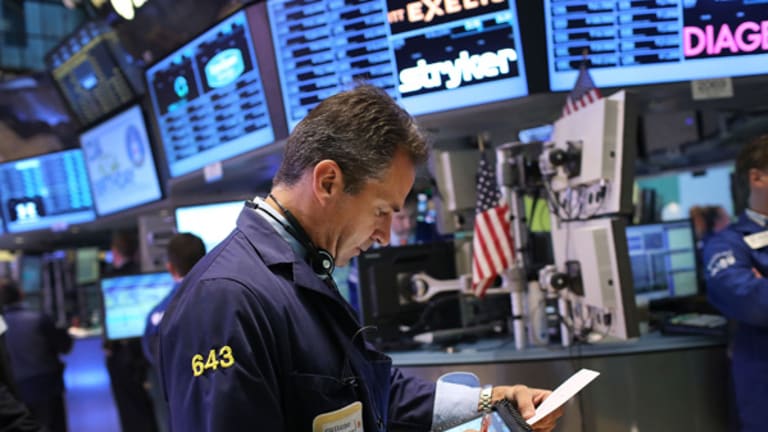 A Stock Market Selloff With Some Volume and Power Behind It
The stock indexes closed down on Tuesday after an intraday turn from the upside. The downside volume was big in comparison to the upside volume for the past month.
NEW YORK (TheStreet) -- The stock indexes finally had a decent selloff on Tuesday and it came on the heels of an intraday turn. That is exactly the type of day that I prefer.
The indexes were up big on Tuesday morning until the plug was pulled. The Fear/Greed Index from CNN Money was at 93, extreme greed, before closing at 83. The CBOE Market Volatility Indexundefined had a 10 handle before closing up 1.15 at 12.13. It appears that some fear has entered the market for a change.
The DJIA closed down 119.13 points at 16818.13 while the S&P 500 was down 12.63 to close at 1949.98. The Nasdaq was lower by 18.32 at 4350.36 and the Russell 2000 was down 11.71 at 1173.24.
The question now becomes, do we see more follow through to the downside on Wednesday? The revised Growth Domestic Product number comes out and I expect to see a downward revision to the number. That is bearish.
I once again will remind readers that the macro themes for 2014 are inflation accelerating and U.S. growth slowing. This view is supported by the following facts. The S&P Goldman Sachs Crude OilTrust Index ETN (OIL) - Get Free Report is up 11.2% for the year to date and the Select Sector Energy ETF (XLE) - Get Free Reportis up 12% YTD. The SPDR Gold Trust (GLD) - Get Free Report is up 9% YTD.
The "Growth Slowing" sectors, Select Sector Utilities ETF (XLU) - Get Free Report is up 14.4% YTD and the Barclays 7-10 Year Treasury Bond Fund (IEF) - Get Free Report is up 4% YTD. The Select Sector ConsumerDiscretionary ETF (XLY) - Get Free Report is down 1.2% YTD.
So I will continue to preach caution if you are bullish and continue to be long this stock market.
This morning, I mentioned on another site that the Dubai stock market has crashed during the month of June, down 22%. The response from a Wall Street veteran was, "What's the relevance?" With that type of response I stand up and take notice. The complacency in this stock market is palpable.
For those of you who have been following and reading my articles, I am now getting some long or buy candidates on my stock scans. The large-cap sector is providing some extreme oversold candidates, according to my algorithm process. They are not extraordinarily oversold but are getting close. It has been quite some time since that has occurred.
In another day or two I am prepared to start buying again instead of shorting this stock market.
I was short Twitter (TWTR) - Get Free Report, Akamai Technologies (AKAM) - Get Free Report, and Rosetta Resources (ROSE) - Get Free Report. On Tuesday, I covered those shorts for some very nice gains. My process has been extremely profitable, a 94% success rate since I started in July 2013. This can be found at www.strategicstocktrade.com.
Apple  (AAPL) - Get Free Report is a new long position that I want to start. It is not quite extreme oversold but a lower open on Wednesday will have it extremely oversold and have me going long.
At the time of publication the author had no position in any of the stocks mentioned.
This article represents the opinion of a contributor and not necessarily that of TheStreet or its editorial staff.
>>Micron's Best Days Are Ahead of It, but Wait to Buy the Stock